Soup, Soup…. Sausage, Vegetable and Bean Soup
My neighbor that I just adore came over tonight
as I was finishing up this soup…she said it reminded her of a soup that her grandfather used to make and called Soup Soup. Since I had no idea what to call this soup, other than Sausage, Vegetable and Bean Soup, I thought Soup Soup sounded perfect! 😉
I honestly threw together this soup not knowing how it was going to turn out. I had lots of veggies in the fridge and some chicken sausage that needed to be used. We are having some cold days here in FL – I know not even close to the cold most of you have been having – but cold for us. I am actually loving the change of weather, and loved making soup that I knew would actually warm me up.
My little girl had two bowls of Soup Soup for dinner…and so did I. It was really tasty. Watch how much salt you add though…I felt the sausage and beans added a lot of salt to it so you don't need to add too much extra.
Print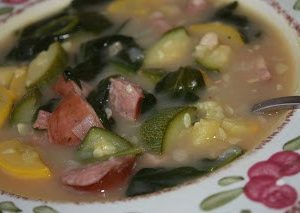 Soup, Soup…. Sausage, Vegetable and Bean Soup
Author:
Category: Chicken
Method: Stove
---
Ingredients
1 medium onion, chopped
2 garlic cloves, minced
4 links chicken sausage (I used Aidells Chicken and Apple sausage), chopped in quarters
2–3 zucchinis, chopped into quarters
2–3 yellow squash, chopped into quarters
1 can light red kidney beans, with liquid
1 can northern beans, with liquid
1 box of organic chicken stock
1/2 10 oz bag fresh leaf spinach
---
Instructions
Saute onion, garlic and sausage in 1 tsp olive oil over medium high heat, for about 5 minutes. Add zucchini and squash and continue to saute for about 5-8 minutes. Add salt and pepper to taste.
Add both cans of beans with liquid, leaving 1/4 of the northern beans leftover in can. With spoon, mash beans into thick mixture. Add 1 TB of water to mashed bean mixture, swirl around, then add to soup pot. This will thicken up the soup a bit.
Add chicken stock and bring soup to boil. Once soup reaches boil, add spinach and bring down to a simmer. Simmer for about 20-25 minutes.
This soup definitely hit the spot! Hope everyone is staying warm!!
Are you following me on Instagram, Twitter, Facebook and Pinterest? If you'd like to subscribe to Aggie's Kitchen and have each post delivered straight to your e-mail box, then please add your email here. Happy cooking!
There are affiliate links in this post. I make small earnings through any purchases made through these links. Thank you for supporting Aggie's Kitchen!