Heidi's Pineapple Salsa
A fresh and fruity pineapple salsa with just a little kick. Pair it with your favorite tortilla chips or serve over grilled chicken or fish. Delicious!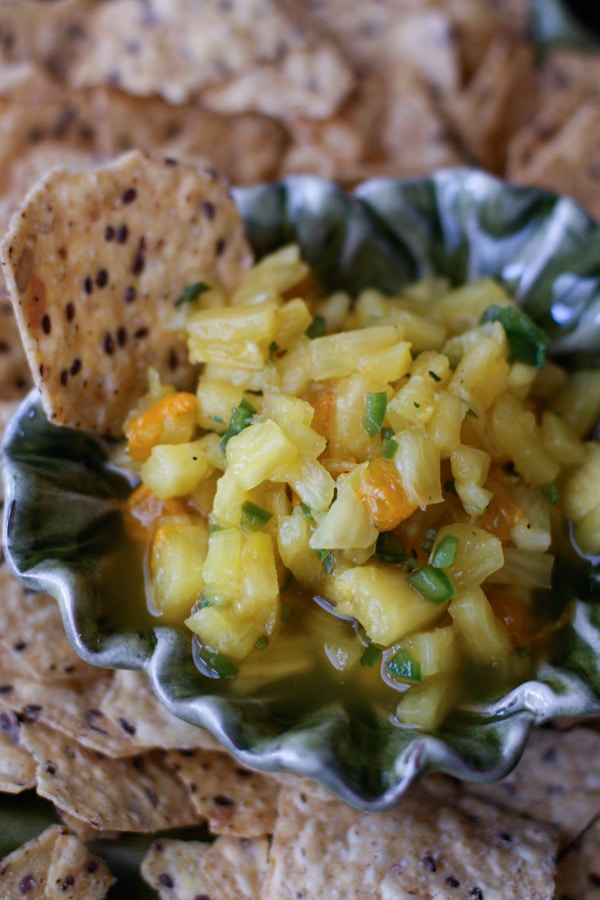 I discovered this amazing pineapple salsa a few years back when my friend Heidi brought it to one of our get togethers. I've made it several times since (when I'm not asking Heidi to make it for me) and it's always enjoyed by everyone. Really, what's not to love when you combine fresh pineapple with lime, jalapenos and cilantro – each bite truly makes your taste buds sing. Or break out into a little dance. Or whatever suits your fancy.
This pineapple salsa was part of a spread I put together for my husband Larry's 40th birthday bash this past weekend. We celebrated my husband with all of his favorite things – food being a big part of it obviously. Our good friend, Rich, worked his smoker the day before the party cooking up a ridiculous amount of pork and beef that we served sandwich style with horsey sauce along with several bottles of Larry's favorite barbecue sauces. In addition to this salsa there was this Cucumber and Feta Greek Yogurt Dip paired up with pita chips (my weakness!) as well as tomato and mozzarella skewers and fresh fruit skewers. We also picked up some glorious macaroni and cheese and cornbread salad from our favorite local BBQ place. There was some good eating going on.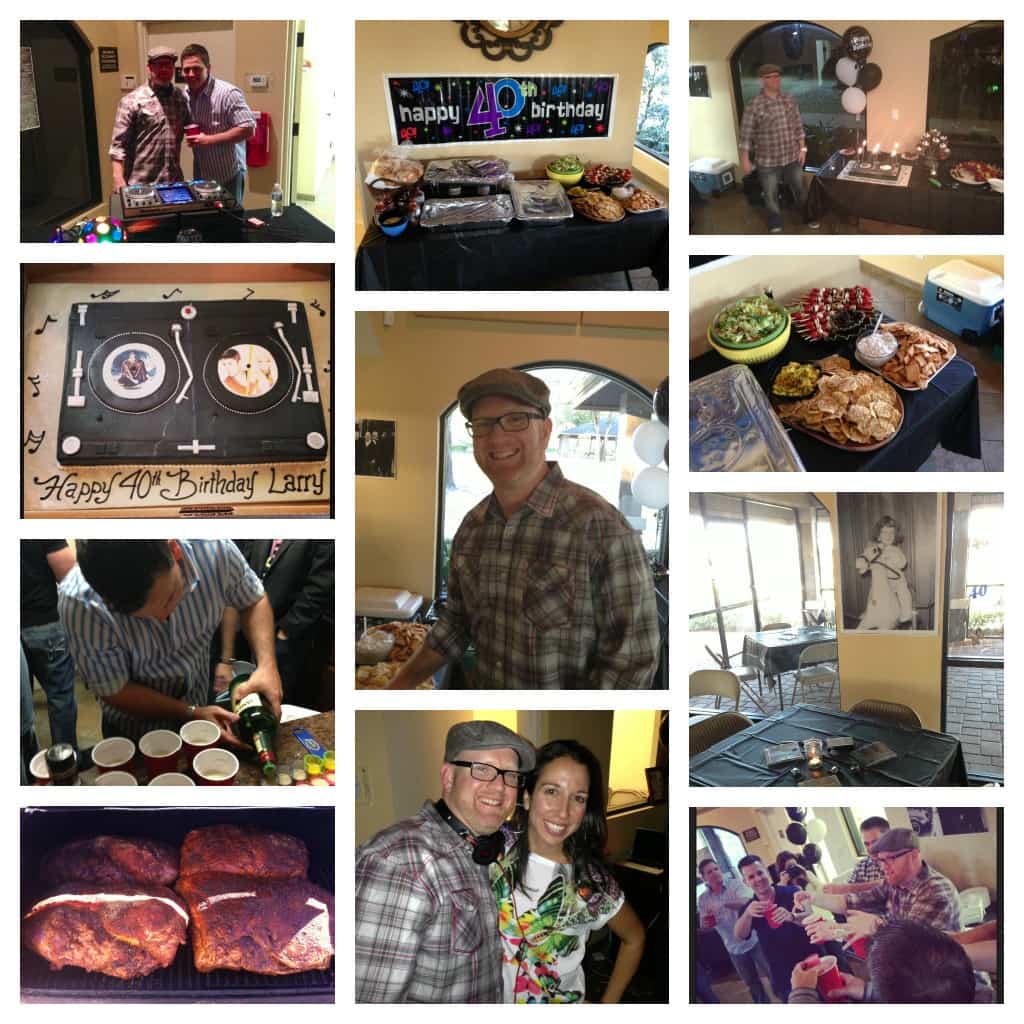 To say we had a great time would be an understatement. It brought me such pleasure to see my husband surrounded by all of his favorite people, dancing to his favorite music, watching clips from his favorite videos on the big screen, drinking his favorite drinks, eating his favorite food. Larry provided the entertainment – because in case you didn't know, that's what he's good at – and we partied the night away. Since his birthday isn't actually until this Friday, the 8th, the celebration continues this week…but in a little more low key let's-go-out-for-fondue-with-the-kids kind of way.
So, needless to say – this salsa belongs at your next party. Or barbecue. Or fiesta. Or Saturday night in front of the tube. Or whatever. Make it, eat it and be merry.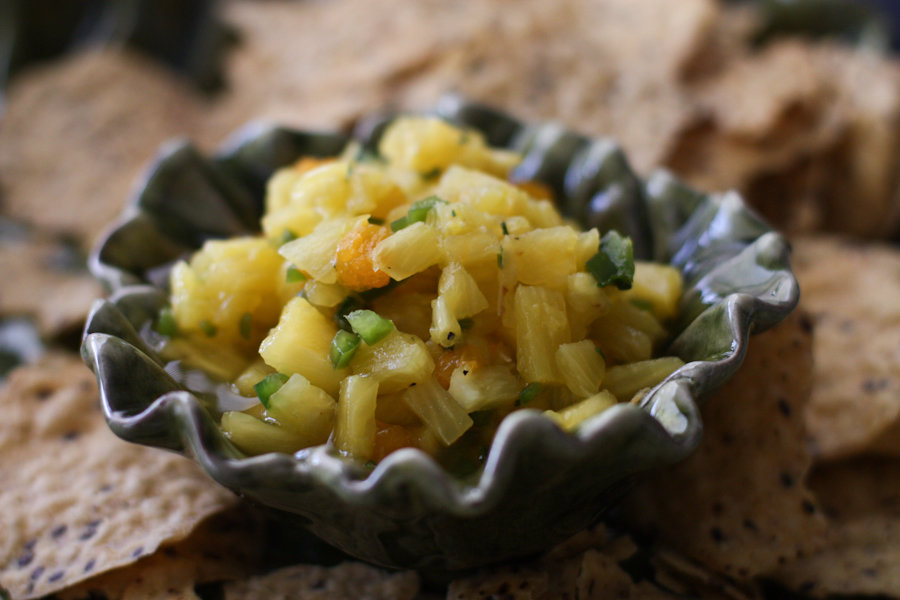 Heidi's Pineapple Salsa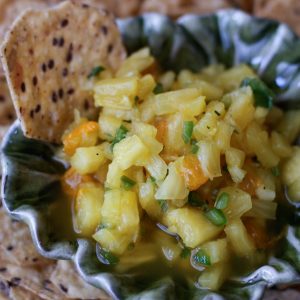 Ingredients:
1 whole pineapple, diced small
2 limes, juiced
1 small can mandarin oranges, rinsed and drained, chopped
3-4 jalapenos, seeded and diced small
handful cilantro, chopped
big pinch salt and pepper
Directions:
Combine all ingredients in a large bowl. Taste for salt and pepper. Serve with your favorite tortilla chips, or over grilled chicken or fish.
Add these lightened up dips to your next party:
Healthy Honey Mustard Dip | Cupcakes & Kale Chips
Healthy Mediterranean 7 -Layer Dip | Cookin' Canuck
Skinny Dill Vegetable Dip | Rachel Cooks
Chipotle Ranch Greek Yogurt Dip
Need recipe ideas for your next party? Check out my Appetizers, Snacks and Party Food board on Pinterest:
Follow Aggie's Kitchen's board Appetizers, Snacks & Party Food! on Pinterest.
Are you following me on Instagram, Twitter, Facebook and Pinterest? If you'd like to subscribe to Aggie's Kitchen and have each post delivered straight to your e-mail box, then please add your email here. Happy cooking!
There are affiliate links in this post. I make small earnings through any purchases made through these links. Thank you for supporting Aggie's Kitchen!