Kale and Chard Green Power Salad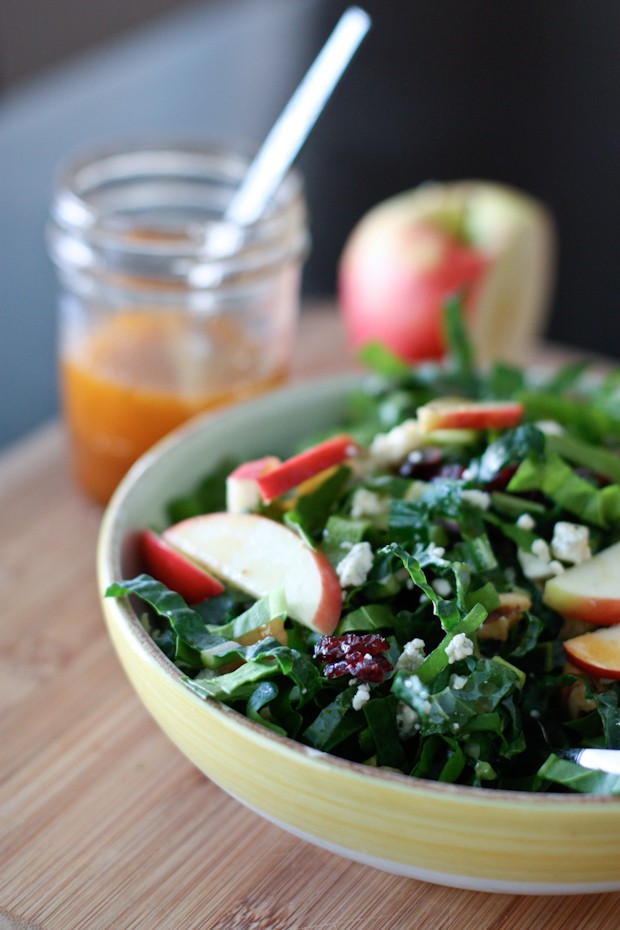 I spent some time with my family this weekend, and as per usual, my grandpa sent me home with some home grown goodies. During the winter his trees are bursting with tons of citrus like tangerines, grapefruits and lemons and my car gets loaded up with plenty of gorgeous fruit, but this time around I came home with a huge bag of Swiss chard. He must have known I've been craving greens lately. This Kale and Chard Green Power Salad with Maple Vinaigrette definitely satisfied that craving.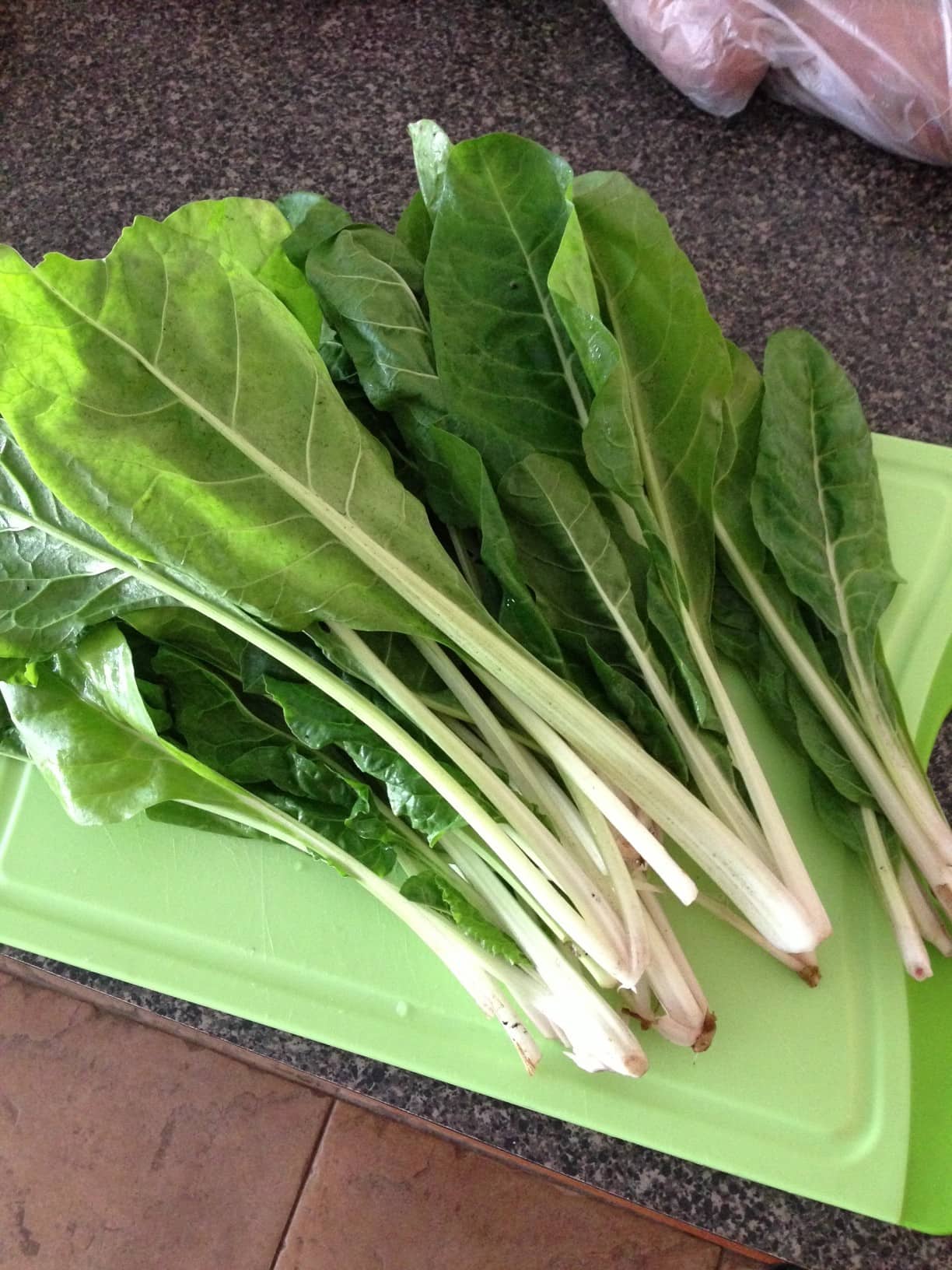 I've been craving greens in the worst way. I am pretty sure I felt the same way this time last year, because I remember making and eating a super salad like this one every day for lunch for almost a month. I have to say, I've never tried Swiss chard raw in a salad before, at least not that I remember. I usually eat it sauteed in olive oil with lots of garlic, in soup or in tomato sauce over pasta. Swiss chard is one of my favorite greens, and I have a hard time resisting picking it up every time I pass by it at the produce market. As excited as I am to have so much Swiss chard in my possession (only half is shown in the picture above), I'm slightly concerned I may run out of ideas of how to cook it up in the next week.
Have you tried Swiss chard? What's your favorite way to cook it up?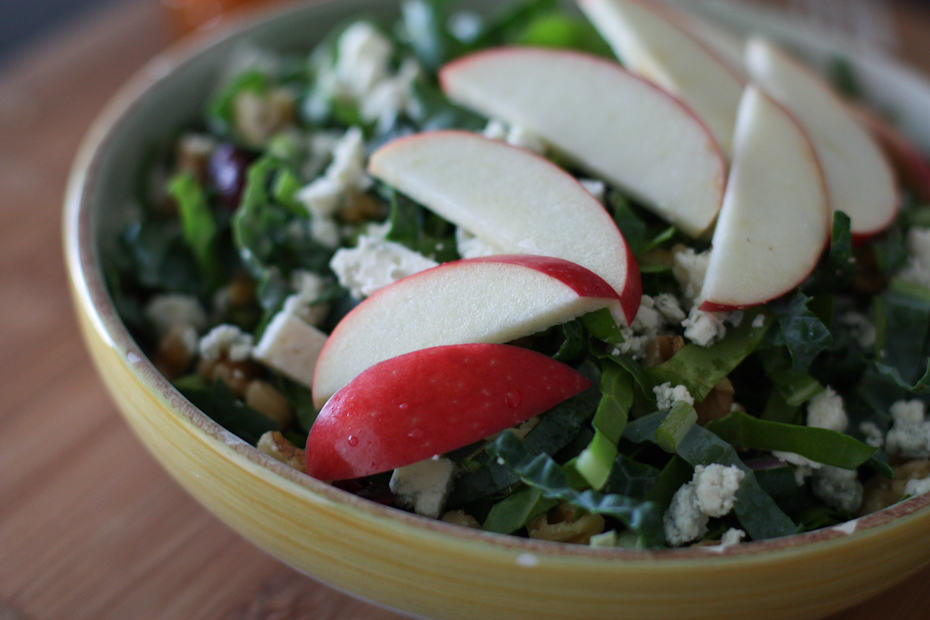 This salad is riff off a classic that you've surely seen before. It's been made with spinach, even with kale alone, but this time I bulked it up with even more nutrition from the raw chard. What makes this salad a little more special is the maple vinaigrette. I normally use honey to sweeten up my homemade vinaigrettes, but this time around I thought the maple would really complement the heavy greens, walnuts and blue cheese, and you know what – it did. It added such a warm mellow sweetness to the salad, and with a little extra brightness from the sweet paprika added I threw in at the last minute.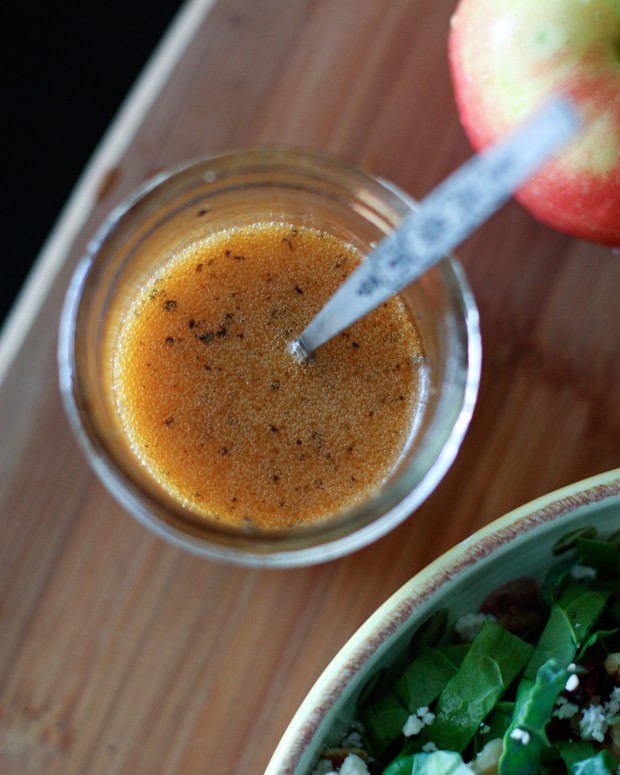 I am picturing this salad topped with a nice piece of broiled spicy-sweet salmon as a perfect "entree" salad. That might just have to happen for dinner tonight.
Enjoy!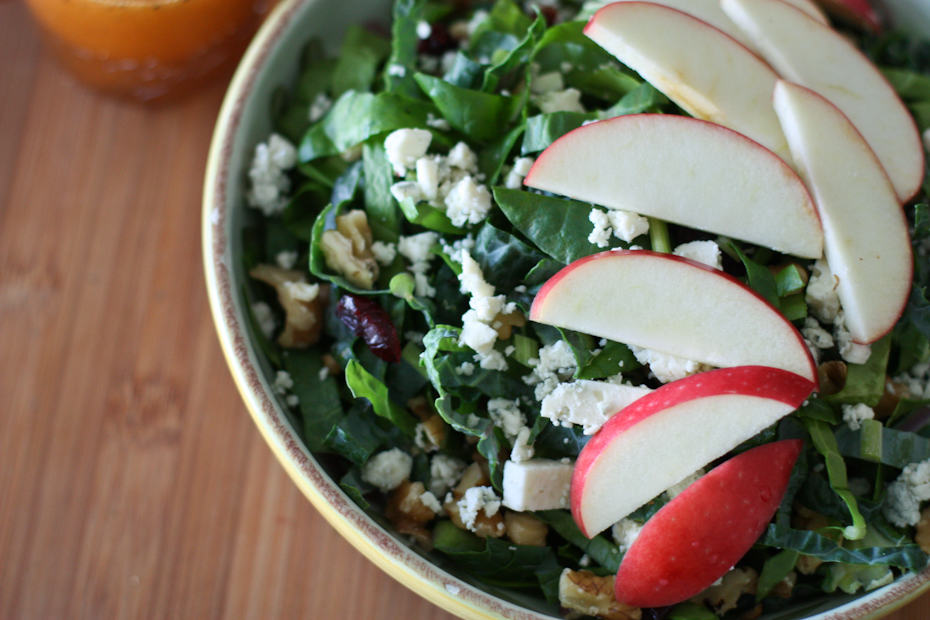 Print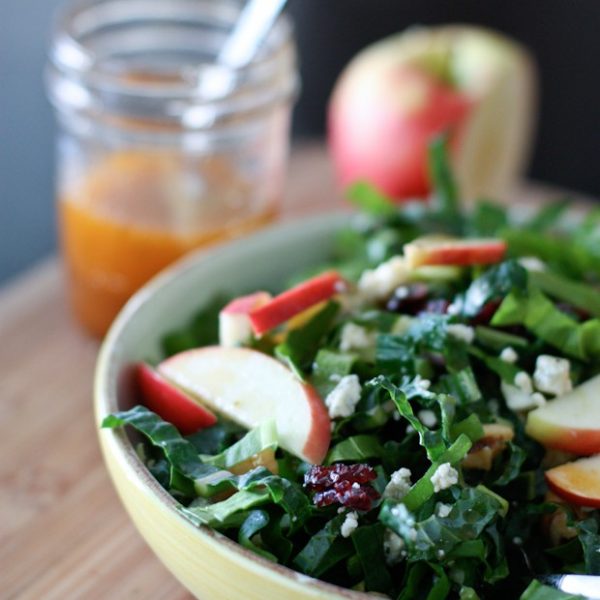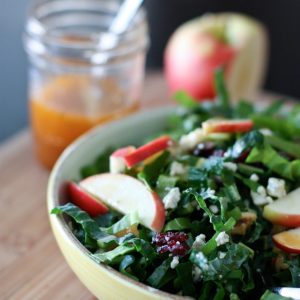 Kale and Chard Green Power Salad
Author:
Category: Salad
---
Ingredients
For the salad:
lacinato kale, thinly sliced
Swiss chard, thinly sliced
crumbled blue cheese
chopped walnuts
dried cranberries
thinly sliced or chopped apple (I used Pink Lady – so crisp and perfectly sweet)
---
Instructions
Combine your greens in a bowl. Pour a couple of tablespoons of Maple Vinaigrette over your greens and toss to combine. Massage gently with your hands, or let sit for a few minutes to tenderize the greens.
Add your blue cheese crumbles, walnuts, cranberries and apple to salad, gently toss and drizzle additional vinaigrette if desired.
More kale and chard recipes to enjoy:
Sesame Noodles with Edamame and Kale
Winter Kale Salad with Meyer Lemon Vinaigrette
Citrus Sesame Kale | Oh My Veggies
Chopped Kale Salad with Pomegranate & Avocado | Cookin' Canuck
Swiss Chard with White Beans in Tomato Sauce over Pasta
Swiss Chard, Mozzarella & Feta Egg Bake | Kalyn's Kitchen
Quick Chicken Soup with Carrots, Beans & Chard | Everyday Maven
Are you following me on Instagram, Twitter, Facebook and Pinterest? If you'd like to subscribe to Aggie's Kitchen and have each post delivered straight to your e-mail box, then please add your email here. Happy cooking!
There are affiliate links in this post. I make small earnings through any purchases made through these links. Thank you for supporting Aggie's Kitchen!