Quickie Black Beans and Meatless Meals For Lent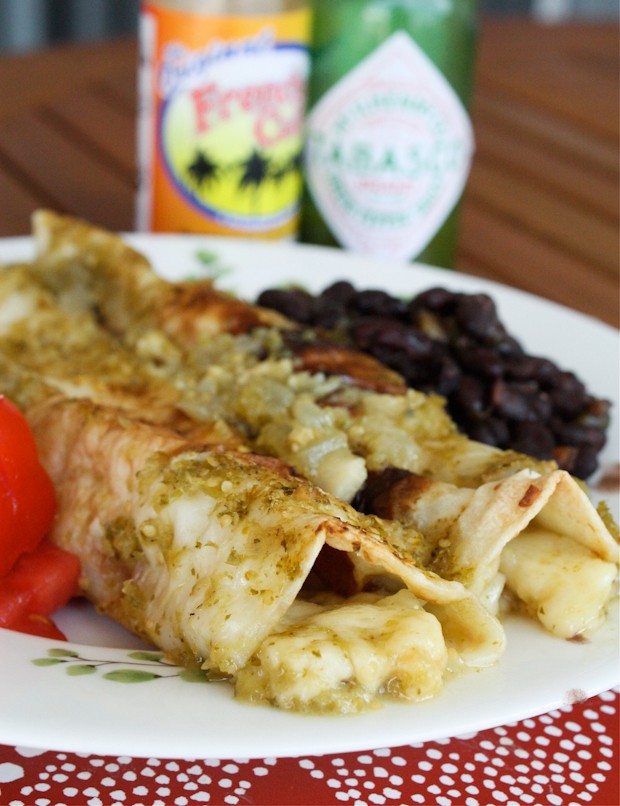 For those of us that observe Lent, no meat on Fridays can sometimes throw us for a loop if we're not prepared. I remember my grandparents always cooking lots of fish on Fridays. If fish wasn't on the menu, well then we had cheese or some sort of veggie pizza (let's keep in mind that my family has owned a pizza shop since I was 4 years old, our pizzas got very awesome and creative at times).
Pizza and fish are definitely standby's during Fridays in Lent, but there are so many other options now that "meatless" has become a little more norm for us. This past week, we celebrated Ash Wednesday – the start of Lent – and one of our no-meat days of abstinence. I wasn't in the mood for preparing fish, and didn't want pizza on Wednesday (secretly saving it for the weekend!) so I fell back on another meatless old reliable – Mexican food. Thanks to beans, cheese, tortillas and this awesome homemade green sauce that is so easy to whip up, we enjoyed a fantastic Mexican dinner that was happily eaten up by everyone in my family. Phew. Those kind of meals are hard to come by sometime. I will disclose, my son hasn't come around to beans yet. My daughter, however, was asking for seconds! Loved that.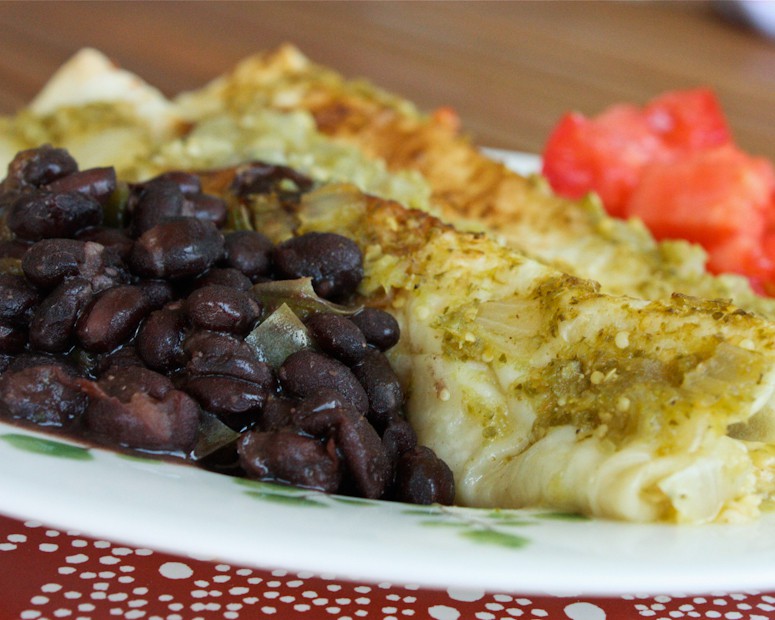 I first posted these Cheese & Onion Enchiladas with Verde Sauce back in May of 2011 and didn't realize that I never followed up with my Quickie Black Bean recipe until a reader recently asked me for it on Facebook. So here it is. It's simple, and a great way to add plant-based protein to any meatless meal you are cooking up. If you end up with leftovers add them to a tortilla with a little cheese and toast it up in the oven for a tortilla "pizza".
Quickie Black Beans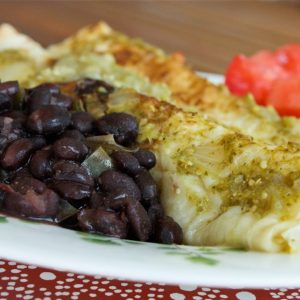 Ingredients:
2 cans Bush's Black Beans, slightly drained
1 teaspoon olive oil
1 small onion, chopped small
1/2 green bell pepper, chopped small
2 cloves garlic, minced
1/4 teaspoon ground cumin
small pinch of salt and pepper
Directions:
Heat 1 teaspoon oil in a small saucepan over medium heat. Add onion, pepper and garlic and saute for a few minutes until soft and fragrant. Add beans to pan and stir gently. Season with cumin, salt and pepper and bring to a low boil. Reduce heat and let simmer for a few minutes until beans are heated through.
Serve over rice or on its own alongside your favorite Mexican meal.
There are so many great meatless meals out there to cook up during Lent, whether it be fish or seafood based (not really meatless technically but you know what I mean) – or totally meatless like these cheesy enchiladas. Whether you observe Lent or not, I know a lot of you are trying to incorporate more meatless meals into your diet. Lent is always a great place to start and experiment! Here are some great meatless recipes to get you inspired, there's something for everyone:
Sesame Noodles with Edamame and Kale
Roasted Veggie and Black Bean Burritos
Cheese Quesadillas with Pintos and Peppers
Grilled Veggie Naan Pizzas with Pesto
Vegetarian Stuffed Poblano Peppers | Bev Cooks
Vegetarian Quinoa Chili | Two Peas and Their Pod
Portabella Gouda Burgers with Roasted Garlic | How Sweet It Is
Curried Brown Rice and Broccoli Casserole | Kalyn's Kitchen
Cannelini Bean Vegetarian Meatballs with Tomato Sauce | Cookin' Canuck
Black Bean Burgers | Bake Your Day
Moroccan Coconut Chickpea Soup over Brown Rice | Eat 2 Gather
Ziti and Zucchini with Lime and Herbs | Katie's Cucina
And for some fish recipes, check out last year's Fish For Fridays round up as well as my Fish For Fridays pin board.
Are you following me on Instagram, Twitter, Facebook and Pinterest? If you'd like to subscribe to Aggie's Kitchen and have each post delivered straight to your e-mail box, then please add your email here. Happy cooking!
There are affiliate links in this post. I make small earnings through any purchases made through these links. Thank you for supporting Aggie's Kitchen!