Pasta Shells and Beans Recipe and Bush's Beans Winter Comfort Food Recipe Exchange and Giveaway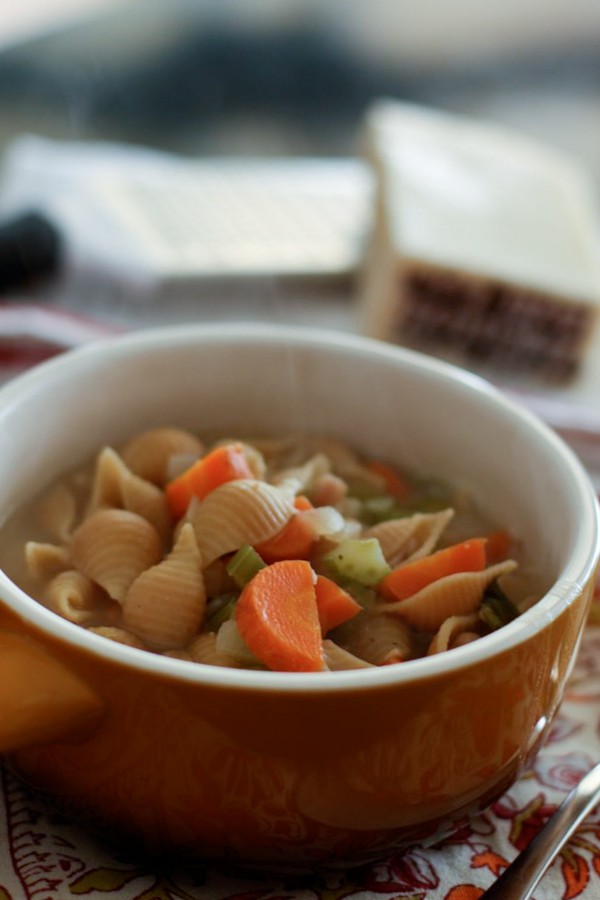 Today's post is full of all kinds of good stuff. As you may know, I've been working with Bush's Beans for a few years now. Beans are a big part of my diet and I like to include them in many of the recipes that I make, especially warm and comforting soups like this Pasta Shells and Beans soup I made recently. I mentioned I've been on a soup kick lately, cooking up a big pot on the weekend and enjoying it for lunch and quick dinners throughout the week. This soup is so simple – and so so good – full of veggies, beans and whole grain pasta – it truly hits the spot, especially on cold winter day.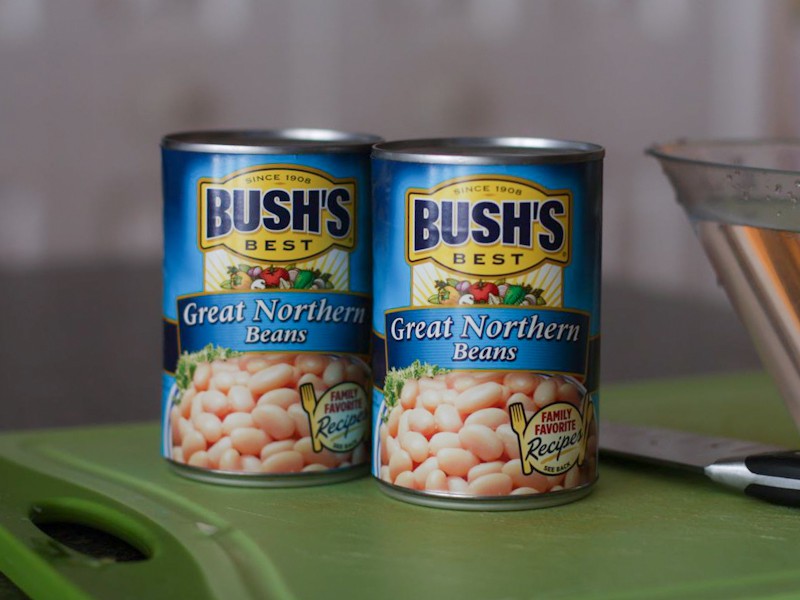 The beans add a slight natural creaminess to the soup, that makes it a little extra special – and it just gets better and better as it sits in the fridge for a couple of days. I was inspired to make this soup after remembering one of my favorite soups my mom made for us at home when I was younger, a soup many of you are probably familiar with as Pasta e Fagioli (aka Pasta Fazul). I've seen this soup made in so many different ways, but my family's version was just like this one, though with ditalini pasta instead of whole wheat shell pasta. I loved the added nutrition from the whole grain pasta and can't wait to make another pot.
I'm sharing with you this wholesome and delicious soup recipe to kick off a Winter Comfort Food Recipe Exchange hosted by Bush's Beans, Real Mom Kitchen and myself. Our goal is to grow and share a collection of your favorite recipes that you find comforting in the winter using beans. By sharing your favorite winter comfort food bean recipes here in the link up, you'll also have a chance to win a gorgeous Le Creuset Cast Iron French Oven along with coupons for Bush's Beans and a $100 Visa gift card! See below recipe for all the details.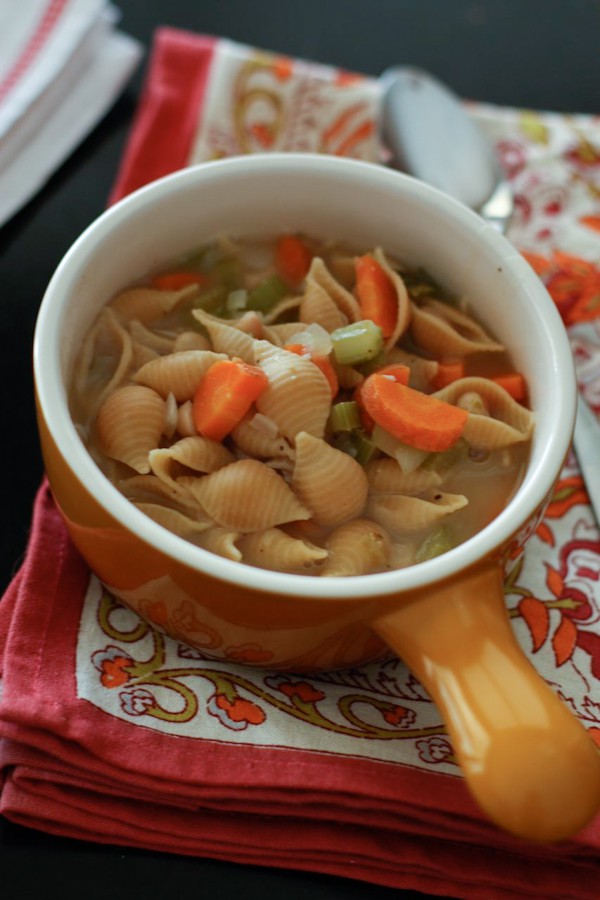 Pasta Shells and Beans Recipe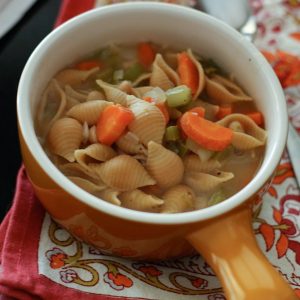 Ingredients:
1 tablespoon olive oil
2 cloves of garlic, minced
2 celery stalks, diced
2 carrots, diced
1 onion, chopped
2 cans Bush's Great Northern Beans (or Cannellini Beans), slightly drained but not rinsed
8 cups of water (or chicken broth)
1 tablespoon chicken base (omit if using chicken broth instead of water)
1/2 13 oz box whole wheat shell pasta
2 teaspoons Italian seasoning
big pinch salt and fresh ground pepper
freshly grated Parmesan cheese for serving
Directions:
Heat olive oil in a large soup pot. Add garlic, onion, celery and carrots to pot and saute over medium heat for about 10 minutes, or until soft and fragrant. Season with salt, pepper and Italian seasoning.
Add beans to vegetable mixture. Add water (or broth) and chicken base to pot. Bring to a slow boil.
Once soup has come to a boil, add pasta. Let cook for an additional 10 minutes or until pasta is cooked through. Taste for salt and pepper and adjust as necessary.
Since whole wheat pasta typically needs longer to cook through, you may have to adjust cooking time if using regular pasta.
How to Link Up and Join the Recipe Exchange:
1.  Post a quick and easy comfort food recipe using Bush's Beans that is perfect for a weeknight and everyday gatherings on your blog. There are no restrictions on how many recipes you want to submit. It is fine to use recipes that are previously posted on your blog, as long as you add the info in step three.
**If you don't have a blog, that's okay. Just leave your recipe in the comments section of this post.
2.  During the link-up week (February 4 – February 11, 2013), copy and paste the link to your Bush's Beans Winter Comfort Foods recipe post into the widget on either Real Mom Kitchen or on Aggie's Kitchen (Link Up tool will be found at the end of this post). You only need to add it on one site, but it will show up on both
**Please leave a comment on this post to let me know you linked up so you can be entered into the giveaway. Your comment will be considered your "entry" and will be used when the winner is chosen.
3.  Somewhere in your post, please include the following phrase:  "Join Aggie's Kitchen and Real Mom Kitchen and share a family favorite Winter Comfort Food recipe for the Bush's Beans Recipe Exchange!"
**In your recipe ingredients list, you must include one of the following Bush's Beans in your ingredient list:
·         Kidney Beans, Black Beans, Garbanzo Beans, Pinto Beans, Great Northern Beans, Cannellini Beans (all recipes with Cannellini Beans should include "or Great Northern Beans") and Chili Beans
·         You may include reduced-sodium beans, but please note the recipe works well with regular beans, as well
**Both of these must be included in your recipe post for a chance to win the giveaway, and it must link to Aggie's Kitchen, Real Mom Kitchen and Bush's Beans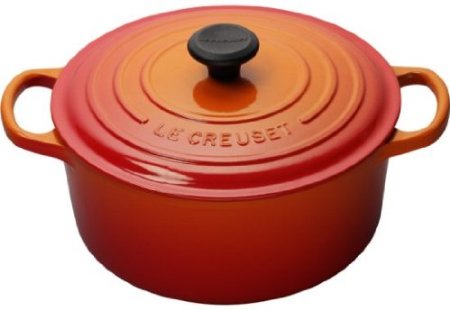 Giveaway Details:
Our friends at Bush's Beans are giving one lucky Aggie's Kitchen reader the chance to win:
·         10 free coupons for Bush's Beans
·         $100 Visa Gift Card
·         And the Le Creuset Signature Enameled Cast Iron French Oven, 5.5 Qt. Round in flame color
To enter: Link up to Winter Comfort Food recipe exchange (see above for details) and leave a comment letting me know you linked up in this post. Winner will be chosen from comments.
Additional entries can be earned through any of the following (please leave a separate comment to let me know, each comment will count as an entry):
·         Tweet " I want to win a Le Creuset French Oven & $100 Visa Card from @BushsBeans @aggieskitchen & @realmomkitchen http://su.pr/1lnn1N  #BushsBeans "
·         Follow Bush's Beans Facebook page
Sorry, the giveaway is open only to U.S. residents but, if you live elsewhere, please still feel free to share your Bush's Beans recipes. Giveaway ends February 11 at 12 a.m. PST.
(Disclosure: I am in a paid partnership with Bush's Beans. All opinions are my own)
Are you following me on Instagram, Twitter, Facebook and Pinterest? If you'd like to subscribe to Aggie's Kitchen and have each post delivered straight to your e-mail box, then please add your email here. Happy cooking!
There are affiliate links in this post. I make small earnings through any purchases made through these links. Thank you for supporting Aggie's Kitchen!