Healthy Habit: Make Your Own Smoothies
There definitely was a time in my life, not long ago, that I was not very familiar with making smoothies at home. I would drink my smoothies out, BIG smoothies to be honest, and then was horrified to find out that the smoothie I was drinking had around 500-700 calories in it. Eek.
Sorry, but I'd rather eat pizza for those kind of calories. Or a bag of potato chips.
Of course, I could have always just ordered a smaller smoothie, but whatever…I just started making my own at home instead.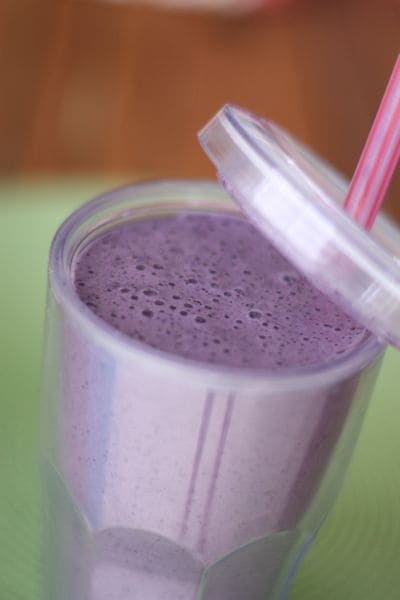 I finally have my perfect/favorite way to make a smoothie down pat and it's become my go-to breakfast during the week…which I enjoy in one of my many insulated cups (that I just LOVE) on the drive to drop off the kids at school.
The key to smoothies in my opinion is frozen fruit. I've tried making them with ice, but I really just don't like how they turn out….kind of watery and slushy and just not appealing to me. So I stick with the frozen fruit and I get a refreshing, ice cold smoothie every time. I also started adding chocolate protein powder in my smoothies to turn them into a complete meal. The protein powder is optional, but I highly recommend it if you need something to hold you over for a few hours, it does the trick.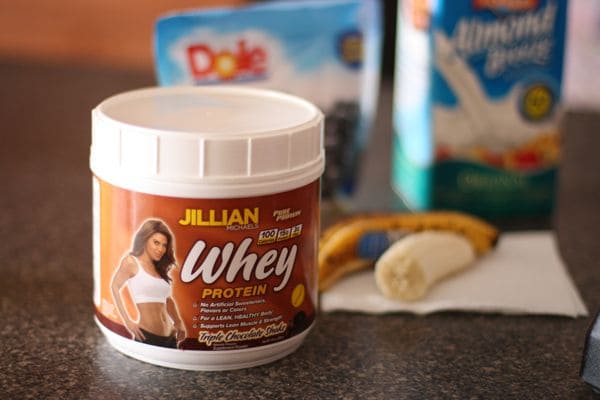 Aggie's Blueberry Breakfast Smoothie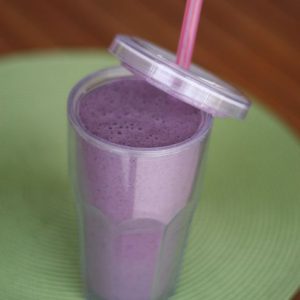 Ingredients:
1 cup frozen blueberries (or strawberries)
1/2 frozen or fresh ripe banana (optional, for extra sweetness)
1 cup regular almond milk
1 scoop chocolate protein powder (optional, for more of a meal-type smoothie – I am not a protein powder connoisseur, the only one I've tried is Jillian Michael's whey protein and I have been loving it for months now)
Directions:
Add your frozen fruit to your blender and let sit for about 5 minutes to let it defrost slightly for easier blending. Add milk and protein powder, if using, and blend for 30-45 seconds until smooth.
Amber likes to sing to me when I make my morning smoothie. She's always on key too.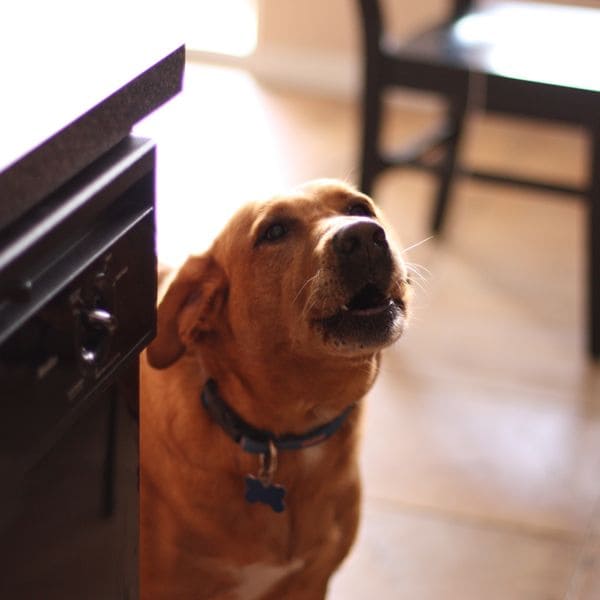 Cleaning tip: When I got my new blender last year, my friend Kelley gave me the most simple, yet invaluable tip on how to clean out my blender easily each day. It is brilliant and works like a charm.  All you need is about a cup of hot water from your faucet and a tiny squirt of dish soap (rinse out the leftover smoothie out of the pitcher first!) and BLEND. Rinse well and you're all set. The key to this little trick is to do it immediately after you make your smoothie, don't let it sit in the sink all day.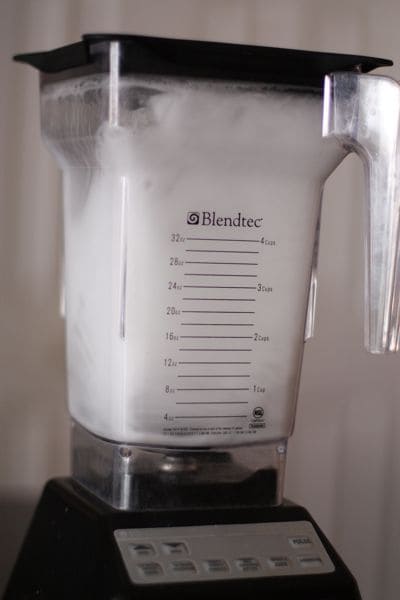 Do you have a favorite way to make smoothies?
Here's a few more I'd like to try:
Pistachio Smoothie from Amy at She Wears Many Hats
Skinny Green Tropical Smoothie from Gina at skinnytaste
Cranberry Cherry Mango Smoothie from Katie at Good Life Eats
Chocolate, Peanut Butter and Banana Smoothie from Makes and Takes 
and don't forget to try my own Green Smoothies and Extra Pink Berry Smoothies.
Are you following me on Instagram, Twitter, Facebook and Pinterest? If you'd like to subscribe to Aggie's Kitchen and have each post delivered straight to your e-mail box, then please add your email here. Happy cooking!
There are affiliate links in this post. I make small earnings through any purchases made through these links. Thank you for supporting Aggie's Kitchen!