Parmesan Lemon-Pepper Crusted Hellmann's Chicken
Dinner turned out a little extra delicious with the help of mayonnaise in this recipe for Parmesan-Lemon Pepper Crusted Hellmann's Chicken. 
As I'm sure most of you can relate, we get into dinner funks around these parts. I start cooking the same stuff week after week, for the sake of ease and also for the sake of not listening to complaints from the peanut gallery if I can be honest. My kids eat pretty well, it's something I work on with them, but they have their favorites and we often tend to stick with lots of variations of their favorites (pasta, pasta, broccoli, and pasta…chicken).
Hellmann's recently contacted me about their Chicken Change Up Campaign and I have to say, I thought the timing was quite appropriate. I needed something new to try out on the kids, and the Parmesan Crusted Chicken recipe stood out to me as something everyone would enjoy.
I was right.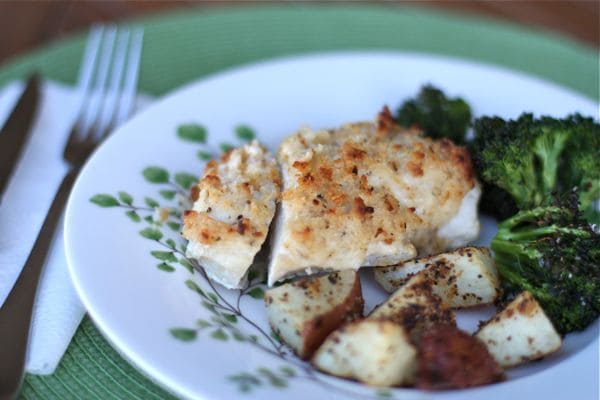 I prepared it almost exactly as the Hellmann's Chicken recipe was written, however I couldn't help myself to add in a teaspoon of lemon pepper seasoning. I got flustered while reading the recipe and accidentally combined the breadcrumbs into the mayonnaise and cheese mixture instead of just coating it…oops. I added a few extra breadcrumbs on top for good measure (and a little extra crunch, by the way…I used panko instead of traditional style breadcrumbs).
I had a little less chicken than the recipe called for so I tossed some red potato chunks in the leftover parmesan-mayo-lemon pepper mixture and roasted them up…they turned out awesome. The chicken and potatoes were served with ole reliable, roasted broccoli.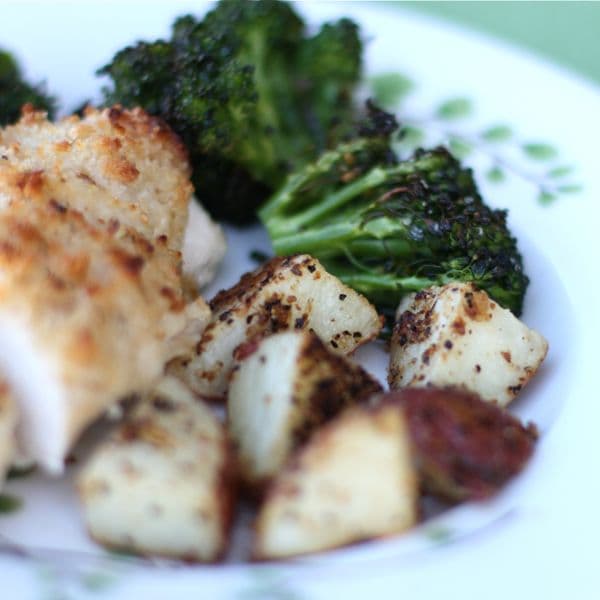 I must admit, I wasn't planning on eating a whole lot of this chicken, just a few bites, only because chicken really is my least favorite protein. I was more excited about the sides. I ended up eating an entire piece. And my kids finished their whole pieces too.
As a matter of fact, he kids gave it a "10".
The actual breakdown was this: Chicken – 10, Potatoes – 8 and the Broccoli – a 50!! Sammy: "…because Mom, you know how I feel about broccoli!!"
I know, bizarro! (but can't help but be HAPPY about that one!)
Print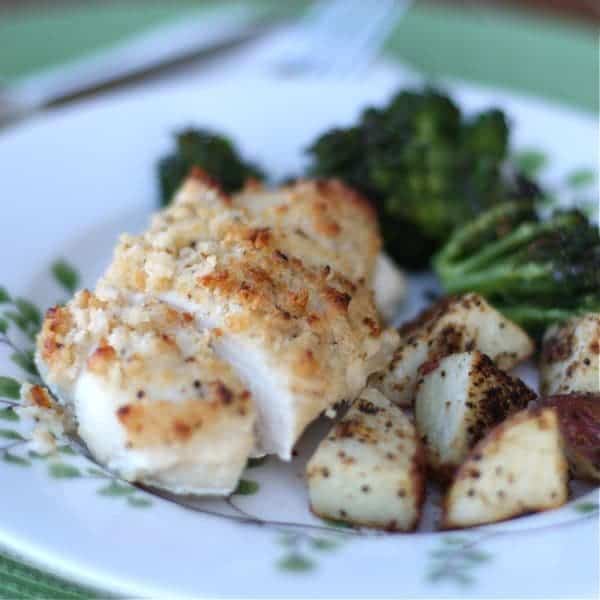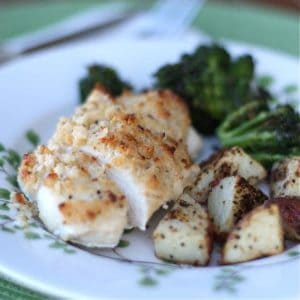 Parmesan-Lemon Pepper Crusted Hellmann's Chicken
Author:
Prep Time: 5 minutes
Cook Time: 20 minutes
Total Time: 25 minutes
Yield: 4 servings 1x
Category: Dinner
Method: Oven
Cuisine: American
Dinner turned out a little extra delicious with the help of mayonnaise as an interesting ingredient in this recipe for Parmesan-Lemon Pepper Crusted Hellmann's Chicken. 
---
Ingredients
1/2 cup Hellmann's or Best Foods Real Mayonnaise (I prefer and used Light)
1/4 cup grated Parmesan cheese
1 – 1.25 lb boneless chicken breast
1/4 cup panko seasoned with 1 teaspoon lemon pepper seasoning
---
Instructions
Preheat oven to 425 degrees.
Combine Hellman's or Best Foods mayonnaise with cheese in a bowl. Place chicken on a lightly greased baking sheet. Top your chicken evenly with mayonnaise and cheese mixture, then coat with lemon pepper seasoned panko crumbs.
Bake 20 minutes or until chicken is cooked through. I put the broiler on low for the last few minutes to get my coating a little more crisp.
Toss the potatoes in any leftover cheese and mayo mixture and bake for the same amount of time at 425 degrees. Check halfway through and toss around to ensure even baking.
---
Notes
Recipe slightly adapted from Hellmann's
Keywords: chicken, parmesan, lemon pepper
Are you following me on Instagram, Twitter, Facebook and Pinterest? If you'd like to subscribe to Aggie's Kitchen and have each post delivered straight to your e-mail box, then please add your email here. Happy cooking!
There are affiliate links in this post. I make small earnings through any purchases made through these links. Thank you for supporting Aggie's Kitchen!