Veggie Burger Wraps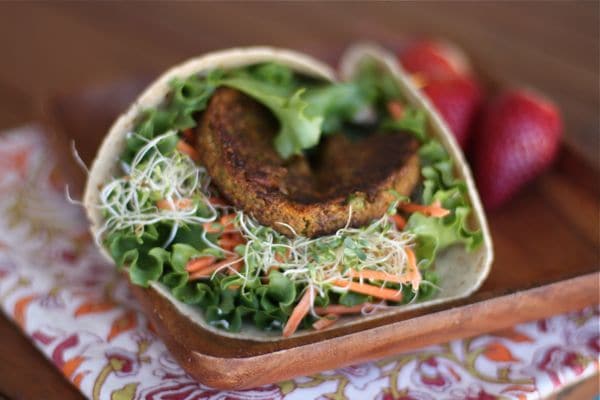 We all tend to be creatures of habit at times. At least I know that's true for me. When I find myself enjoying a certain food or meal, I notice that I start to enjoy that food or meal often – it can be almost comforting at times. I like no-brainer meals, to be honest. As much as I like to think about food all the time, there are times where I'd rather just go on auto-pilot.
This little throw together lunch falls into the category of "go to" meals for me. There's nothing gourmet about it, nothing fancy, but to me it's pretty perfect. It's simple, and I make sure to always have all the ingredients available for me in the fridge (helps with auto-pilot mode).  I've been enjoying it almost every weekday for the last few weeks. It's become "ole reliable" when I can't think too hard about what to make myself for lunch (I work from home during the day, so this could easily be dinner for those of you who don't, please keep in mind).
Don't shame me, but the veggie burger that I cook up is a frozen one, and I love it. I buy a big box of them at Costco and cook them up in my toaster oven until hot and a bit crisp. I've been wanting to try making my own homemade veggie burgers for a while now, and it's a challenge I plan to take on very soon.
I'll enjoy these until I do.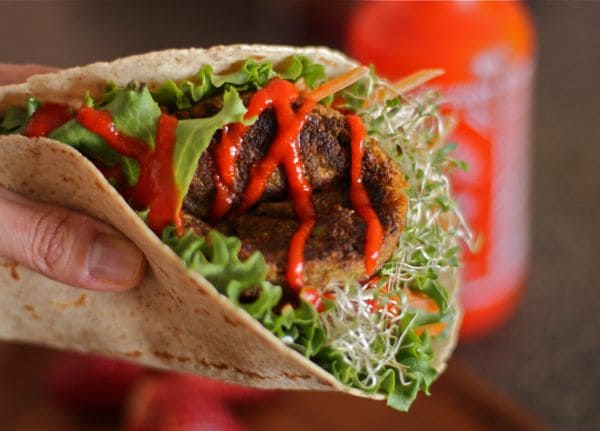 Veggie Burger Wraps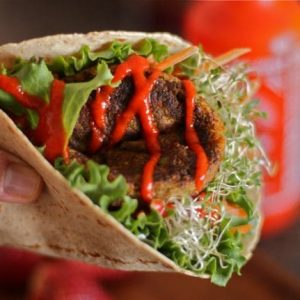 Ingredients:
1 veggie burger – your favorite, right now mine is Dr. Praeger's California Veggie Burger, but I also enjoy Morningstar Black Bean Burgers
1 whole wheat tortilla wrap – I love these from La Tortilla Factory
1 Laughing Cow Cheese Wedge – any flavor – or slice of cheese of your choice (optional of course)
green leaf or red leaf lettuce
shredded carrots
alfafa sprouts
Sriracha, hot sauce, mustard or ketchup – your choice and optional
Directions:
Cook your veggie burger until crisp, according to directions. While veggie burger is cooking, lay out your tortilla and spread your cheese on it. Top with lettuce leaves, carrots and sprouts. Top with veggie burger and a dash of Sriracha or hot sauce.
Serve with fruit and enjoy.
Do you have a favorite recipe for homemade veggie/bean burgers? If so, please share in the comments (links are very welcome!)
Here are a few I've seen around and am dying to try:
Quinoa Black Bean Burger from Bake Your Day
Chickpea Burger from Martha Stewart
Black Bean Patties with Avocado Tomato Salsa from Cookin' Canuck
Reuben Style Bean Burgers from Three Many Cooks
 Mediterranean Veggie Burgers with Lemon Caper Mayo from Cinnamon Spice and Everything Nice
Follow Aggie's Kitchen's board Sandwiches on Pinterest.
Are you following me on Instagram, Twitter, Facebook and Pinterest? If you'd like to subscribe to Aggie's Kitchen and have each post delivered straight to your e-mail box, then please add your email here. Happy cooking!
There are affiliate links in this post. I make small earnings through any purchases made through these links. Thank you for supporting Aggie's Kitchen!