Creamy Egg Salad with Capers
When I was in college, I used to frequent a local bagel shop and order pretty much the same thing every time. A lightly toasted everything bagel with egg salad. When I was served my sandwich, it was always served this way – open faced with sliced tomatoes, red onions and a sprinkle of salty capers over top. I was completely hooked on it.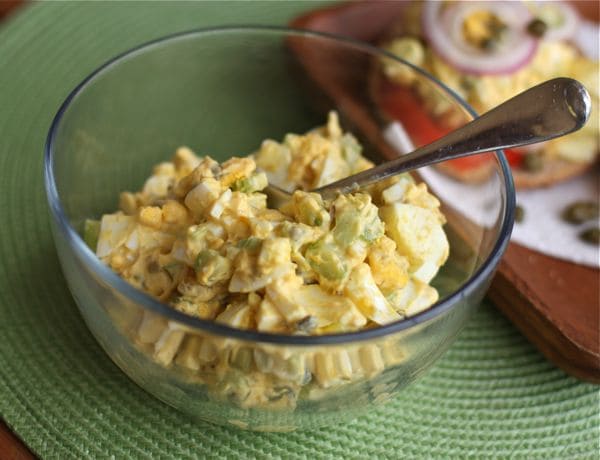 I recently ordered Pam Anderson's Cook Without A Book and have been flipping pages through it for a few weeks now. She dedicates a couple of pages to her favorite versions of egg salad, so the other day when I found myself with plenty of eggs, egg salad made it's way to the menu for lunch. I love Pam's approach to cooking – free yourself from a "recipe" and just cook. That's basically how I cook, so it was nice to see her book was organized and written in the same way – lots of "base recipes" with variations. That is my kind of cookin'.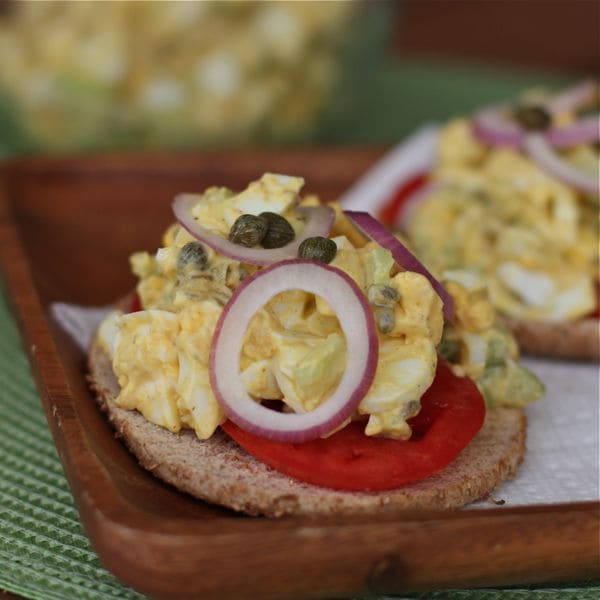 From the egg salad page in Pam's cookbook, this egg salad was born. It has all the things I love about egg salad – slightly creamy, tangy and crunchy…and the added bite of saltiness from the capers takes it to a whole new level. And as much as I wished I had a big, bready everything bagel to serve it on, I didn't. Instead I used a puny Bagel Thin. It was still good though. I'll save my big bagel for another day I guess.
Creamy Egg Salad with Capers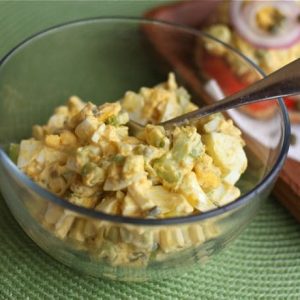 Ingredients:
8 hardboiled eggs, chopped
1-2 tablespoons light mayonnaise (I tend to go lighter on the mayo and heavier on the mustard, you decide based on your taste)
1-2 tablespoons your favorite mustard (I used a caramelized onion mustard from Stonewall Kitchen that was in my fridge and is completely awesome)
2 celery stalks, small diced
salt and pepper to taste
2 tablespoons capers, drained and roughly chopped
For serving:
sliced tomatoes
thin sliced red onion
additional capers
Directions:
In a large bowl combine chopped hard boiled egg, mayo, mustard, celery, capers, salt and pepper. Gently stir until thoroughly combined. Serve on toasted bread of choice (bagels, rye, flatbread crackers are all my favorite) along with sliced tomato, sliced red onion and capers sprinkled on top.
Are you following me on Instagram, Twitter, Facebook and Pinterest? If you'd like to subscribe to Aggie's Kitchen and have each post delivered straight to your e-mail box, then please add your email here. Happy cooking!
There are affiliate links in this post. I make small earnings through any purchases made through these links. Thank you for supporting Aggie's Kitchen!