Grilled Lemon Pepper Chicken Salad with Greek Yogurt
Fire up your grill and try this light and flavorful Grilled Lemon Pepper Chicken Salad with Greek Yogurt next time you are craving chicken salad! The grilled lemon pepper chicken is a great addition, especially during the summertime.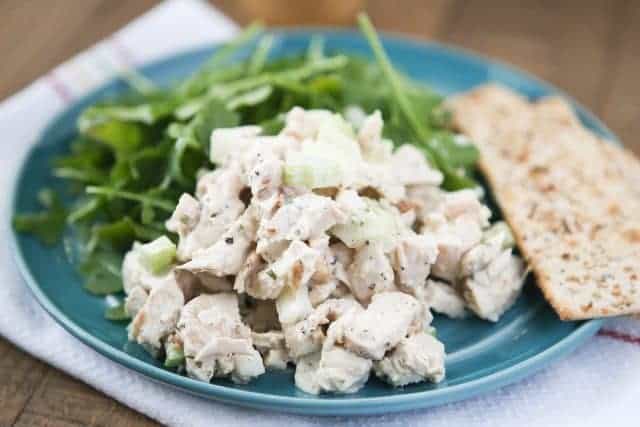 I'm a sucker for chicken salad and love having it for quick lunches and dinners, especially in the summer when cooking a hot meal for dinner isn't always appealing.
This Grilled Lemon Pepper Chicken Salad with Greek Yogurt was inspired by one of the coaches at my gym who got me craving chicken salad so bad at 6am recently that I immediately came home and made this for my parents who were coming over for lunch that day. I love people who can talk about food passionately in the early morning while pushing through burpees, squats, push ups, box jumps and all others forms of self inflicted torture in the spirit of fitness and health.
These are my kind of people.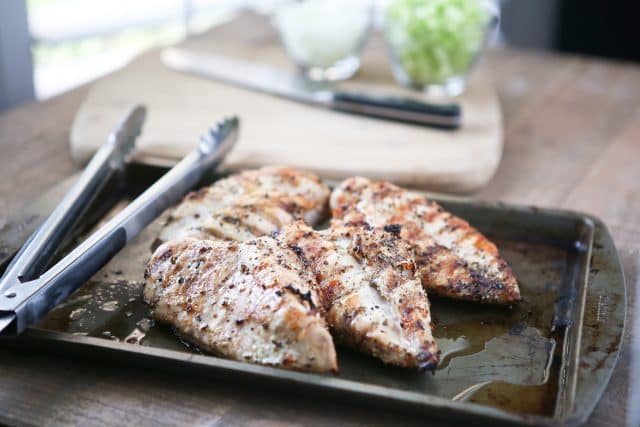 Marinating the chicken in lemon pepper seasoning, then grilling it gives this chicken salad great flavor. I love grilled chicken and try to cook up a batch every chance I get to use for salads, sandwiches, quesadillas or chicken salad like this one.
Using Greek yogurt for half the mayo helps lighten it up too. If you love Greek yogurt more than mayo you could even cut back on the mayo and use Greek yogurt in it's place even more. It definitely lightens it up the recipe.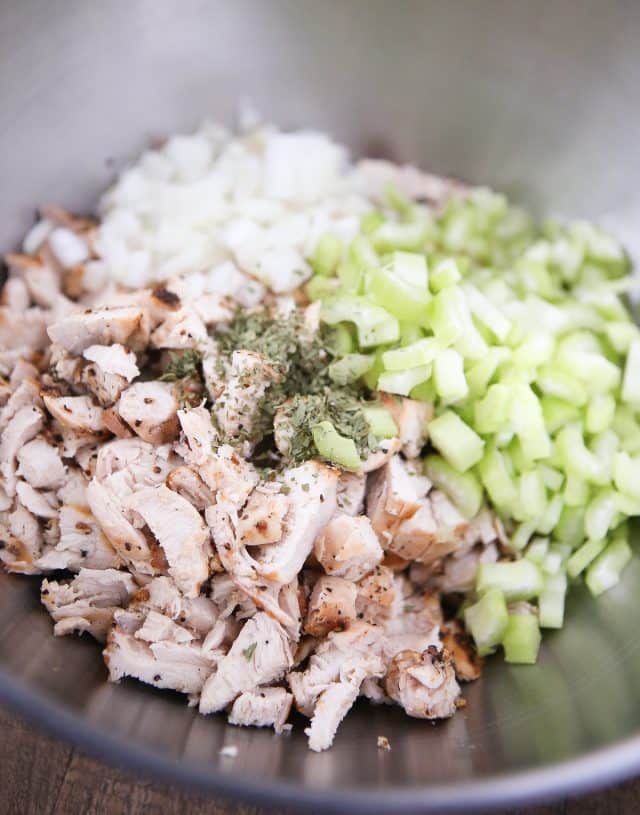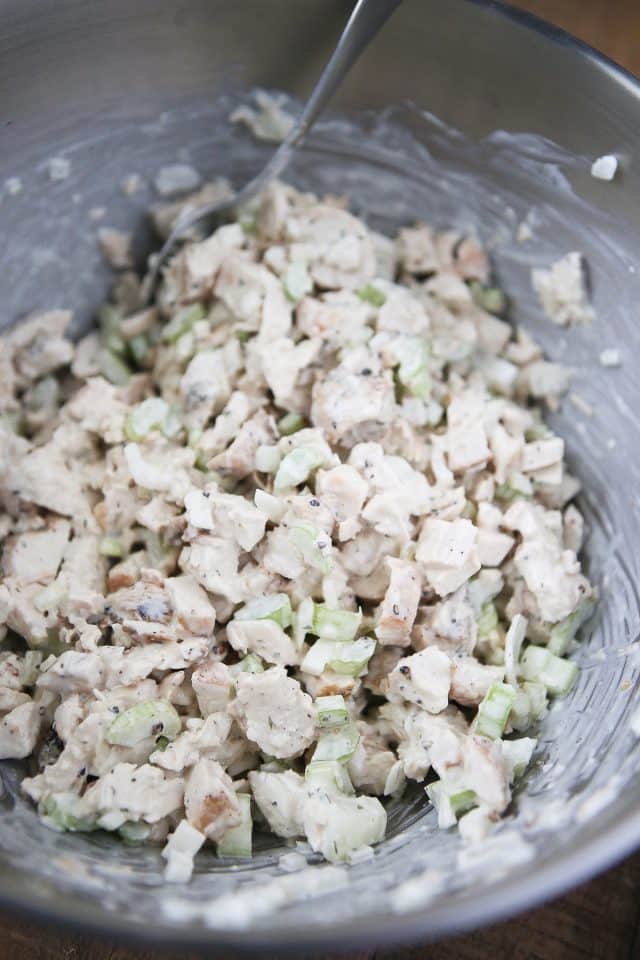 This recipe for Grilled Lemon Pepper Chicken Salad with Greek Yogurt makes a big batch and is great for feeding a large group – or for light lunches and dinner throughout the week. My daughter loves having hers on croissants while I am happy with mine over a plate of greens with some crackers.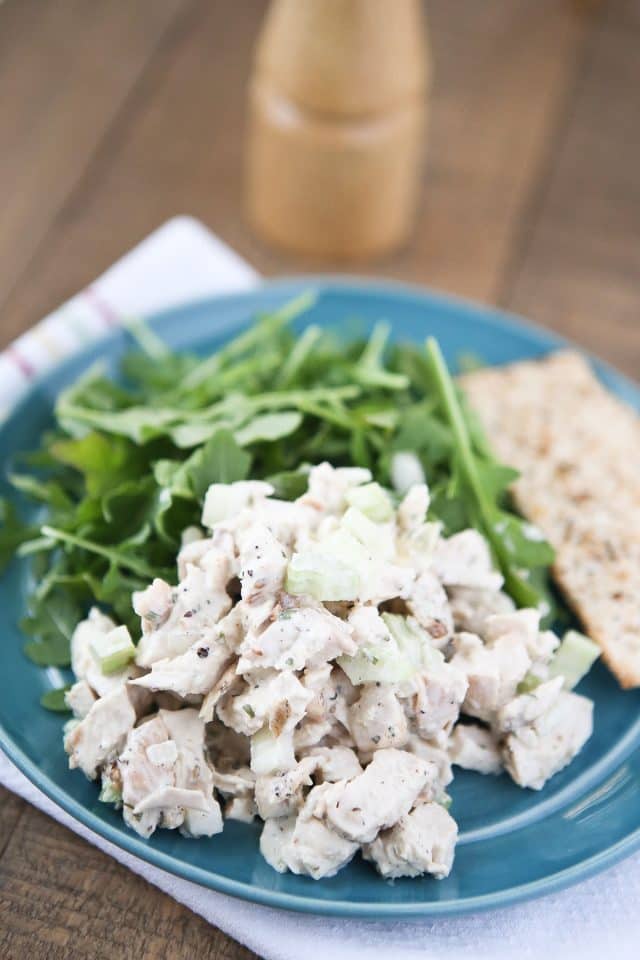 Love lemon pepper? I do too! Here are a few lemon pepper recipes to try out:
Lemon Pepper Chicken with Artichokes, Mushrooms and Asparagus
Lemon Pepper Tacos with Cilantro Lime Slaw | Good Life Eats
Lemon Pepper Shrimp over Pasta | Dine & Dish
Grilled Lemon Pepper Chicken Salad with Greek Yogurt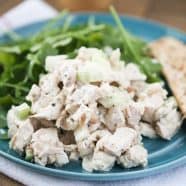 Ingredients:
3 lbs chicken breast
3 tablespoons lemon pepper seasoning
1 tablespoon oil
3/4 cup plain 0% Greek yogurt
3/4 cup reduced fat mayonnaise
juice from half lemon (about 1 tablespoon)
1 tablespoon white baslamic vinegar
2 teaspoons dried tarragon
1/2 Vidalia or sweet onion, chopped (about 3/4 cups)
3 celery stalks, chopped (about 1 cup)
coarse salt and fresh ground pepper, to taste
Directions:
Preheat grill or grill pan to medium heat. Place chicken breasts into a large bowl or ziplock bag and add lemon pepper seasoning and oil. Toss around so that seasoning and oil coats all of the chicken well. (You can put in fridge to cook later at this time.)
Place chicken on the grill. Cook on each side for about 6-8 minutes each, depending on size and thickness of chicken (meat thermometer should read 160 165 degrees, or use touch method).
In a small bowl, make dressing for chicken salad by combining Greek yogurt, mayonnaise, lemon juice, white balsamic vinegar, dried tarragon, salt and pepper.
Once chicken is cooked and cooled (it's ok if still a little warm), dice into small pieces and place in large mixing bowl. Add onion, celery and dressing and stir to combine. Season with coarse salt and fresh ground pepper to taste.
Are you following me on Instagram, Twitter, Facebook and Pinterest? If you'd like to subscribe to Aggie's Kitchen and have each post delivered straight to your e-mail box, then please add your email here. Happy cooking!
There are affiliate links in this post. I make small earnings through any purchases made through these links. Thank you for supporting Aggie's Kitchen!
Leave a Comment