Italian Herb Grilled Chicken
This Italian Herb Grilled Chicken recipe is a summer staple – pair it up with salad or pasta, or serve on it's own. It's delicious!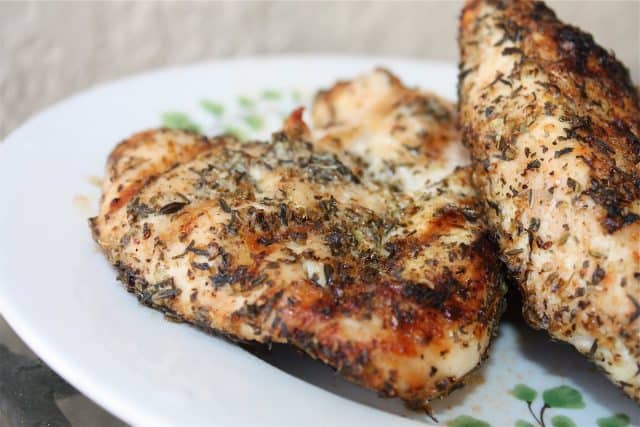 Hope everyone is enjoying their weekend! We've had great weather and have spent a lot of our time in the pool and out by the grill. Last night's dinner was amazing…inspired by my nephew Ryan who was over hanging out.
But first, this Italian Herb Grilled Chicken.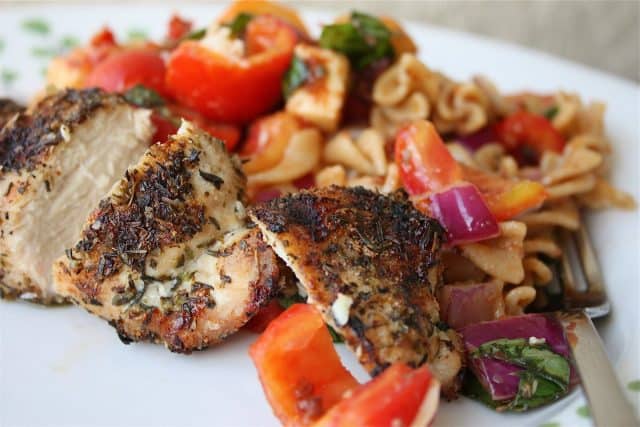 This Italian Herb Grilled Chicken was perfect for a quick weeknight dinner. It was prepared on the grill and served with
Ina's Pasta with Sun Dried Tomatoes
so there wasn't a lot of time spent in the kitchen, which is really nice during the summer.
I don't really measure the amounts of herbs and spices that go in the rub, I usually use equal amounts of each herb and spice and combine it in a bowl. I set aside what I want to use for that meal so I don't cross contaminate, then store the rest of the Italian herb blend for another time.
Chicken like this can be used in so many meals…pasta, salads, sandwiches…you can't go wrong with it. I love grilling a big batch of chicken breasts early in the week to use in different meals. It's a great addition to Greek salads.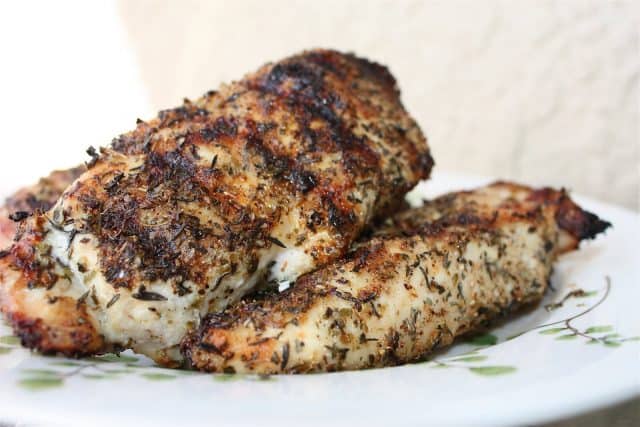 One of my favorite ways to use this chicken for a family dinner is to slice it up, top it with sauce and cheese and throw it on a roll and under the broiler to make chicken parmesan sandwiches. My family LOVES it.
Enjoy!
More grilled chicken!
Italian Herb Grilled Chicken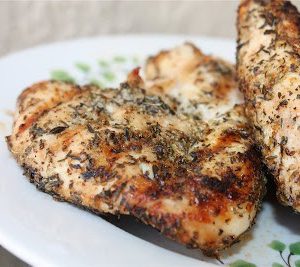 Ingredients:
1.5 lb chicken breast
olive oil (enough to drizzle over both sides of chicken)
For the seasoning:
2 TB dried oregano
2 TB dried thyme
2 TB dried basil
2 TB garlic powder
good pinches of kosher salt and fresh ground pepper
Directions:
In a small bowl, combine oregano, thyme, basil, garlic, salt and pepper. Set aside how much you will use for chicken, save the rest in air tight container for future use.
Lay chicken breasts on baking sheet or plate. Sprinkle both sides of chicken with seasoning and rub. Drizzle olive oil on both sides of chicken. Place on hot grill, over medium heat. Grill 5-7 minutes on each side or until done, when juices run clear.
Let chicken rest for 5 minutes before cutting.
Are you following me on Instagram, Twitter, Facebook and Pinterest? If you'd like to subscribe to Aggie's Kitchen and have each post delivered straight to your e-mail box, then please add your email here. Happy cooking!
There are affiliate links in this post. I make small earnings through any purchases made through these links. Thank you for supporting Aggie's Kitchen!