Greek Grilled Cauliflower and Vidalia Onion Quinoa Salad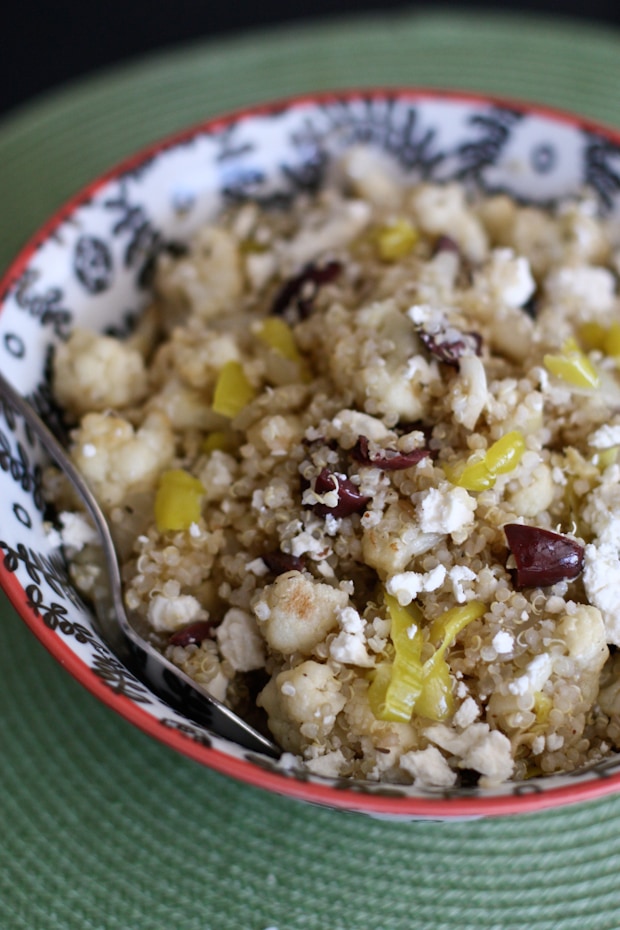 A couple summers ago (maybe it was just last summer), I picked up a simple little grilling basket/wok at Target. Since then, I've been grilling vegetables in it like crazy. I normally stick to peppers and onions or some kind of squash medley, but a few weeks ago I decided that I wanted to try out grilled cauliflower.
Before throwing it on the grill I added sliced Vidalia onion to it and seasoned it up with some dried oregano, salt, pepper and a good drizzle of olive oil. During this time I made sure I was preheating my grill basket. Preheating your grill basket is like preheating your wok on your stove, it ensures your vegetables will get a good char and stay a bit more crisp. I just started doing this recently and love the results.
We loved how the grilled cauliflower turned out!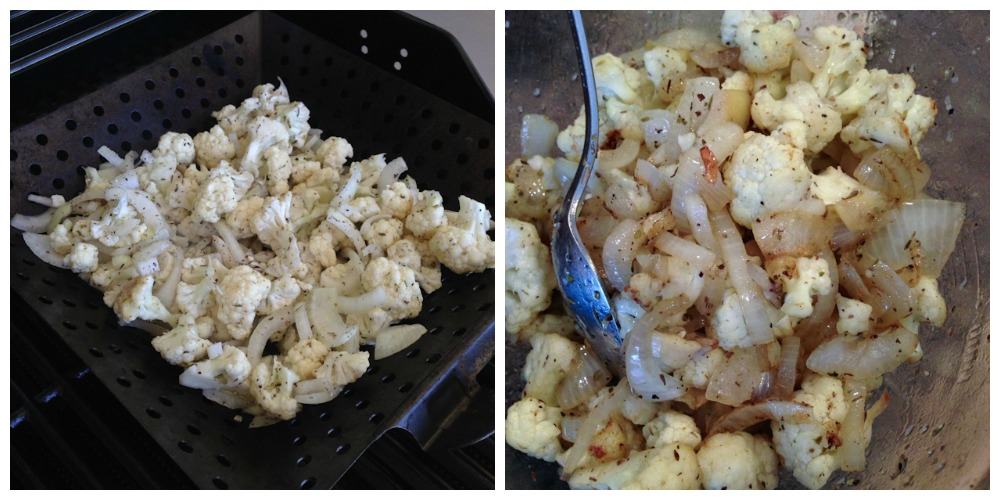 Honestly, we could have eaten just as is. It was delicious and a side dish that I will definitely be making again. But since I had some leftover quinoa in the refrigerator begging to be turned into a salad, I went that route. Using up some odds and ends in the fridge, this Greek Grilled Cauliflower and Vidalia Onion Quinoa Salad recipe was born.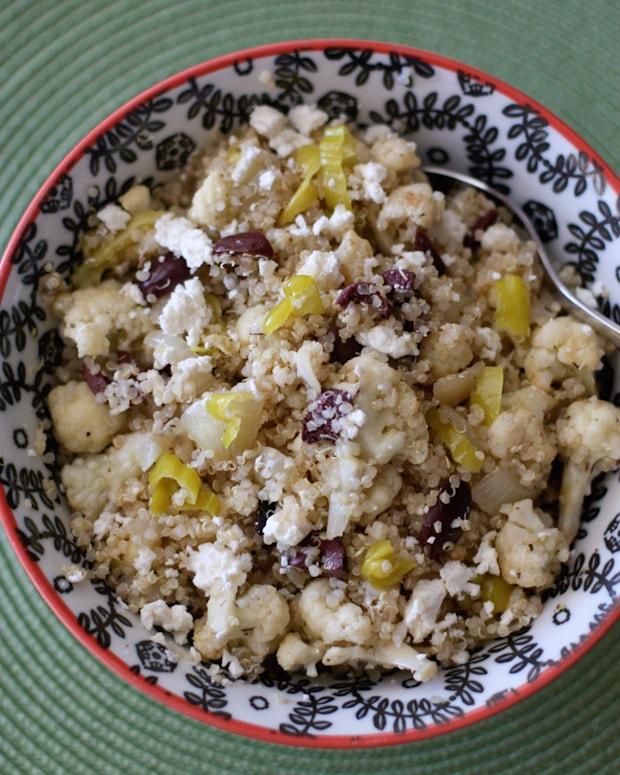 It was light, fresh but still substantial enough to stand as a vegetarian meal (I enjoyed leftovers for lunch the next day!). We served it along some typical barbecue fare: grilled steaks, chicken sausages, corn, potatoes, a tomato and basil salad. It really worked well as part of our meal and would be a great addition to barbecue or picnic this summer.
Enjoy!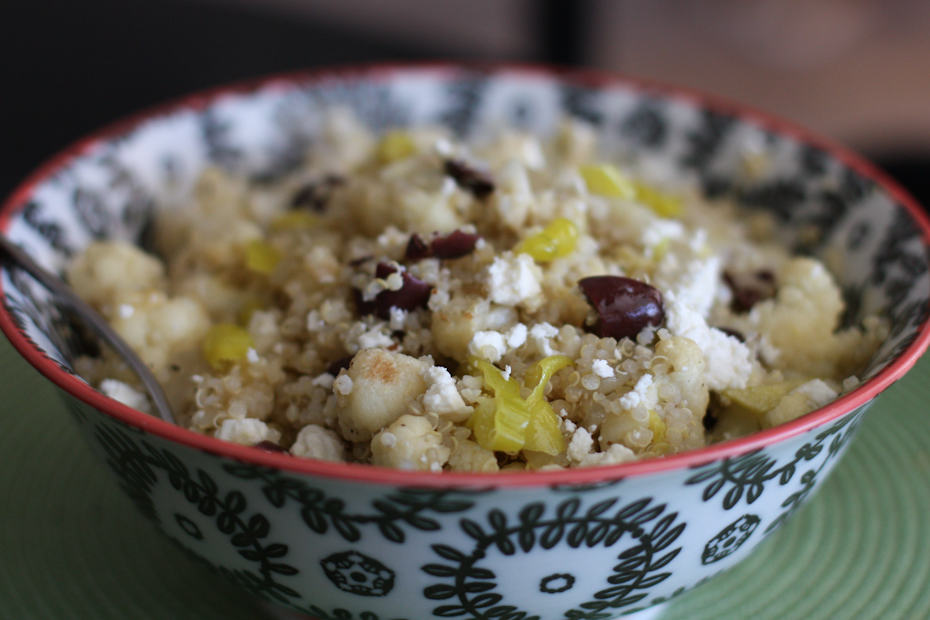 Greek Grilled Cauliflower and Vidalia Onion Quinoa Salad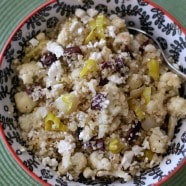 Ingredients:
For the grilled cauliflower:
1/2 head cauliflower, cut into small florets
1 Vidalia onion, sliced thin
1 1/2 teaspoon dried oregano
1 tablespoon olive oil
big pinch salt and pepper
1 lemon, halved
For the quinoa salad:
1 cup cooked and chilled quinoa
1/4 cup banana peppers, chopped
1/4 cup kalamata olives, chopped
2 oz feta
2 tablespoons red wine vinegar
2 tablespoons olive oil
salt and pepper, to taste
Directions:
Preheat grill basket on grill over medium heat.
In a large bowl, combine cauliflower, onion, oregano, olive oil, salt and pepper. Place into grill basket and cook for 15 minutes or until slightly softened and charred. Using tongs, toss from time to time to ensure even cooking. Once cauliflower and onion is done grilling, place back into bowl and squeeze fresh lemon juice over it.
To your grilled cauliflower and onion, add quinoa, banana peppers, olives, feta, red wine vinegar, olive oil, salt and pepper. Gently toss until combined and taste for seasoning. Serve room temperature or chilled.
Follow Aggie's Kitchen's board Salads on Pinterest.
In case you missed it, find more cauliflower recipes here!
More quinoa salads on Aggie's Kitchen:
Cool Cucumber and Quinoa Salad Bowl
Nutty Quinoa, Spinach and Cranberry Salad
Toasted Garlicky Quinoa Salad with Tomatoes, Hearts of Palm and Goat Cheese
Are you following me on Instagram, Twitter, Facebook and Pinterest? If you'd like to subscribe to Aggie's Kitchen and have each post delivered straight to your e-mail box, then please add your email here. Happy cooking!
There are affiliate links in this post. I make small earnings through any purchases made through these links. Thank you for supporting Aggie's Kitchen!
25 Responses to "Greek Grilled Cauliflower and Vidalia Onion Quinoa Salad"
Trackbacks/Pingbacks

Leave a Comment