Easy Cheesesteak Sandwiches
Easy enough to make in your own kitchen, next time you and your family are craving cheesesteak sandwiches try these simple and tasty ones at home.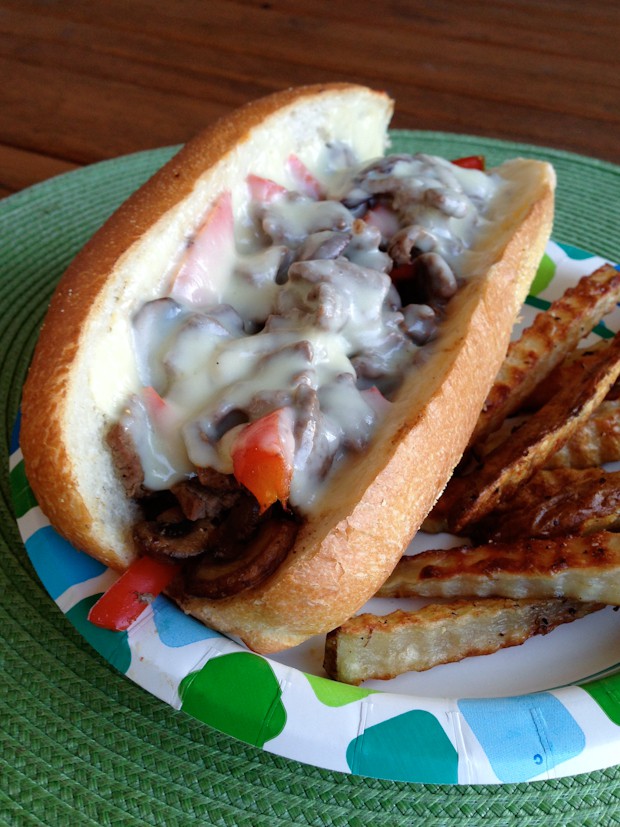 Call it a craving, but last week I had to have a cheesesteak sandwich. Like, HAD to. I had been wanting one for a few days, but I have to admit, normally for me mouthwatering greasy cheesesteak sandwiches equals a big ole stomach ache. Not fun. It is what it is.
My pregnant self and I decided to take this cheesesteak craving into our own hands – make a little less greasy version of one for the family at home. You have no idea how happy my husband was to hear that cheesesteaks were on the menu that night. Anytime beef or steak make an appearance in my kitchen, I swear, he gets giddy. It's a treat, and I know I owe it to him every now and then considering he doesn't complain one bit about all the veggie and bean meals and lean ground turkey we normally eat. I'm truly happy to treat!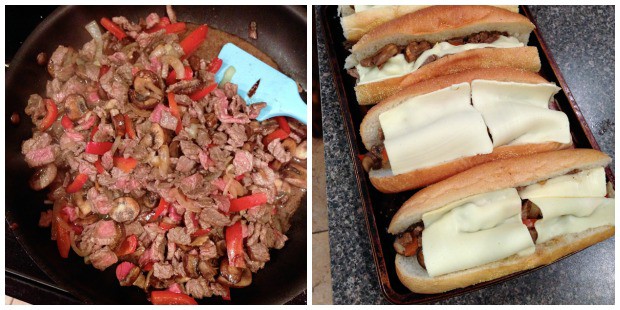 I know there are people out there who get very passionate about how their cheesesteak sandwiches are made. I will be the first to admit that I've never had a "real" Philly cheesesteak, and by no means am trying to pull these off as authentic. You know what they were? They were delicious, and incredibly easy enough to pull together on a lazy Friday night in my kitchen.
And I have to say, they satisfied my craving perfectly.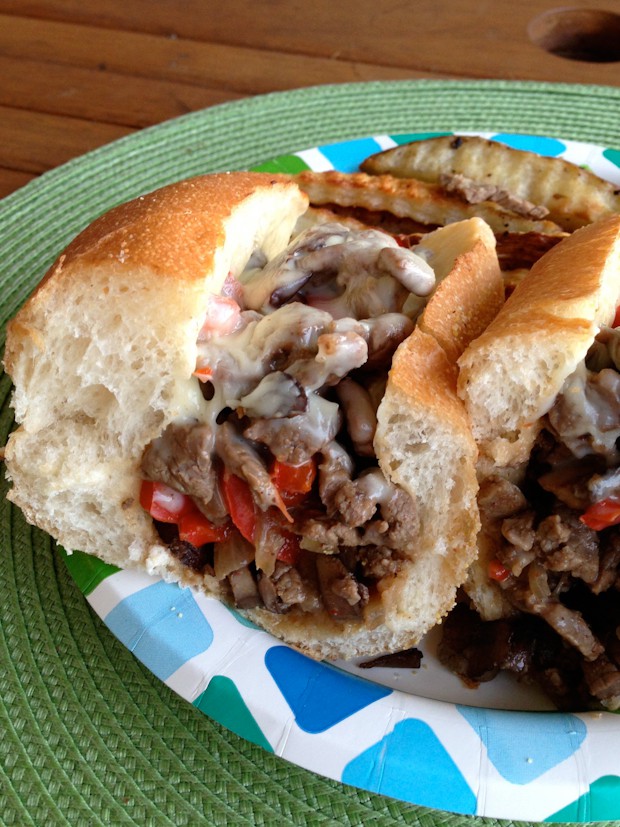 I served these tasty and easy cheesesteak sandwiches with these perfectly baked Italian herb fries – I highly recommend you get yourself in the kitchen to make this soon. Or at least add it to your easy back-to-school dinner recipes rotation! This recipe was adapted from American Test Kitchen's 6 Ingredient Solution, such a great cookbook to have in your collection!
If you are in need of more easy back-to-school recipe inspiration – or are a fan of America's Test Kitchen – you still have a few more days to enter my giveaway for ATK's newest cookbook, 6 Ingredient Solution.
Easy Cheesesteak Sandwiches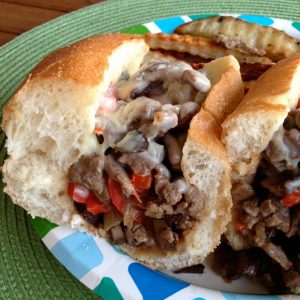 Ingredients:
2 lbs thinly sliced top round steak (original recipe used skirt steak, but my store did not have)
1 teaspoon oil
8 oz package sliced mushrooms, coarsly chopped
1 small onion, thinly sliced, then coarsly chopped
1 red bell pepper, thinly sliced, then coarsly chopped
big pinch steak seasoning or coarse salt and pepper
4-6 Italian sub rolls
sliced American or Provolone cheese
Directions:
Place steak into freezer for about an hour to make for easier cutting. Once firm and hard, take out of freezer and stack on a cutting board, giving the meat a rough chop.
Preheat oven to 400 degrees. Prepare your sandwich bread by slicing longways.
Heat oil in a large nonstick skillet over medium-high heat. Add mushrooms, peppers and onions to pan and cook until soft and browned, about 5-8 minutes. When done, place aside on plate.
Add your coarsly chopped meat to pan and cook over medium-high heat until starting to brown, about 4-5 minutes. Season with steak seasoning or salt and pepper. Add vegetables back into pan and combine. You may have to work in 2 batches if your pan does not fit all the meat and vegetables at once. Once all the meat and veggies are cooked up, drain well in a colander. Once drained place meat and vegetable mixture back into pan to keep warm.
When ready to make sandwiches, spoon meat and veggie mixture generously into each roll. Place rolls side by side on a large baking sheet. Top with sliced American cheese and place in oven until cheese melts completely, about 2 minutes. Serve with homemade baked fries and enjoy!
More sandwiches my family loves:
Rotisserie Chicken Cuban Sandwiches
Grilled Italian Chicken Sausage and Pepper Pitas
Slow Cooker Pesto Chicken Melts
And hard to believe but…another year has gone by! These babies of mine are suddenly starting 1st and 3rd grade. Can we seriously press pause for a minute??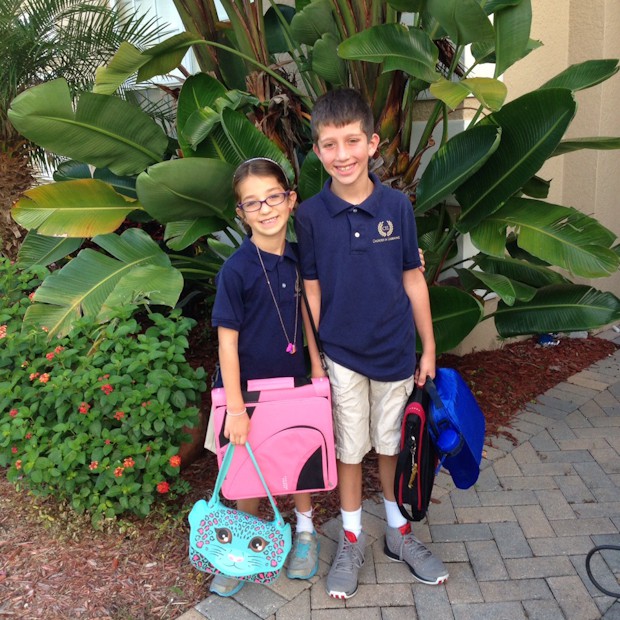 Follow Aggie's Kitchen's board Sandwiches on Pinterest.
Are you following me on Instagram, Twitter, Facebook and Pinterest? If you'd like to subscribe to Aggie's Kitchen and have each post delivered straight to your e-mail box, then please add your email here. Happy cooking!
There are affiliate links in this post. I make small earnings through any purchases made through these links. Thank you for supporting Aggie's Kitchen!