Go-To Summer Meal: Grilled Italian Chicken Sausage and Pepper Pitas
Grilled Italian Chicken Sausage and Peppers Pita Sandwiches – one of my GO-TO summer meals!  Easy to throw together with little prep.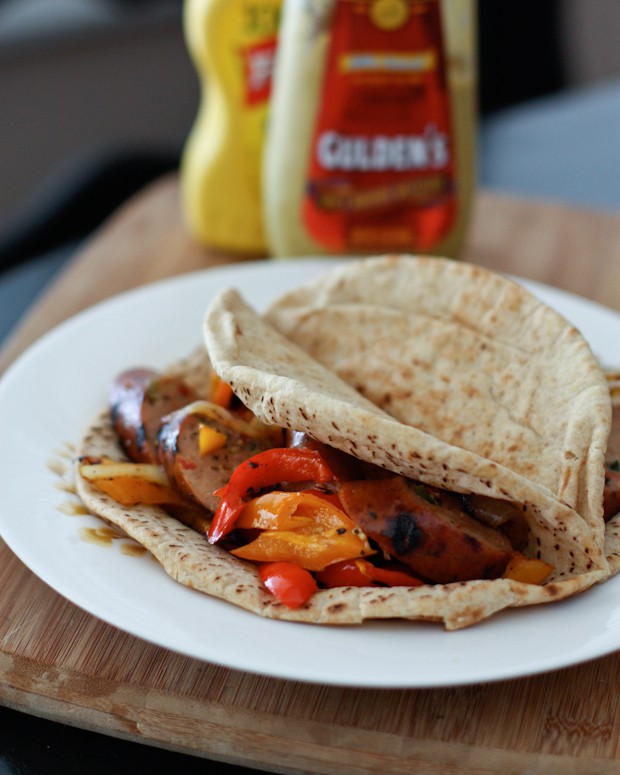 Summer vacation has officially begun in Casa Goodman. Last week was our first full week out of school and we kicked off the break with some time at a resort in Orlando using my parent's time share points. Though it rained mostly every day, it didn't stop my kids from non stop swimming, sliding, lazy river-ing, playing water volleyball and basketball.
I am always amazed at their endless energy and I have to say I am thankful they are at the age they can be in the pool without me physically by their side with them every minute – this mama needed a few lounge chair breaks to regain strength and un-prune her fingers and toes from all the water. I loved seeing them so active all day long, and honestly, the cloudy weather was actually a blessing – the sun came out in full force Saturday and whoa was it hot.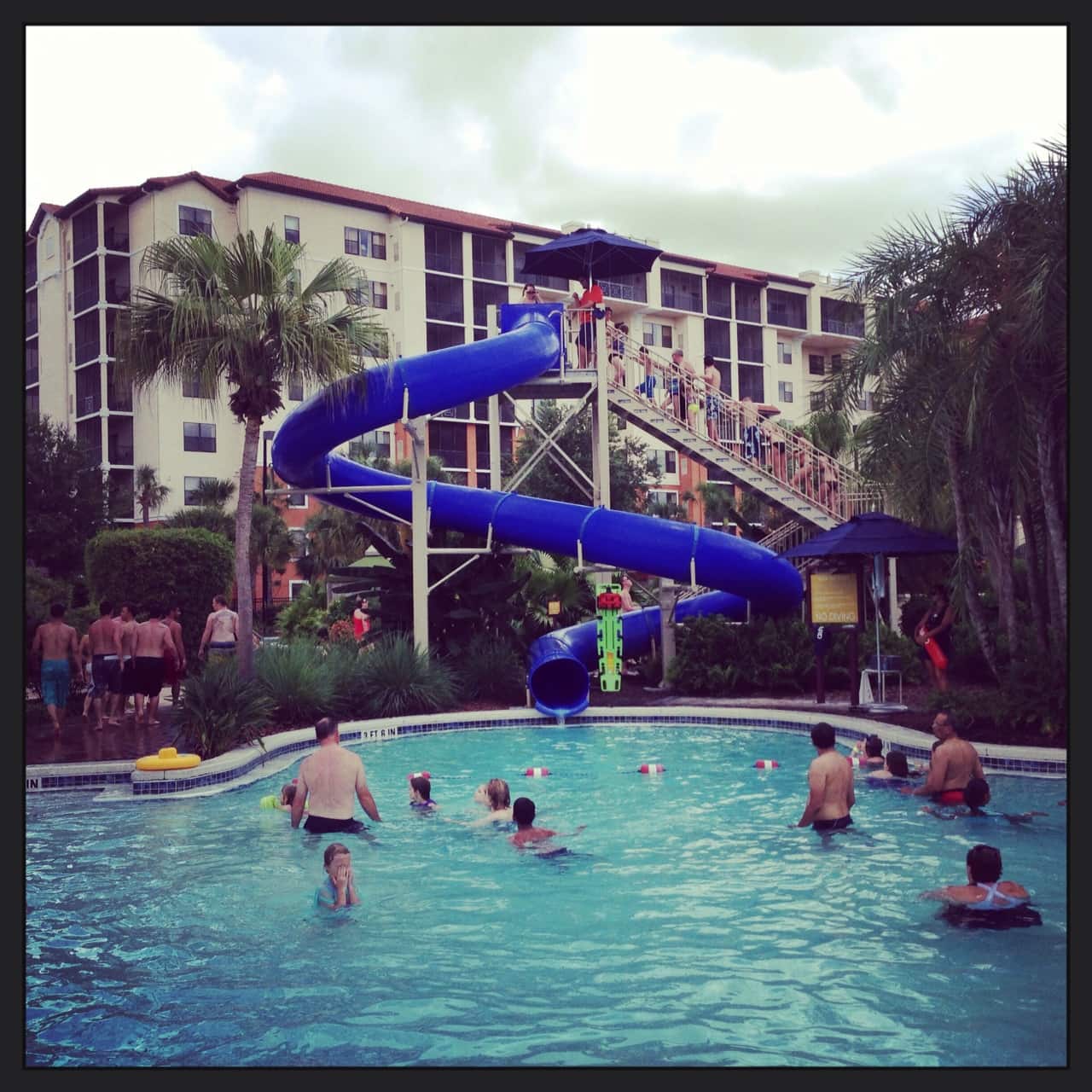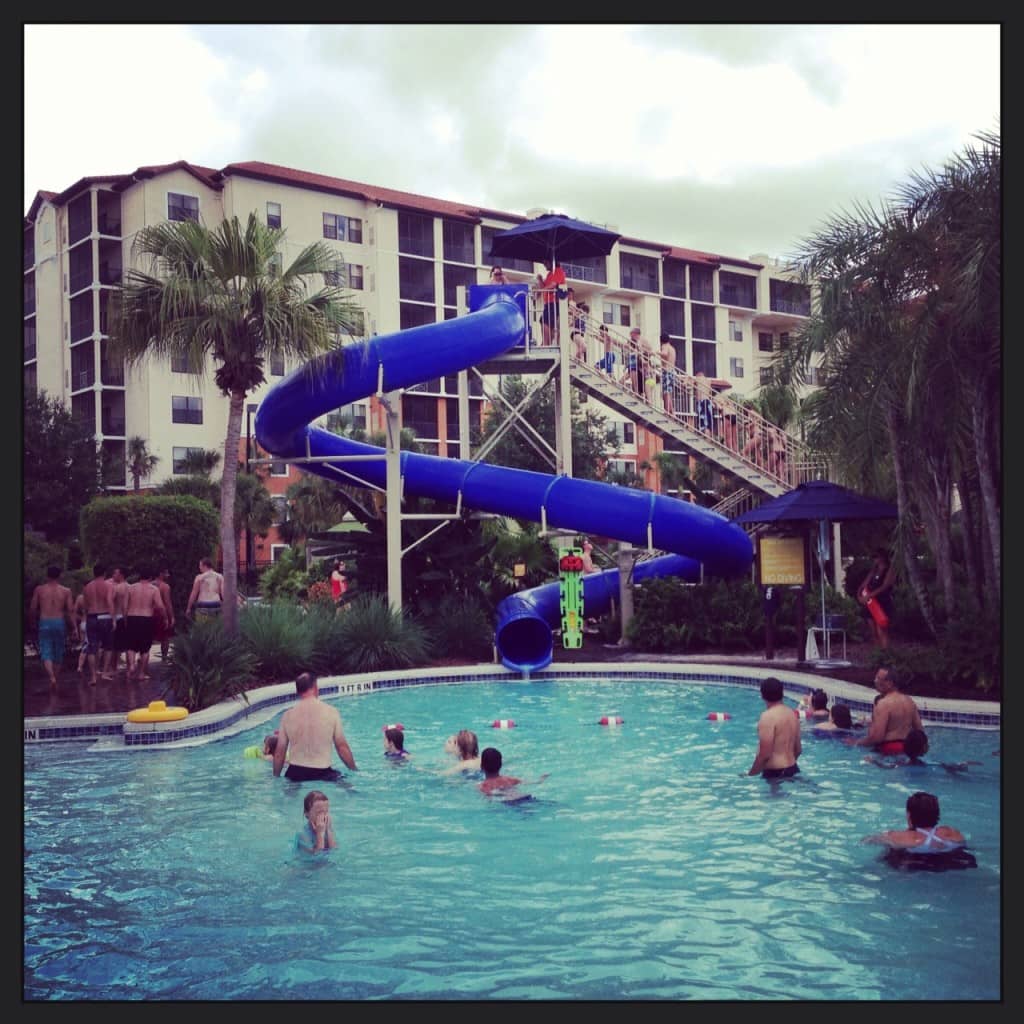 As always, there's no place like home and we were all happy to get unpacked and back to normal yesterday. Since I didn't have time to get to the grocery store before family hunger kicked in, I fell back on an ole reliable meal I tend to make pretty often throughout the summer – Grilled Italian Chicken Sausage and Peppers.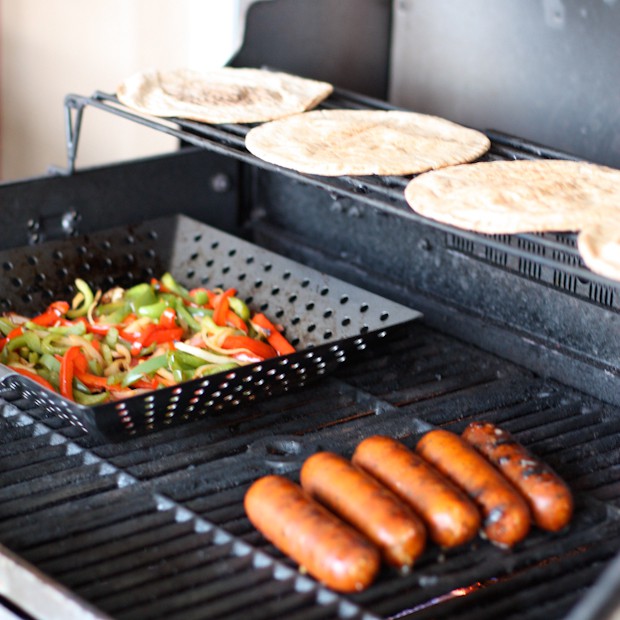 I pretty much always have a pack of precooked chicken sausages or two in the freezer (I stock up on several of the Aidell's varieties every time I go to Costco, this time I picked up a new Italian style one from Casual Gourmet) and I usually have at least bell pepper or two along with onions in house too.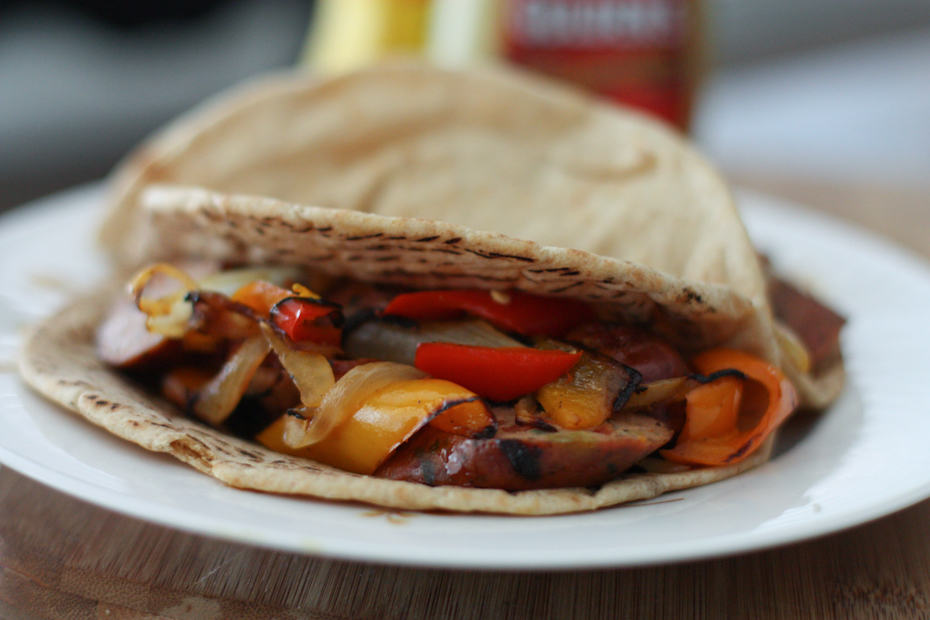 I love using soft pita bread to hold the final grilled product together as a sandwich as a opposed to a bun, and even throwing on a little feta sometimes to change things up (note: my favorite pita bread is this one from Joseph's Bakery – only 60 calories, 6 grams of protein and 4 grams of fiber – I have seen it at Publix and Walmart in the deli section). This meal always comes together in under 30 minutes, and I know everyone in the fam will eat it up (minus the peppers for the kids) alongside a salad or some raw veggies and ranch.
A perfect easy summer meal to add to your menu in my opinion! Happy grilling! 🙂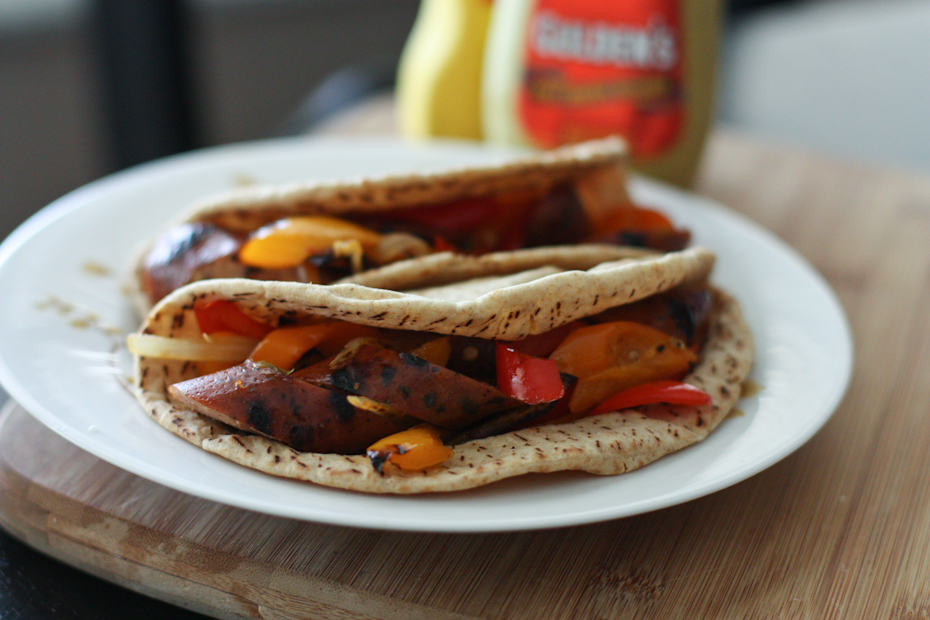 Grilled Italian Chicken Sausage and Pepper Pitas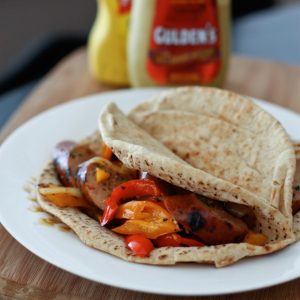 Ingredients:
6 precooked Italian chicken sausage links
3 bell peppers, any color, sliced thin
1-2 red and yellow onions, sliced thin
1 tablespoon olive oil
1/2 teaspoon dried oregano
salt and pepper
6 soft whole wheat pitas
your favorite mustard
crumbled feta, optional, for serving
Directions:
Turn grill on to medium heat. Preheat large grilling basket on grill.
Place sliced peppers and onions into a large mixing bowl. Drizzle olive oil, add oregano and season well with salt and pepper. Toss peppers and onions until mixed well. Pour vegetables into grilling basket and let cook for 15-20 minutes until soften and slightly charred. Make sure to toss peppers and onions often with tongs while cooking to ensure they are cooking evenly.
Place Italian chicken sausage links on grill, over medium heat, and cook 3-4 minutes on each side. When done cooking, slice each link diagonally and set aside.
Warm pita bread by placing on top rack of grill for just a minute or two on each side until softened.
Assemble your sandwiches with your favorite mustard, sliced sausages, peppers and onions. Top with crumbled feta if you like.
Follow Aggie's Kitchen's board Aggie's Kitchen Recipes on Pinterest.
Are you following me on Instagram, Twitter, Facebook and Pinterest? If you'd like to subscribe to Aggie's Kitchen and have each post delivered straight to your e-mail box, then please add your email here. Happy cooking!
There are affiliate links in this post. I make small earnings through any purchases made through these links. Thank you for supporting Aggie's Kitchen!