Creamy Tuna Pasta Salad With Greek Yogurt
A healthy Greek-yogurt based whole grain pasta salad packed with protein. This tuna pasta salad is a great option for quick lunches or dinners.
Click here to pin this Tuna Pasta Salad with Greek Yogurt recipe!
I have always had a habit of finding ways to "healthy up" recipes that catch my eye. For the most part, I'm successful in my attempts – though I wish I could say that success carries over to my baking adventures. As much as I would like to think there are ways to healthy up certain baked goods, I think it's safe to agree that some desserts are best left alone to enjoy as they were meant to me (in moderation of course).
My friend Julie posted this tuna pasta salad recipe way back in 2011 and I remember having an instant craving for it when I saw it. Since she first posted it, I've actually made it several times – but with a few changes based on what I normally have in my fridge and pantry that makes it a little extra nutritious and perfect for a go-to lunch or dinner pasta salad that can carry you over a couple of days. Pasta salads are so good like that aren't they?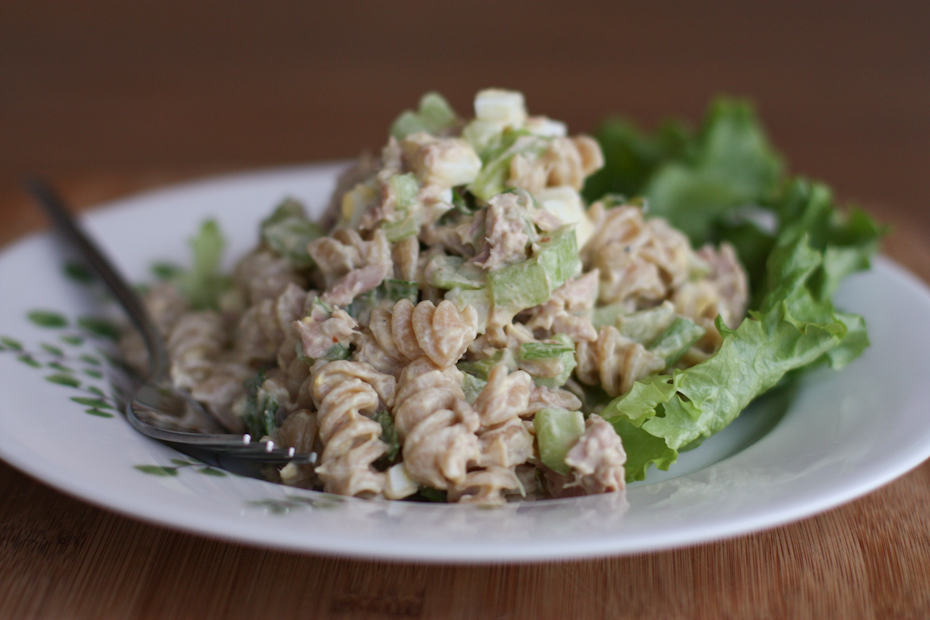 I enjoyed this whole grain tuna pasta salad over lettuce leaves and sliced tomato for a few lunches in a row. It's full of good protein and fiber that leave you feeling full (in a good way) and it keeps really well in the fridge making it a good option for days you don't really have the time to put into making a meal. I always like to toss it with a splash of vinegar or squeeze of lemon the next day to freshen it up. I love using Greek yogurt as a healthy swap in any creamy salad that typically uses mayo- if you haven't tried it yet I encourage you to give it a try. Check out recipes like these Tangy Tuna Salad Wraps and my friend Liz's Curried Chicken Salad with Apples for a little extra inspiration.
Tuna is one of my favorite ingredients – if it's yours too, be sure to check out my roundup of 20 Healthy Recipes Using Canned Tuna.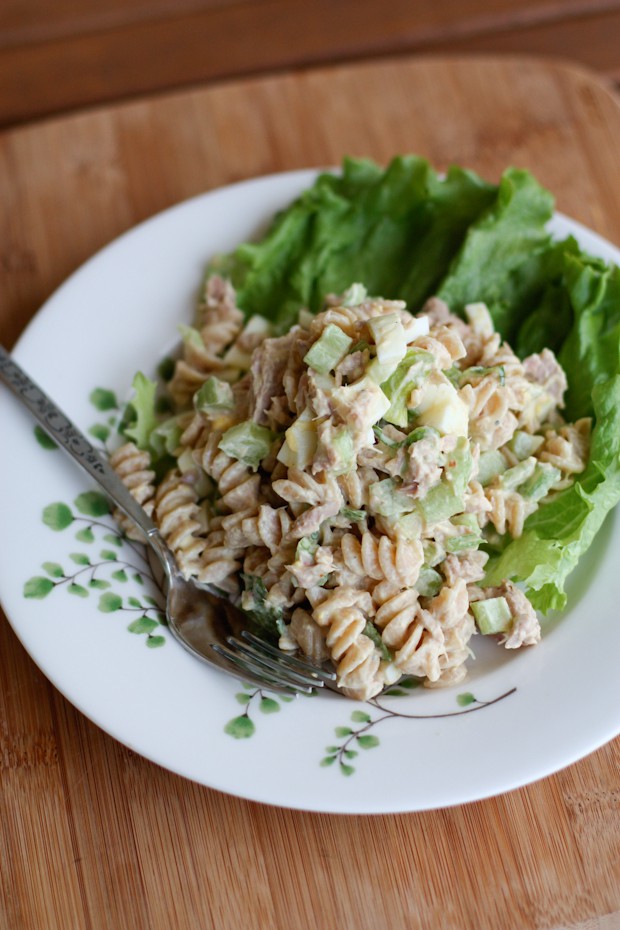 Creamy Tuna Pasta Salad With Greek Yogurt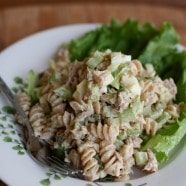 Ingredients:
1/2 of 13 oz package of whole wheat rotini (or pasta of your choice)
2 cans light tuna, drained and flaked
3 hard boiled eggs, chopped
3 celery stalks, chopped (include celery leaves for more flavor)
1/2 cup plain 0% Greek Yogurt
1 tablespoon light mayo (optional, can use more Greek yogurt instead)
1 tablespoon mustard
1 1/2 teaspoon lemon pepper seasoning (I use a no salt added seasoning, check yours and adjust your additional salt)
1/8 teaspoon onion powder
couple of splashes of apple cider vinegar (I measured a cap full)
salt and pepper to taste
Directions:
Prepare your pasta according to directions. When cooked through, drain and set aside to cool.
To a large bowl add tuna, hard boiled eggs and celery.
Prepare your "dressing" by combining Greek yogurt, mayo, mustard, lemon pepper, onion powder, apple cider vinegar, salt and pepper.
Add your cooled pasta to large bowl along with your dressing. Gently stir to combine. Taste for salt and pepper and adjust.
Are you following me on Instagram, Twitter, Facebook and Pinterest? If you'd like to subscribe to Aggie's Kitchen and have each post delivered straight to your e-mail box, then please add your email here. Happy cooking!
There are affiliate links in this post. I make small earnings through any purchases made through these links. Thank you for supporting Aggie's Kitchen!
37 Responses to "Creamy Tuna Pasta Salad With Greek Yogurt"
Trackbacks/Pingbacks

Leave a Comment