Macaroni Salad (Mayo-Free)
Is it beach weather where you live yet (or I guess depending on where you live I should ask pool, lake or picnic weather)? Is our weather finally on the same page across the country?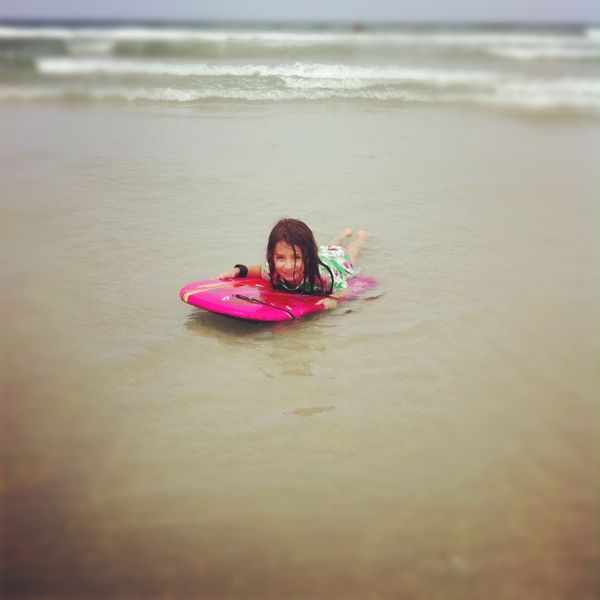 My family and I started hitting the beach on the weekends early last month. I don't necessarily wait till the weather warms up to enjoy the beach, I LOVE the beach pretty much all times of the year , every season (fall and early spring might be my favorite), any time of day (early mornings and late afternoons are the most peaceful for me), every weather condition (where I come from we flock to the beach when a hurricane is brewing). I spent most of my life just 10 minutes from the ocean (and was lucky to work at my parents restaurant that was just a few feet from it) and can honestly say that I am my calmest and happiest self near the water. When I lived at home with my family, going to the beach consisted of grabbing a towel, a bottle of water and a book and heading out the door. My hometown beach is small and quaint so parking or finding a quiet spot on the sand was never an issue.
It was and still is my favorite place to be.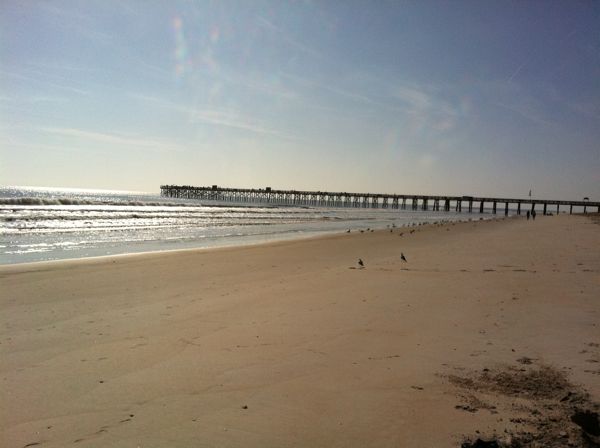 These days though, I live close to 45 minutes from the beach. Sadly, we (I) don't get there as often as I would like. And my "new" beach is not like my old quiet and quaint beach, it's pretty much the exact opposite. My new beach is a destination beach and there are lots of cars, peoples, hotels, bikes and stuffs going on. It's a little different. It's a lot different. But you know what? Once I settle into my chair and see the backsides of my kids running out toward the water, it's all good. I'm at ease and in a happy place (though sweaty and a little winded after lugging a ridiculous amount of bags, chairs, towels, toys, a cooler and an umbrella, I guess it counts as workout of some sort right?). There is absolutely nothing like that fresh ocean breeze and the subtle sounds of waves crashing, sigh…even if there is a Spring Break USA scene going on behind me.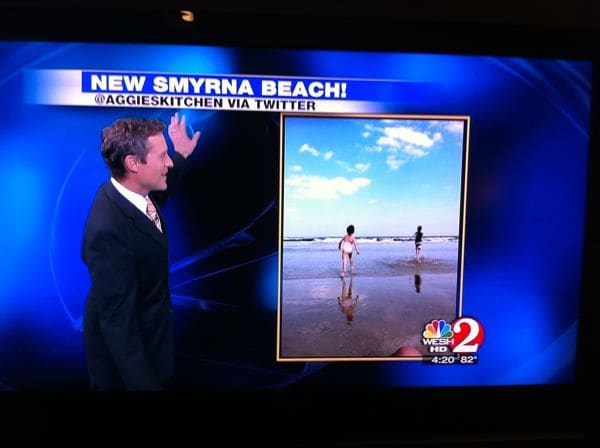 For fun…last spring, I tweeted a photo of my kids to our weather guy… how excited were we to see it on the afternoon news later that day!
I always pack up a big cooler when going to the beach. We get hungry. It usually consists of lots of sandwiches, fruit, snacks, beverages. On our last beach day, I wanted to eat something a little different. I very quickly and easily put together this mayo-free pasta salad using basic ingredients I pretty much always have on hand. Since there's no mayo, it's easy to serve at any outdoor get together you may be planning or having over the next few glorious months of summer!
Enjoy the rest of your week!
Macaroni Salad (Mayo-Free)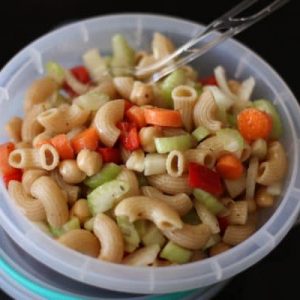 Ingredients:
For the dressing:
1/2 cup red wine vinegar
1/2 cup olive oil
1/2 teaspoon garlic powder
1/2 teaspoon oregano
1 teaspoon mustard
good pinch of salt and pepper
For the macaroni salad:
1/2 lb whole wheat elbow macaroni, cooked and cooled
2-3 celery stalks, rough chopped
2-3 carrots, rough chopped
1 red bell pepper, chopped
1 sweet yellow onion, chopped
1 can garbanzo beans, drained and rinsed (I use Bush's Best Garbanzo Beans)
Directions:
For the Dressing
Prepare dressing in an air tight container or glass jar. Add all ingredients to container and shake well for a few seconds until well blended. Taste for salt and pepper.
For the Salad
Combine all ingredients in a large bowl. Add half of the dressing to the pasta and veggies and toss gently to cover. Taste for salt and pepper and season accordingly. Add more dressing if needed or set aside to add at a later time (if not serving immediately, you may have to redress your salad a bit, the pasta tends to soak in the dressing when it sits in the fridge for a while. I also like just splashing on red wine vinegar on its own to freshen it up.)
More mayo-free pasta salads for you to enjoy:
Pasta Salad with Balsamic Basil Vinaigrette
Easy Mayo-Free Pasta Salad from Delicious Dishings
Shrimp Pasta with Strawberry Champagne Vinaigrette from Mommie Cooks
Spring Orzo Pasta Salad with Asparagus and Artichokes from Food For My Family
Roasted Garlic Pasta Salad with White Beans and Spinach from My Kitchen Addiction
Follow Aggie's Kitchen's board Salads on Pinterest.
Are you following me on Instagram, Twitter, Facebook and Pinterest? If you'd like to subscribe to Aggie's Kitchen and have each post delivered straight to your e-mail box, then please add your email here. Happy cooking!
There are affiliate links in this post. I make small earnings through any purchases made through these links. Thank you for supporting Aggie's Kitchen!