Refried Bean and Fresh Jalapeno Tostada (and some new tunes to work out to)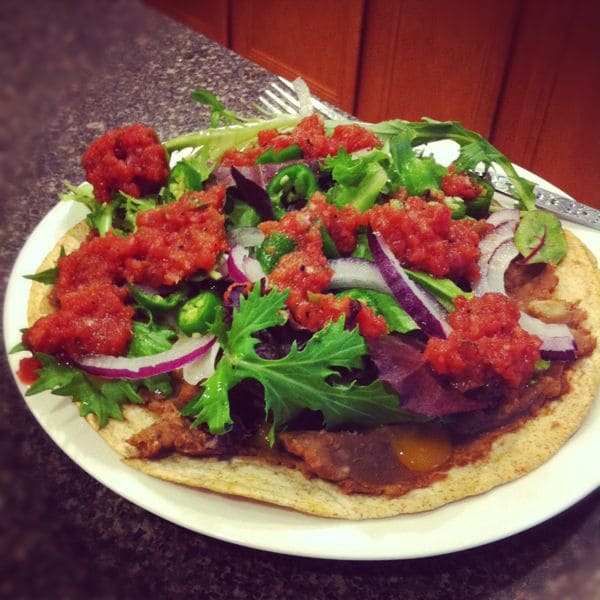 When my husband travels, dinner time can get interesting here. I'm always tempted to really go all out and try new recipes that he might not necessarily want to eat, something very veggie or very spicy or just very girly (what is girly food anyway?). It's easy to do when he's away because my kids are easy to please with some buttered whole wheat noodles, steamed broccoli and some chicken cutlets out of the freezer. But me, no I want something more than that…I want something good.
Well, by around 5pm, let's just say that reality kicks in. I don't feel like really cooking, the kids are hungry, I am hangry and I still don't want buttered noodles. Take out is an option, but the guilt of a full fridge and pantry squashes that real quick.
So instead of the homemade black bean and quinoa burgers I want to try or this chana masala that I've been craving…I pull out a can of refried beans, a tortilla and some salad fixings and make this tostada. And you know what? This tostada is good.
And I'll be eating it again for lunch and possibly dinner.
Refried Bean and Fresh Jalapeno Tostada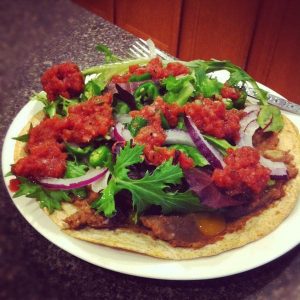 Ingredients:
Directions:
Preheat oven to 375.
Spray your whole wheat tortilla on both sides with cooking spray. Place on middle rack in your oven. Cook for about 3-4 minutes then flip. Cook for same amount of time, or until it gets slightly crisp (but not too crisp!).
Take out your tortilla. Spread refried beans onto tortilla and top with shredded cheese. Place back into oven. Cook for about 5 minutes until cheese is melted and tortilla crisps up even more (to your liking).
Top with salad greens, red onion, fresh jalapenos, and salsa. Squeeze half a lime over salad and serve with your favorite hot sauce (I had mine with some chipotle Tabasco, mmmm).
I've really stayed on track with exercise since I talked about getting back into running several weeks ago. I haven't run as much as I would like to, but I've been staying very active with swim workouts, time on the elliptical and I even started P90X last week (thanks to the encouragement of my brother). P90X has been a killer, in a very good way – I am not following it to a "T", but I am doing all the strength days plus Plyometrics day and it's been a great way to get my strength training back on track. In just a couple of weeks my posture has improved and my back isn't hurting as much, which is something I have been struggling with for a while now.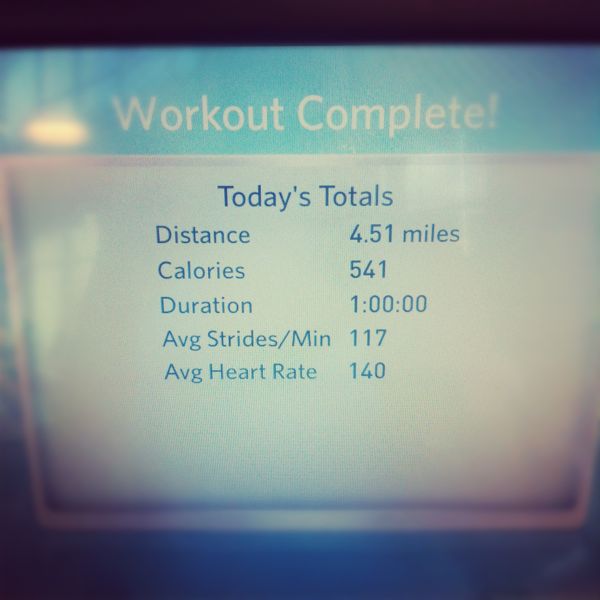 Yesterday I hit the elliptical for an hour, I opted for the Rolling Hills workout on my machine and popped on my iPod with freshly purchased music. New music ALWAYS motivates me!
Here are a few of my newest downloads…got any fresh music yourself? If so, do tell!
Now go get your workout on!
Maroon 5 (feat. Wiz Khalifa) – Payphone
B.o.B. – Strange Clouds (worked out to this whole album, love B.o.B.)
Justin Bieber – Boyfriend (I have no shame, my workout playlists are not complete without at least one JB song)
David Guetta – Where Them Girls At (I don't even know who this guy is, but I keep buying his songs)
Are you following me on Instagram, Twitter, Facebook and Pinterest? If you'd like to subscribe to Aggie's Kitchen and have each post delivered straight to your e-mail box, then please add your email here. Happy cooking!
There are affiliate links in this post. I make small earnings through any purchases made through these links. Thank you for supporting Aggie's Kitchen!