Corn and Potato Chowder
I don't know about you, but whenever I see rain in the forecast I secretly hope for one of those good, dark rainy days that makes it totally ok to get in your sweats, lounge around, eat bowls of hot soup and do nothing for hours. That is, of course, if you have no reason to be anywhere but your couch. When you realize you have a doctor's appointment or a birthday party or you're out of all kinds of food and have to run to the grocery store – well, that's not the kind of day I'm talking about here.
I'm talking about waking up on a Sunday morning, a day with no plans, and looking out the window to see ominous clouds crowding into your normally bright and shiny blue sky. Even my kids know what those kind of days mean, as a matter of fact, they call those days "cozy". Yes, I've successfully brainwashed my kids to talk and think like me over the years (I highly recommend it).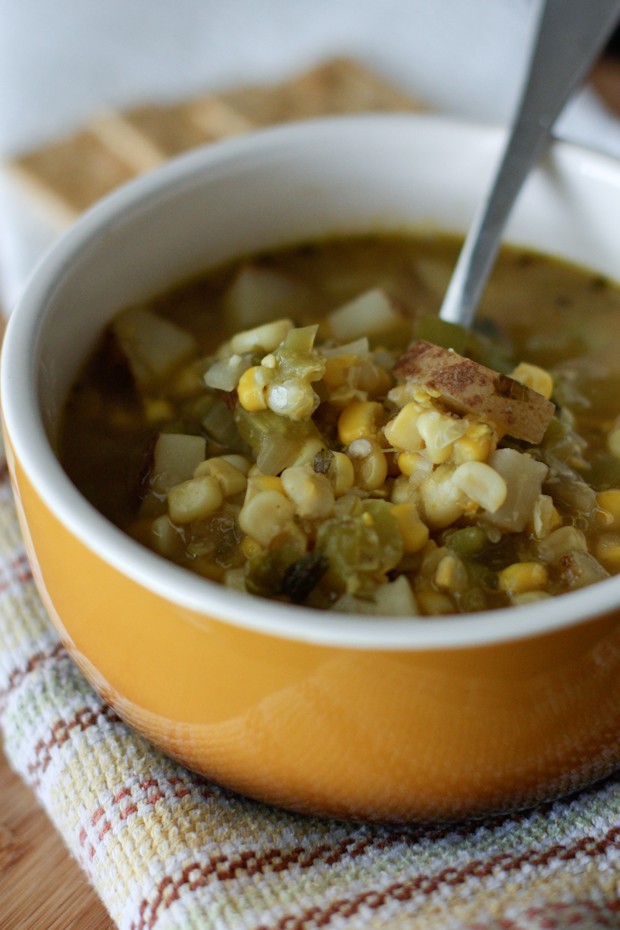 We had one of those "cozy" days a couple of Sundays ago. It was the day after my daughter's 6th birthday party, my husband had unfortunately come down with a case of bronchitis and I was particularly feeling a tad bit spent. A lazy rainy day was exactly what we all needed.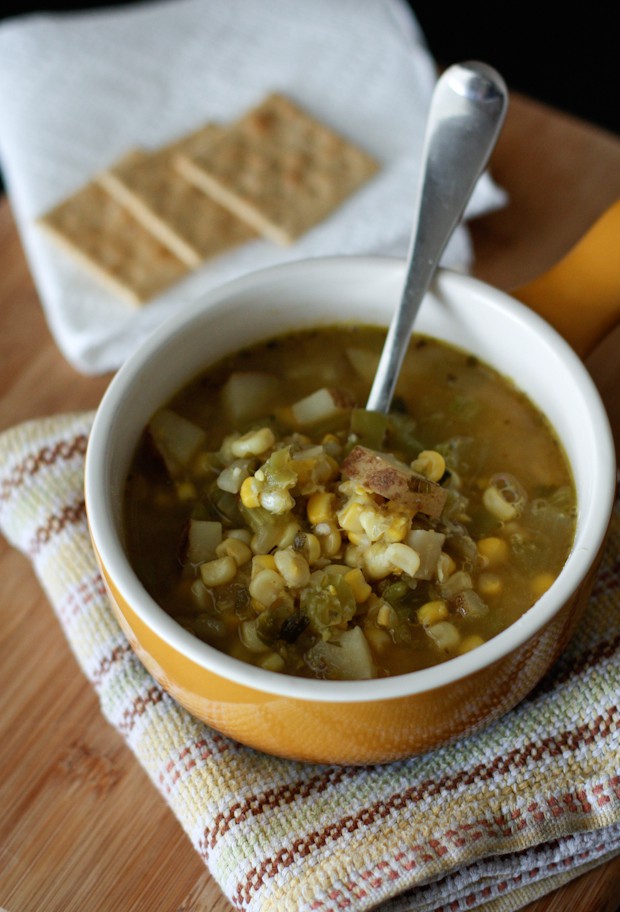 I made this cozy Corn and Potato Chowder on that rainy day, and it hit the spot perfectly. It's a hearty recipe for soup because of the starchy potatoes and corn, but since there is no added cream, it's light enough to have you feeling good and wanting a second bowl. You can easily bulk it even more by adding a little shredded rotisserie chicken for anyone who needs a little extra protein or nourishment. I love the flavor of cubanelle peppers in this soup, but if you can't find them or don't have them on hand, feel free to use green or red bell pepper  or even a poblano pepper for some kick instead.
Corn and Potato Chowder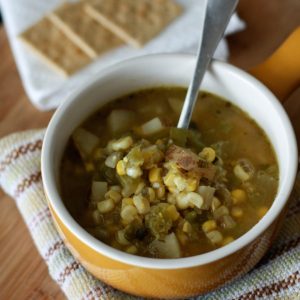 Ingredients:
1 tablespoon olive oil
2 celery stalks, chopped (with leaves)
2 onion, chopped
2 garlic cloves, minced
2 cubanelle peppers, chopped (may sub red or green bell pepper)
3 russet potatoes, small diced
1 lb frozen corn kernels
1/2 teaspoon dried oregano
6 cups chicken or vegetable stock
salt and pepper, to taste
Directions:
In a large soup pot over medium heat , heat oil and add celery, onion, garlic, peppers and a pinch salt and pepper. Cook for a few minutes until fragrant. Add potatoes and continue to cook for about 5 minutes to let the potatoes start to soften. Add corn, oregano and stock. Bring to a slow boil, then down to a simmer. Cook for about 25 minutes, until potatoes are cooked through. Taste for salt and pepper and adjust.
Over low heat, carefully insert an immersion blender (hand blender) into your soup pot. Pulse several times to make soup appear creamy, while leaving most of the vegetables whole.
Are you following me on Instagram, Twitter, Facebook and Pinterest? If you'd like to subscribe to Aggie's Kitchen and have each post delivered straight to your e-mail box, then please add your email here. Happy cooking!
There are affiliate links in this post. I make small earnings through any purchases made through these links. Thank you for supporting Aggie's Kitchen!