Cooking Light Week – Day One: Turkey Burgers with Peanut Sauce
Are there any Cooking Light fans out there? Well, you are in store for a treat. My sister in law Jamie and I are hosting a week of Cooking Light recipes this week! Jamie just started her very own food blog this month, Mom's Cooking Club, and I am so excited for her! She's been reading my blog since I started it almost a year ago and has been one of my most supportive and avid readers. She loves to cook like I do so we share lots of emails and conversations talking food. What's extra special about her blog is that her two young twin daughters are going to be helping her in the kitchen, learning along the way!!Go give Jamie a visit over at Mom's Cooking Cluband say hello!
Now back to the food…Jamie and I are both subscribers and huge fans of Cooking Light. We thought it would be fun to share with you a week full of recipes that we've chosen to cook found in magazines, cookbooks and online. Aggie's Kitchen will feature a CL recipe on Monday, Wednesday, Friday and Sunday of this week. You will also find recipes at Mom's Cooking Club on Tuesday, Thursday, Saturday and Sunday.
I came across this recipe in The All-New Complete Cooking Light Cookbook that I checked out from the library. This cookbook is great, it's huge and has so many tasty looking recipes in it. The original recipe called for chicken, but since I had ground turkey on hand I decided to make the burgers into Turkey Burgers instead. They turned out really juicy and full of great flavor. We are always eating turkey burgers at our house so these were a nice alternative to our classic version. The sauce was delicious too, if you like peanut butter, you will love this!
Turkey Burgers with Peanut Sauce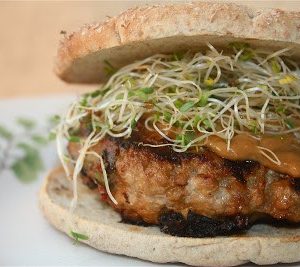 Ingredients:
Sauce:
2 tablespoons peanut butter
2 teaspoons low-sodium soy sauce
1 1/2 teaspoons dark sesame oil
1 teaspoon water
1 teaspoon rice vinegar
1 garlic clove, minced
Burgers:
1/2 cup finely chopped green onions
1 heaping tablespoon chile paste with garlic
1 tablespoon finely minced fresh ginger
2 teaspoons low-sodium soy sauce
good pinch salt and fresh ground pepper
1 lb ground turkey
Cooking spray
1 cup alfalfa sprouts
Directions:
To prepare sauce, combine first 6 ingredients, stirring with a whisk until smooth.
Prepare grill or preheat your grill pan.
To prepare burgers, gently combine onions, chile paste, ginger, soy sauce, salt and ground turkey in a large mixing bowl. Divide mixture into 4 equal portions, shaping each into a 1/2-inch-thick patty.
Place patties on a grill rack or a preheated grill pan coated with cooking spray. Grill the patties for 4 minutes on each side or until done. Place rolls, cut sides down, on grill rack or grill pan for about 30 second or until lightly toasted and warmed. Place 1 patty on bottom half of each roll; top each serving with 1/4 cup sprouts, about 1 tablespoon sauce, and top half of roll.
Cooking Light Week Day 2 recipe can be found Tuesday at Mom's Cooking Club…

Follow Aggie's Kitchen's board Sandwiches on Pinterest.
Are you following me on Instagram, Twitter, Facebook and Pinterest? If you'd like to subscribe to Aggie's Kitchen and have each post delivered straight to your e-mail box, then please add your email here. Happy cooking!
There are affiliate links in this post. I make small earnings through any purchases made through these links. Thank you for supporting Aggie's Kitchen!