Crispy Chicken Bites and a peek in Aggie's Garden
If you are looking for an alternative to those frozen chicken nuggets you buy in the store, this is a great recipe for you to try. It's easy, full of flavor and ssshhh…pretty healthy.
The method behind cooking these chicken bites is "air baking". I learned this method from watching cooking shows and was amazed at what a difference it made when baking anything that is breaded. All you need is a large rimmed cookie sheet and a cooling rack and you are on your way to really crispy breaded chicken or fish for dinner.
I like to use Panko breadcrumbs for that extra crunch, but you can definitely use regular fine breadcrumbs and get the same result. I always buy plain breadcrumbs and season them up on my own with salt, pepper, garlic and sometimes Italian seasoning. I gave these chicken bites a little extra something sweet by dredging them in homemade honey mustard sauce before breading them. You could surely get creative and dredge them in buttermilk ranch or even teriyaki sauce to change them up a bit.
Print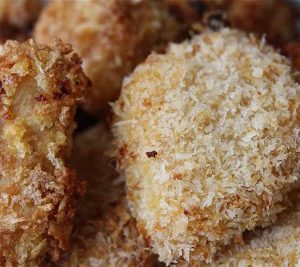 Crispy Chicken Bites and a peek in Aggie's Garden
Author:
Category: Chicken
Method: Stove
---
Ingredients
1 lb chicken, cut into large nuggets
salt and pepper
2 – 3 heaping TB honey
2 – 3 heaping TB yellow mustard
1 cup (ish) Panko or regular plain bread crumbs, seasoned to your liking with salt, pepper, garlic powder
nonstick spray or olive oil
---
Instructions
Preheat oven to 375 degrees.
In a bowl, mix together honey and yellow mustard until completely combined. Place seasononed breadcrumbs in a large rimmed dish or bowl. Season chicken pieces with salt and pepper and gently dredge chicken in sauce. After dredging, place chicken into breadcrumbs and gently press to coat. Place breaded chicken onto cooling rack that is placed in a rimmed cookie sheet. Coat each chicken piece with nonstick spray or spritz with olive oil.
Bake for about 15-20 minutes or until golden brown. Serve with your favorite dipping sauce.
Now onto the garden…
Ok, I know I've mentioned my grandfather a lot on this blog. He's so cute and if you meet him you just love him. He grew up in Sicily and came to America when my mom was 11 years old. He lives incredibly simple and I learn new things from him each time I'm with him. He loves his wine and he loves his food. He's a very busy "retired" man…always cooking, cleaning, taking care of his house and my mom's house, helping neighbors…and gardening. I think I have heard him say every year that he "isn't going to have a garden this year" because it's just too much work…but then next thing you know, it's late winter and he's already got rows and rows of peppers, basil, and tomatoes growing from seeds in pots all around his yard. This man's thumb is greener than anyone's I know.
He started his tomato plants earlier this year and gave me two pots of them to take home. Last year I started a container garden with some tomatoes and peppers and to be honest, was a little disappointed in the results. So this year, after seeing my grandfather's multiple "non gardens", I was inspired to start a real garden of my own in my backyard. And it's a good thing I did because little did I know that there were over 30 little tomato plants growing in those 2 pots my grandfather sent home with me! I ended up planting 20 and gave the rest away to aspiring gardening friends.
(a variety of tomatoes, peppers, eggplant, squash, cucumbers and tucked in there too is a fig tree and watermelon!)
(my herbs along with cherry tomatoes, arugula, zucchini, squash and variety of peppers)
I'm very excited to see what grows in this little plot of earth in my backyard…I can see why my grandfather continues to garden, it's in his blood and apparently in mine too. I can see more and more of my grandfather in me every day and I just love it.
I am hoping to share many meals with you with my garden veggies and herbs
…I'll keep you posted!
And as always, thank you for reading!

Are you following me on Instagram, Twitter, Facebook and Pinterest? If you'd like to subscribe to Aggie's Kitchen and have each post delivered straight to your e-mail box, then please add your email here. Happy cooking!
There are affiliate links in this post. I make small earnings through any purchases made through these links. Thank you for supporting Aggie's Kitchen!