Cooking Light Week – Day 3: Chicken with Cashew Cream and Mushrooms
I really stepped out of my comfort zone with this recipe. It caught my eye the other day when I was browsing the MyRecipes site looking for something to make with the fresh baby bella mushrooms and chicken I had defrosting in my fridge. The original recipe called for Pecan Cream and the sound of it got me interested.
Turned out, I was out of pecans, but instead had some raw cashews that were ready to be used up. I don't know if I will ever try the original recipe because I fell in love with the cashew cream. I didn't think it was possible to make a cream sauce without butter or actual cream, but I promise you, this was a cream sauce. It was delicious!
Print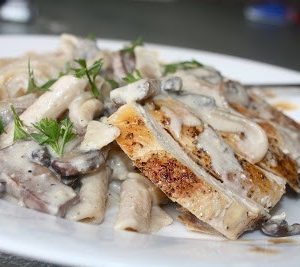 Cooking Light Week – Day 3: Chicken with Cashew Cream and Mushrooms
Author:
Yield: Serves 6
Category: Chicken
Method: Stovetop
---
Ingredients
3/4 cup coarsely chopped cashews, toasted
1 cup water
1 1/4 teaspoons salt, divided
6 (4-ounce) skinless, boneless chicken breast halves
1 teaspoon freshly ground black pepper
Cooking spray
1/4 cup finely sliced onion (I added extra onion)
1 (8-ounce) package sliced baby bella or button mushrooms (I added 1/2 of another package)
4 cups cooked whole wheat pasta
Chopped parsley (optional)
---
Instructions
Place cashews in a food processor; process until smooth (about 1 minute), scraping sides of bowl once. With processor on, add water and 3/4 teaspoon salt; process until smooth, scraping sides of bowl once.
Sprinkle chicken with 1/2 teaspoon salt and pepper.
Heat a large nonstick skillet coated with cooking spray over medium-high heat. Add chicken; sauté 3 minutes on each side or until done. Remove chicken from pan; keep warm.
Add onions and mushrooms to pan; sauté 3 minutes or until mushrooms are tender. Stir in pecan cream; bring to a boil. Cook 1 1/2 minutes. Add pasta to pan and toss. Top each serving with sliced chicken breast. Garnish with parsley and parmesan cheese, if desired.
---
Do you like Kung Pao Chicken? Jamie cooked up a Cooking Light version of it for yesterday's recipe…check it out here!

Are you following me on Instagram, Twitter, Facebook and Pinterest? If you'd like to subscribe to Aggie's Kitchen and have each post delivered straight to your e-mail box, then please add your email here. Happy cooking!
There are affiliate links in this post. I make small earnings through any purchases made through these links. Thank you for supporting Aggie's Kitchen!