Thai-Style Mahi with Coconut-Curry Broth {CEimB}
I'll have to admit, when I first saw this recipe as a pick for our
Craving Ellie in my Belly
group, I was a little hesitant about making it. As much as I love to cook, I have hangups about cooking certain types of food (for example…roasts and anything with yeast!). Curry is not something I am very familiar with, though I know I've had a few curry dishes in the past that I absolutely loved. After a little self talking, I convinced myself that this was another great opportunity to cook out of my comfort zone. I get in my share of cooking ruts and know how important it is to for me keep things interesting in the kitchen.
The ingredient list of this recipe is fairly simple, you can most likely find red curry paste in the Asian aisle of your grocery store or easily find curry powder with the spices. I went for the red curry paste. I also used some frozen mahi-mahi that I had on hand.
What a delight!
This dish was so light and tasty, my husband and I really enjoyed it. The flavor combination was perfect, I'm always happy cooking with cilantro and lime!
I will definitely be making it again…
next time will be trying this recipe with some shrimp and a little extra heat!
A big thank you to Liz over at The Not So Skinny Kitchen for choosing a recipe that I might have normally skipped over. Visit her blog along with the other members of CEimB to see their versions and variations of this great recipe!
Thai-Style Mahi with Coconut-Curry Broth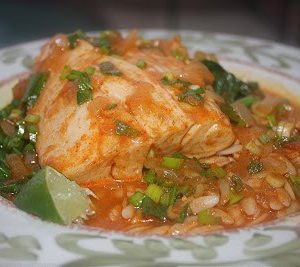 Ingredients:
2 teaspoons vegetable oil
4 shallots, finely chopped (about 3/4 cup)
2 1/2 teaspoons red curry paste, or 2 teaspoons curry powder
2 cups low-sodium chicken broth
1/2 cup light coconut milk
1/2 teaspoon salt, plus 1/4 teaspoon, plus more for seasoning
4 (6-ounce) pieces mahi-mahi
1/2 cup coarsely chopped fresh cilantro leaves
2 scallions, green part only, thinly sliced
2 tablespoons fresh lime juice
Freshly ground black pepper
2 cups cooked whole wheat orzo or brown rice, for serving
Steamed spinach, for serving
Directions:
In a large saute pan, heat the oil over moderate heat. Add the shallots and cook, stirring occasionally, until beginning to brown, 3 to 5 minutes. Add the curry paste and cook, stirring, until fragrant, about 30 seconds. Add the chicken broth, coconut milk, 1/2 teaspoon salt and simmer until reduced to 2 cups, about 5 minutes.
Season the mahi with 1/4 teaspoon salt. Arrange the fish in the pan and gently shake the pan so the fish is coated with the sauce. Cover and cook until the fish flakes easily with a fork, about 7 minutes.
Arrange a pile of steamed spinach in the bottom of 4 soup plates. Top with the fish fillets. Stir the cilantro, scallions, and lime juice into the sauce and season, to taste, with salt and pepper. Ladle the sauce over the fish and serve with orzo or rice.
Recipe adapted from Ellie Krieger, The Food You Crave or Food Network

Cooking Light week continues! See Day 4 here!

Are you following me on Instagram, Twitter, Facebook and Pinterest? If you'd like to subscribe to Aggie's Kitchen and have each post delivered straight to your e-mail box, then please add your email here. Happy cooking!
There are affiliate links in this post. I make small earnings through any purchases made through these links. Thank you for supporting Aggie's Kitchen!