Cooking Light Week – Day 5: Steak and Fennel Sandwiches
This sandwich has been staring at me for weeks from the front cover of last month's issue of Cooking Light. Though I'm not a huge steak lover, my husband is and I knew he would be a happy guy if I made these one night. And looking at those sandwiches on the cover, I knew I wouldn't be too disappointed either.
I love arugula and love fennel. I have to admit, I was more looking forward to eating the toppings on the sandwich then I was the actual steak part but that's just me and my obsession with veggies. I don't usually cook fennel, I like to eat it raw in salads with citrus and olive oil so this was a nice change for me as the recipe calls to caramelize it slowly. I also added some spring onions from my grandfather's garden to the fennel for an extra layer of flavor.
The recipe also calls for beef tenderloin steaks, I wasn't able to find these at the grocery store so I picked up some eye of round steaks instead. I'm not sure I would recommend these, I think next time I would prefer a lean sirloin instead. Instead of serving these sandwiches with regular mayonnaise, do what we did and throw in a couple of teaspoons of horseradish to your mayo for a homemade kicked up horsey sauce that pairs up perfectly with your steak. I roasted some asparagus on the side for our sandwiches, but am now wishing I would have made Jamie's Day 4 recipe for New Potatoes with Roasted Garlic Vinaigrette!
Steak and Fennel Sandwiches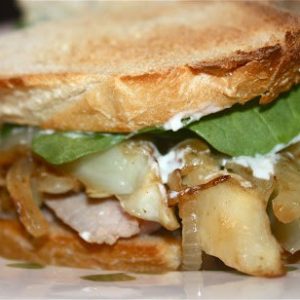 Ingredients:
1/2 teaspoon ground fennel seeds
1/2 teaspoon salt
1/4 teaspoon ground cumin
1/4 teaspoon freshly ground black pepper
4 teaspoons olive oil, divided
3 cups thinly sliced fennel bulb (about 1 bulb)
2-3 spring onions, sliced thin
4 (4-ounce) beef tenderloin steaks, trimmed (1 inch thick)
2-3 TB of mayo
2 tsp jarred horseradish
salt and pepper, to taste
8 (1-ounce) slices ciabatta, lightly toasted (I used sourdough)
1 cup arugula
Directions:
Combine ground fennel seeds, salt, ground cumin, and black pepper in a small bowl.
Heat 2 teaspoons oil in a large nonstick skillet over medium-high heat. Add 1/2 teaspoon spice mixture, fennel and spring onions; sauté 15 minutes or until fennel is tender and lightly browned, stirring frequently. Transfer to a bowl; wipe pan clean with paper towels.
Heat remaining 2 teaspoons oil in pan; sprinkle steaks evenly with remaining spice mixture. Add steaks to pan; cook 4 minutes on each side or until desired degree of doneness. Remove from pan; let stand 10 minutes. Thinly slice steaks.
In a small bowl, combine mayonnaise, horseradish, pinch of salt and freshly ground black pepper to make the horsey sauce.
To prepare sandwiches, spread 2 teaspoons of horsey sauce onto each of 4 bread slices. Top each with one-fourth of beef, one-fourth of fennel and spring onion mixture, and 1/4 cup arugula. Top with remaining 4 bread slices.
Did you miss any of this week's other great Cooking Light recipes? Here they are if you did…
New Potatoes with Roasted Garlic Vinaigrette
Chicken with Cashew Cream and Mushrooms
Kung Pao Chicken
Turkey Burgers with Peanut Sauce

Are you following me on Instagram, Twitter, Facebook and Pinterest? If you'd like to subscribe to Aggie's Kitchen and have each post delivered straight to your e-mail box, then please add your email here. Happy cooking!
There are affiliate links in this post. I make small earnings through any purchases made through these links. Thank you for supporting Aggie's Kitchen!