Cooking Light Week – Day Seven: Frozen Peanut Butter-Banana Pie
Oh my heaven. Yes…this pie is just that.
That is if peanut butter, banana and chocolate are your thing.
It's my thing for sure. As a matter of fact, a pie like this – light or not – is really not safe in my house. A pie like this could quickly disappear without the family even knowing about it. Yeah, it's scary like that. But I promise I will share…
This dessert is a perfect treat for our upcoming warm summer nights. It's simple to put together and even easier to put in the freezer until it's ready to serve.
Enjoy!
Oh and if peanut butter and banana aren't your thing, but chocolate is…check out Jamie's Triple Chocolate Cheesecake recipe over at Mom's Cooking Club for our last day of Cooking Light!
Frozen Peanut Butter-Banana Pie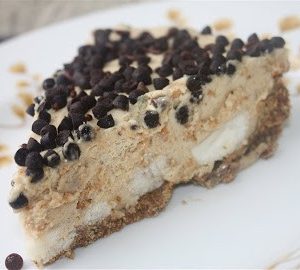 Ingredients:
Crust:
1 cup graham cracker cookies (about 10 sheets)
2 TB sugar
2 1/2 tablespoons butter, melted
1 egg white
cooking spray

Filling:

3/4 cup packed brown sugar
1/2 cup (4 ounces) 1/3-less-fat cream cheese
1/2 cup reduced-fat peanut butter (I used Smuckers Natural Chunky)
1/2 teaspoon vanilla extract
1 (8-ounce) container frozen fat-free whipped topping, thawed
1 1/2 cups sliced banana (about 2 bananas)
1/4 cup fat-free chocolate sundae syrup (I used a crunchy chocolate topping)
Directions:
Preheat oven to 350°.
Place cookies in a food processor; process until finely ground. Add sugar, butter and egg white; pulse 6 times or just until combined. Press crumb mixture into bottom and up sides of a 9-inch pie plate coated with cooking spray. Bake at 350° for 10 minutes; cool completely on a wire rack.
Place 3/4 cup brown sugar, cream cheese, peanut butter, and vanilla in a mixing bowl; beat with a mixer at medium speed until smooth. Fold in whipped topping. Arrange banana in bottom of prepared crust. Spread peanut butter mixture over banana; drizzle with syrup. Cover and freeze 8 hours; let stand at room temperature 15 minutes before serving.
Enjoy your Memorial Day weekend!

Are you following me on Instagram, Twitter, Facebook and Pinterest? If you'd like to subscribe to Aggie's Kitchen and have each post delivered straight to your e-mail box, then please add your email here. Happy cooking!
There are affiliate links in this post. I make small earnings through any purchases made through these links. Thank you for supporting Aggie's Kitchen!