Asian Turkey Meatballs with Chili Garlic Glaze
Last week my friend Julie and I had a play date. We've been wanting to get together for a while, and even though she lives just a little over an hour from me, it seems like it's always hard to find the time with both of our busy schedules.
We talked about cooking up some lunch, playing with our cameras and just hanging out but little did I know that our time together was going to stir up both of our creative juices in the kitchen. Personally, I've been in somewhat of a cooking slump since the holidays, really not in the mood to try anything new…basically it's been survival mode around here with lots of easy pasta dishes and big pots of soup. That's not a bad thing. But I've missed the excitement and energy I get when I start playing around in the kitchen, and of course I've been wanting to share new stuff with all of you!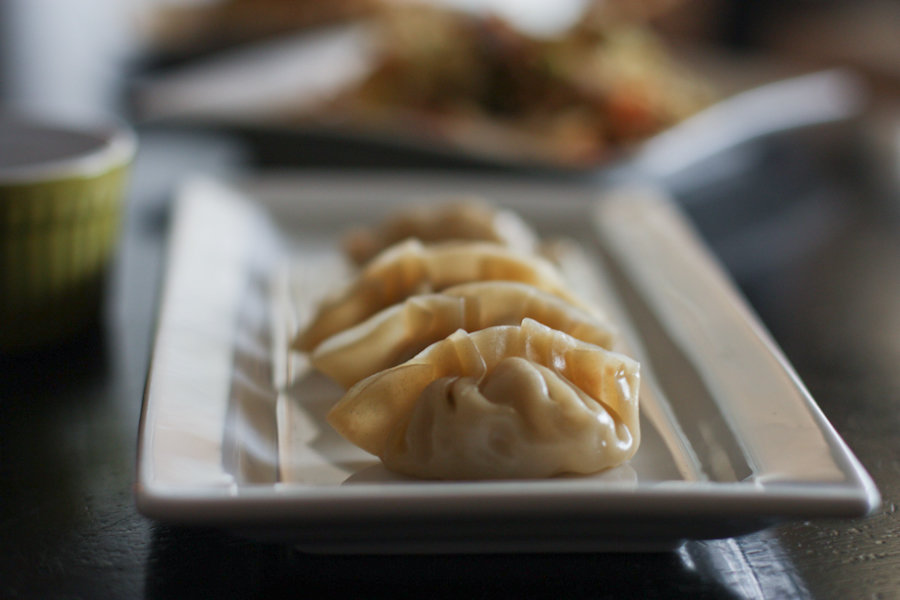 Our plan that day was to learn how to make Chinese dumplings together. It's one of my kids' favorite things to order when we pick up take-out and something I've been wanting to get better at making at home. Well, it turns out, Julie was a natural at putting these dumplings together. They turned out delicious and my kids scarfed them down at dinner time. I'm seriously so excited about making them again and experimenting with different types of fillings.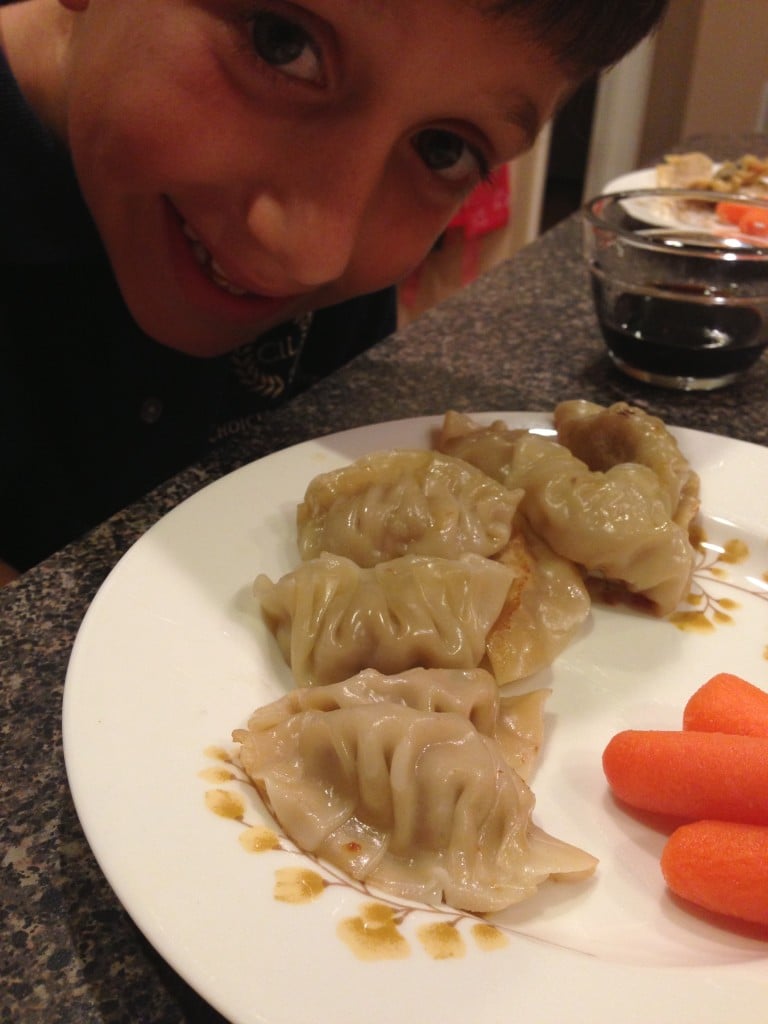 Julie is sharing the recipe for these Chinese Potstickers (or dumplings) along with a video of her demonstrating how to make these pretty little things over on her blog. We had fun filming it during our "play date" and I'm so impressed by how good it turned out – nice work Julie! 🙂
So where do these meatballs come into the story? While we were putting together the filling for those dumplings, we remembered a tip we learned about adding a small amount of the meat mixture to the pan or wok to cook up and taste so that seasonings could be adjusted before filling the dumplings. While we did this Julie thought the meat mixture would turn into awesome little meatballs. And you know what? They sure did!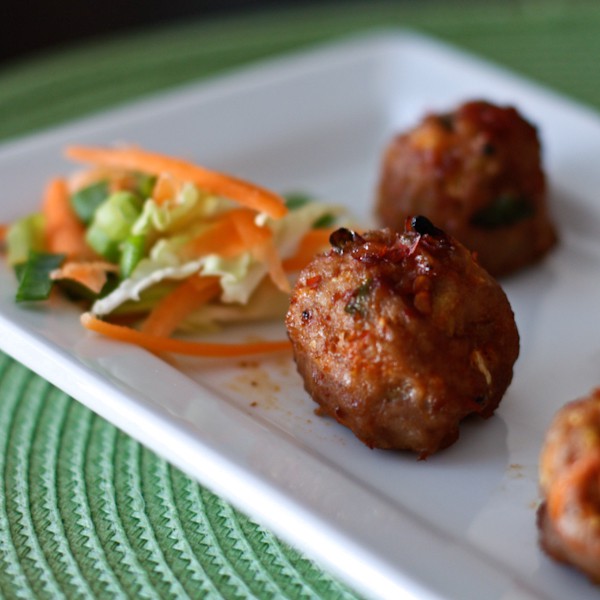 I cooked up a batch of meatballs with a simple homemade glaze and dipping sauce. My husband LOVED these and so did I. They would be a perfect cocktail meatball, or great for dinner along some stir fried rice, noodles or vegetables. I actually added them to a crunchy fresh cabbage and mushroom salad that we created that same day that I'm going to share with you very soon.
Enjoy!
Print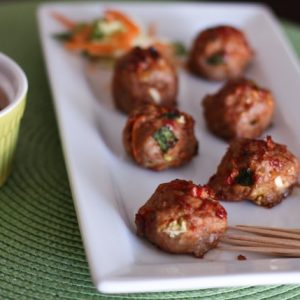 Asian Turkey Meatballs with Chili Garlic Glaze
Author:
Yield: makes approximately 24 small meatballs (about 1.5 tablespoons each) 1x
Category: Ground Turkey
Method: Oven
Cuisine: Asian
---
Ingredients
1 lb lean ground turkey
1 tablespoon minced ginger
1/2 cup roughly chopped Napa cabbage (few leaves of cabbage)
1/4 cup shredded carrots (about 2 large carrots)
1/4 cup chopped green onions (about 3 onions)
2 teaspoons low sodium soy sauce
1 teaspoon sesame oil
1/4 teaspoon black pepper
1/2 teaspoon salt
Chili-Garlic Glaze:
2 tablespoons low sodium soy sauce
1 tablespoon chili garlic sauce
1 tablespoon brown sugar
2 tablespoons water
---
Instructions
Preheat oven to 400 degrees.
Add ground turkey to a large mixing bowl. Add ginger, carrots, cabbage, green onions, soy sauce, sesame oil, salt and pepper to turkey and using your hands and a light touch, gently combine until thoroughly mixed.
Using a small scoop (1.5 tablespoon) or spoon roll into small meatballs and place on a lightly greased cookie sheet.
Bake in 400 degree oven for 10 minutes.
While meatballs are cooking, prepare glaze by combining soy sauce, chili garlic sauce, brown sugar and water into a small bowl. Whisk together and let sit so that sugar can dissolve.
At 10 minutes of cooking time, brush or spoon glaze over each meatball. Bake for another 3-5 minutes or until browned and cooked through.
Note: Double recipe for glaze if you want to serve as dipping sauce. Separate and set aside, do not use same sauce for glazing and dipping to avoid cross contamination.
Are you following me on Instagram, Twitter, Facebook and Pinterest? If you'd like to subscribe to Aggie's Kitchen and have each post delivered straight to your e-mail box, then please add your email here. Happy cooking!
There are affiliate links in this post. I make small earnings through any purchases made through these links. Thank you for supporting Aggie's Kitchen!