Orange-Vanilla Greek Yogurt Pancakes (Whole Grain)
Pancakes are such a treat in my house. My kids get so excited when I tell them I'm making pancakes for breakfast, so excited that I wish I made them more often (their pancake excitement definitely puts a smile on my face!). I usually stick to a whole grain variety, knowing the extra nutrients and fiber are a great way to fill their bellies for the day ahead. They don't mind.
I haven't always made my own pancake mix from scratch, and I still don't always, though after putting these together on a whim this past Saturday morning I really don't know why I wouldn't. I followed Skinnytaste's recipe for whole wheat pancakes, and added a few of my own extras – Greek yogurt and fresh squeezed orange juice – to make them even more bright and delicious.
Everyone loved these and I'll be making them again soon for sure. I froze the leftovers and have been heating them up in the microwave for quick breakfasts the last couple of days. My daughter finished off the last one just this morning so I think I'll have to double the batch for next time. Pancakes never last very long around here.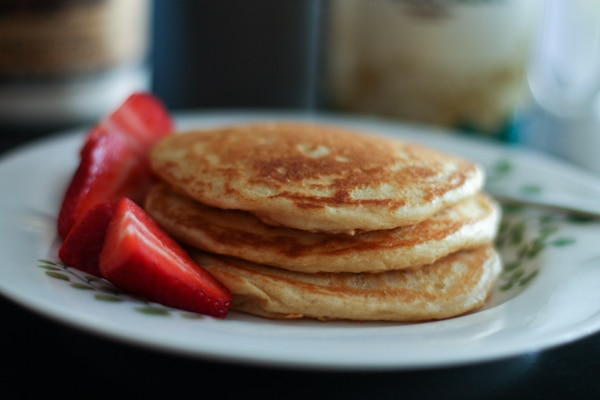 Orange-Vanilla Greek Yogurt Pancakes (Whole Grain)
Yield: makes approximately 16-18 pancakes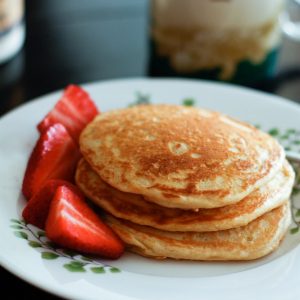 Ingredients:
2 cups white whole wheat flour
1/2 teaspoon salt
4 1/2 teaspoon baking powder
2 teaspoons sugar
2 eggs
3/4 cup 0% plain Greek yogurt
1 cup fat free milk (add a few tablespoons more if batter too thick)
zest and juice from 2 whole oranges
2 teaspoons vanilla
Directions:
In a large bowl mix together flour, salt, baking powder and sugar. Add eggs, Greek yogurt, milk, orange zest and juice. Mix together well until combined. Let sit for a few minutes.
Heat a large nonstick griddle or skillet over medium heat (I use my electric nonstick skillet for pancakes). Spray with nonstick spray, or lightly spread a little butter around pan (I stick a tablespoon or two on a fork and spread this way, it helps to not use more than you need). Using a 1/4 cup scoop, gently pour pancake batter into pan. Let cook until the middle starts to bubble slightly. Carefully flip and cook for a minute or two longer until pancakes are set.
You can use vanilla Greek yogurt in place of plain by omitting the 2 teaspoons of vanilla extract in this recipe. Depending on how much juice you get from your oranges, you may have to add additional milk if batter is too thick.
White whole wheat flour, fresh squeezed citrus and protein packed Greek yogurt help make these pancakes extra healthy and delicious. Your whole family will love them! Recipe adapted from Skinnytaste
Linking up to:

Follow Aggie's Kitchen's board Breakfast on Pinterest.
Are you following me on Instagram, Twitter, Facebook and Pinterest? If you'd like to subscribe to Aggie's Kitchen and have each post delivered straight to your e-mail box, then please add your email here. Happy cooking!
There are affiliate links in this post. I make small earnings through any purchases made through these links. Thank you for supporting Aggie's Kitchen!