50 Healthy Game Day Recipes
50 Healthy Game Day Recipes: Lighten things up for football season! A collection of healthier recipes and menus to balance out your game day spread.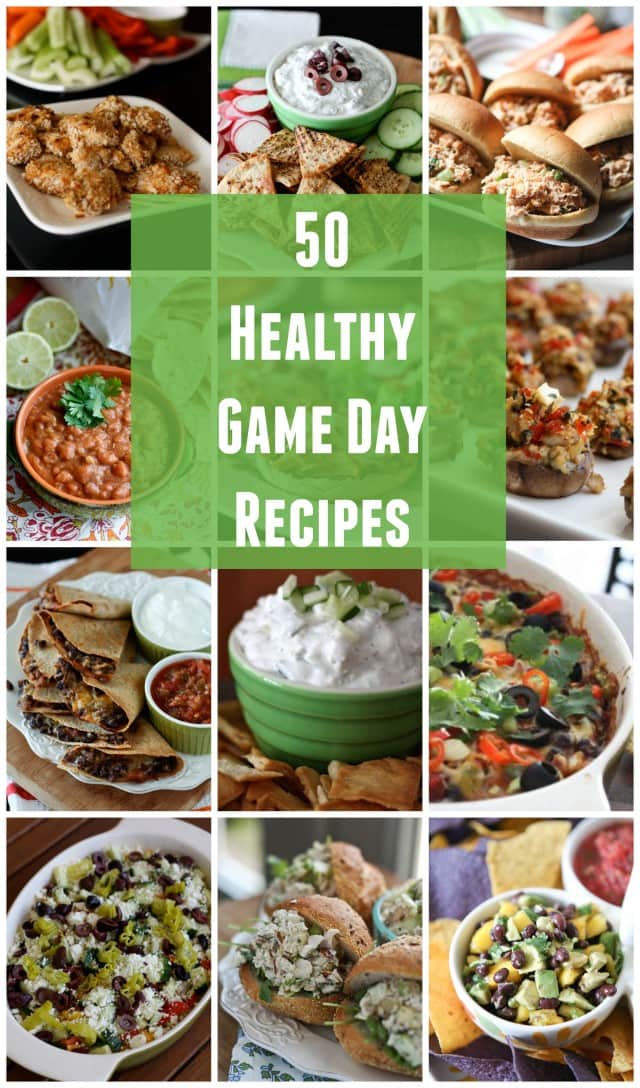 If you didn't already know, we are a big college football family – Gator football to be exact. Both my husband and I attended University of Florida and worked together during some of the most memorable and fun years of our lives. I love being able to reminisce with him about college days. 🙂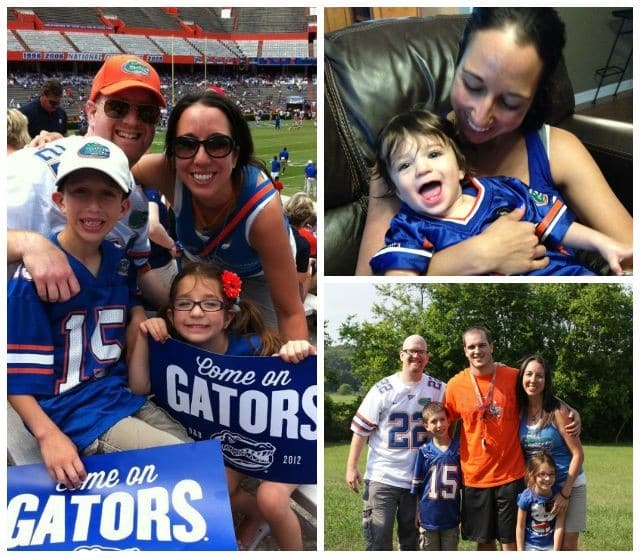 Football season starts this weekend and for fans of the game it's like Christmas has arrived. I love to watch Gator games with family and friends, but I like eating and drinking during the games even more. I'm sure most of you feel the same. It's fun to put together a spread – whether just for 2 people or a crowd – and I really do try to keep things balanced and on the lighter side during football season. Those calories (beer!) add up quick, especially when it's a weekly event.
Here are a few Healthy Game Day Recipes and Ideas to help you put together a lighter – slightly healthier – spread for your football season!
Go Gators!
Have a Fiesta:
Whenever I think of having a get together, I always start dreaming up a Mexican inspired menu for some reason. Mexican food just screams (football) Fiesta right? Lucky enough, Mexican food is one of the best categories of food to lighten up – you just have to control the tortilla chip consumption (weakness!).
Healthy Tip: try baked tortilla chips and sliced jicama "chips" for dipping and fill up on lean protein, beans & veggies if you are serving quesadillas or tacos (use corn tortillas or whole wheat tortillas for a little more nutrition).
Healthy Tip: a little cheese goes a long way if you are really watching calories, try shredding it by hand from a block if you are using it for melting purposes – I always think it melts better that way and you can use way less.
5-Ingredient Chicken Guacamole Taquitos | Gimme Some Oven
Half Smashed Drunken Refried Beans | Aggie's Kitchen
Heidi's Pineapple Salsa | Aggie's Kitchen
Grilled Garlic Lime Flank Steak for Tacos or Fajitas | Mom To Mom Nutrition
5 Ingredient Blender Salsa | Tried & Tasty
Roatsted Tomatillo Salsa | Aggie's Kitchen
Oven Baked Black Bean & Cheese Quesadillas | Aggie's Kitchen
Mexican Slaw Dip | Reluctant Entertainer
Tomato Avocado Salsa | A Zesty Bite
Skinny Taco Dip | Skinnytaste
Mango Avocado Black Bean Salsa | Aggie's Kitchen
Small Bites:
I think finger food and small bites are some of everyone's favorites, wouldn't you agree? Especially during a game that lasts a few hours. Bite sized food is forced portion control, and gives you a chance to try a variety without a huge commitment. I'll take a plate of healthy small bites any day.
Spinach and Feta Quinoa Bites | Aggie's Kitchen
Baked BBQ Cheddar Chicken Bites | Aggie's Kitchen
Jalaepeno Cheddar Sweet Potato Puffs | The Lean Green Bean
Buffalo Chicken Hummus Roll Ups | A Cedar Spoon
Mediterranean Stuffed Mushrooms | Aggie's Kitchen
Hummus and Cucumber Bites | Kalyn's Kitchen
Ham and Dill Pickle Bites | Kalyn's Kitchen
Mini Ham & Cheese Quinoa Cups | Iowa Girl Eats
Light Sweet Potato Skins with Bacon and Goat Cheese | Cookin' Canuck
Curried Deviled Eggs | Well Plated
Baked Cauli-Tots | Cupcakes & Kale Chips
Get Dippy:
I don't know about you, but if I love a good dip to go along with veggies. I like to keep my veggie plates interesting, so I like to include veggies of all kinds (in addition to the typical celery and carrot sticks) like sliced cucumbers, red pepper strips, radishes, jicama and sugar snap peas. Now doesn't that sound like a fun party filled plate of veggies? You'll be amazed at how many veggies will get eaten off a plate filled with all that color and variety (great for kids and adults!).
Healthy Tip: whole grain triscuit thins or homemade baked pita chips are a great healthier alternative to chips if you are craving a salty crunchy dipper (I always am).
Kalamata Olive and Feta Dip with Baked Lemon Pepper Pita Chips | Aggie's Kitchen
Cucumber and Feta Greek Yogurt Dip |Aggie's Kitchen
Curry Dill Dip | Recipe Girl
Layered Greek Hummus Dip |Aggie's Kitchen
Roasted Garlic Bean Dip | The Lemon Bowl
Spicy Red Pepper Feta Dip | The Lean Green Bean
Edamame Dip | Aggie's Kitchen
Hot Spinach Artichoke Dip | Skinnytaste
Hot Black Bean Fiesta Dip | Aggie's Kitchen
Bring on the Food:
Depending on the time of day your game is on, it's always nice to have a few easy options for "real food", especially if you are having some beers with your game.
Healthy Tip: Chicken wings are a traditional football favorite so try baking them instead of frying or throw some lean pork tenderloin in the crockpot and put together easy barbecue pulled pork sliders.
Healthy Tip:  a pot of chili is always a great filling option too, make it healthier by choosing leaner protein like ground turkey or chicken and bulking it up with extra beans and veggies.
Barbecue Ranch Chicken Salad Sliders | Aggie's Kitchen
Baked Chicken Wings with Honey Chipotle Glaze | The Lemon Bowl
Autumn Rotisserie Chicken Salad with Almonds and Apples | Aggie's Kitchen
Roasted Old Bay Shrimp | Jeanette's Healthy Living
Slow Cooker Barbecue Chicken Melts | Aggie's Kitchen
Skinny Pulled Pork Sliders with Red Cabbage & Avocado | Joyful Healthy Eats
Turkey Sandwich Kebabs | Reluctant Entertainer
Red Chicken and Two Bean Chili | Aggie's Kitchen
Cilantro Lime Roasted Shrimp with Tomatillo Sauce | Joyful Healthy Eats
Vegetarian Pesto & Olive Pizza Roll Ups | Cookin' Canuck
Pineapple Jerk Chicken Tacos | Well Plated
Vegetarian Zucchini Corn Chili | Reluctant Entertainer
Something Sweet:
Healthy desserts are tricky…which is why I tend to stick with a nice fruit plate with a yogurt dip or a good chocolate chip cookie or oat bar. I don't have a huge sweet tooth so this is not a category I spend too much worrying about, but it's nice to have options!
Frozen Chocolate Fruit Kabobs | Healthy Aperture
Watermelon Dippers with Honey Vanilla Yogurt Sauce | Mom To Mom Nutrition
Peanut Butter Honey Yogurt Dip | Two Peas and Their Pod
Clean Eating No Bake Peanut Butter Bars | iFoodreal
Easy Yogurt Fruit Dip | Aggie's Kitchen
Whole Wheat Strawberry Oat Bars | Cookin' Canuck
Flourless Almond Butter Chocolate Chip Cookies | Ambitious Kitchen
Follow Aggie's Kitchen's board Football Food! on Pinterest.
Are you following me on Instagram, Twitter, Facebook and Pinterest? If you'd like to subscribe to Aggie's Kitchen and have each post delivered straight to your e-mail box, then please add your email here. Happy cooking!
There are affiliate links in this post. I make small earnings through any purchases made through these links. Thank you for supporting Aggie's Kitchen!