Caesar Pasta Salad with Chickpeas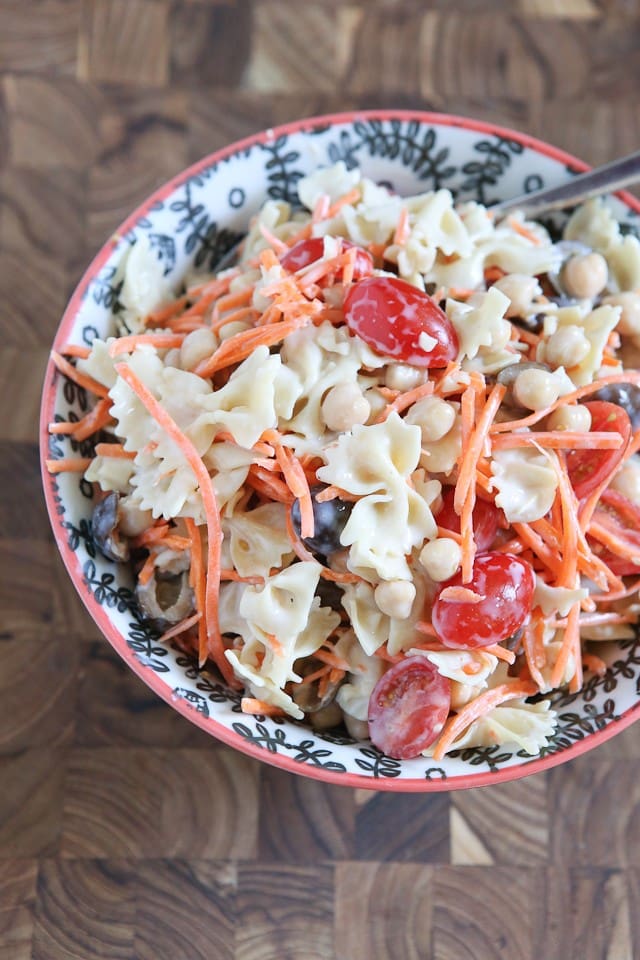 We are well into our fourth week of school here in Florida. I know a lot of northern schools start right around now so the back-to-school season seems to be spread out a bit over a month. I'm happy to finally be back into the groove of school and settling into a routine.
Packing lunches are of course a huge part of that routine!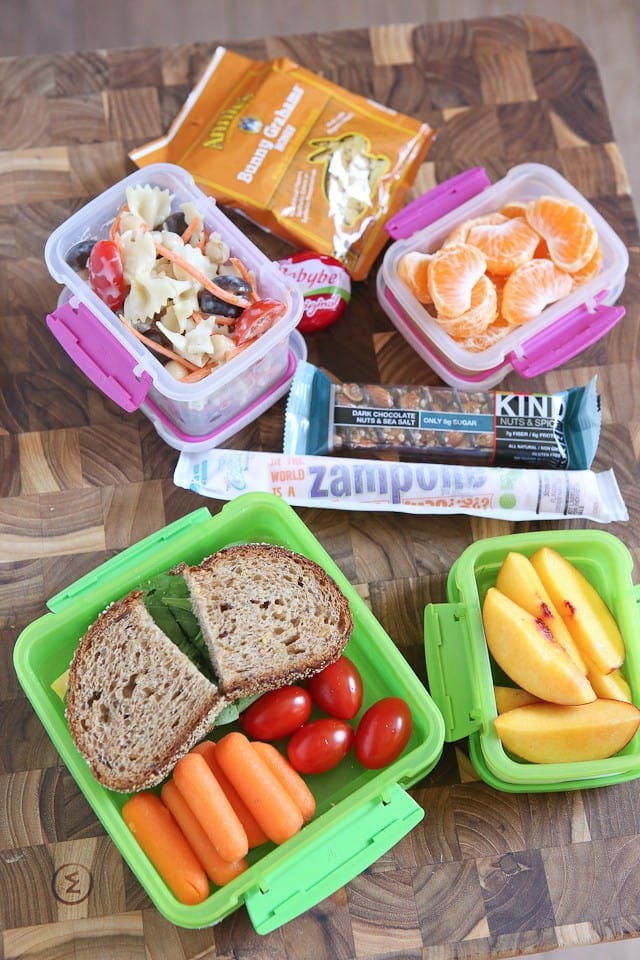 I have two types of kids when it comes to lunches. One is a big sandwich guy, he could have the same sandwich every day without a complaint. I do try to change things up for him and include different fillings for his sandwiches but for the most part he likes to stick with turkey & cheese or peanut butter & banana. I take advantage of the turkey & cheese days to squeeze in a little spinach into his sandwich (thank you Subway for turning him on to that) so it keeps things a little more on the nutritious side. In addition to sandwiches, he loves yogurt, trail mix, lots of fruit or grape tomatoes, and granola bars. He's a good eater and I'm proud of that. I'm actually proud of both my kids, especially when it comes to what they want and what they will eat for lunch. I say this in the most unbraggy way possible, but my kids have really gotten into a great habit of knowing what good choices are when it comes to lunch and snacks. They are in 3rd and 5th grade so have been bringing lunch to school for a while now and I really hope they hold onto their good habits as they grow older. They love their treats and sweets too of course and we live by the "all in moderation" rule so it's all good with me.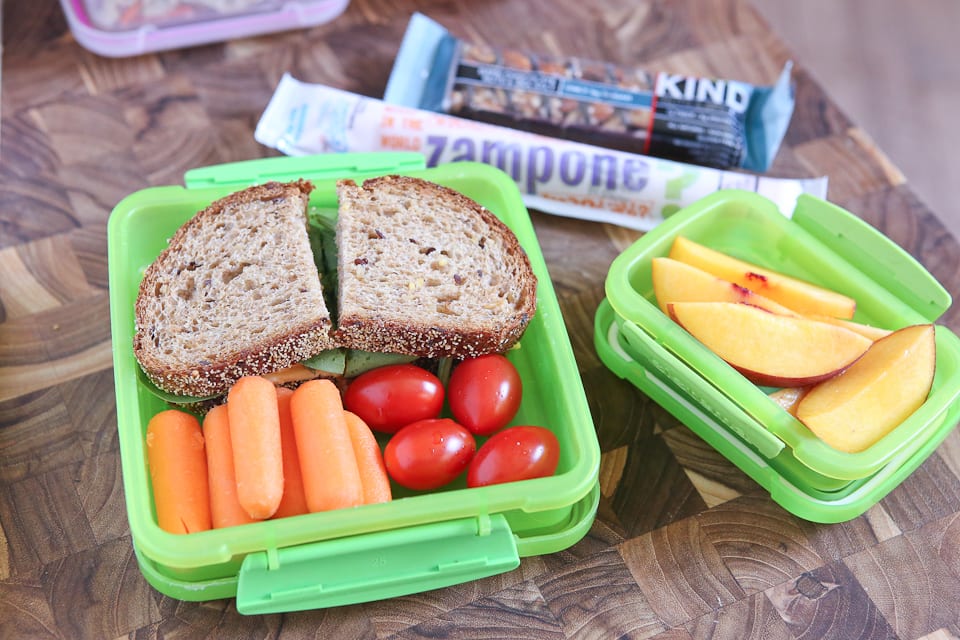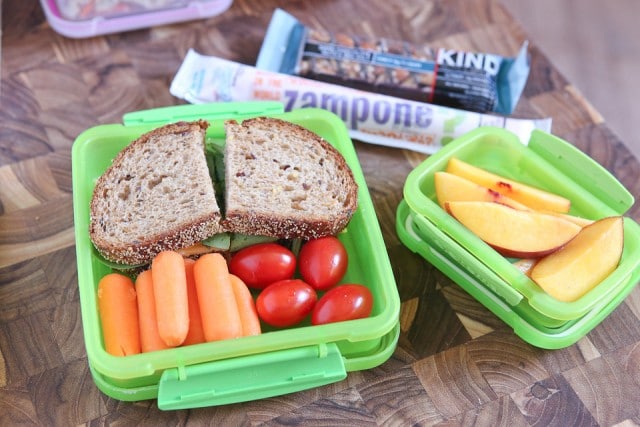 My daughter likes a little variety in her lunch. She'll take a sandwich when that's all I'm offering (and have the time or energy for), but she does request things like this Caesar Pasta Salad with Chickpeas and spinach salads (!!!) at least once a week. How can I say no to a child who asks for salad for lunch?? I like to make her mini spinach and strawberry salads with nuts, or mini chef salads, when she requests them. She also loves pasta salad and asks me to make her some all the time. If your child needs a little variety, pasta salad is such a great way to add something tasty and healthy to their lunchbox. My daughter has been loving this caesar dressing lately for dipping veggies so she asked that I make a pasta salad using the same dressing. I added in a few of her favorites – grape tomatoes, black olives, chickpeas and carrots – along with a fun shape pasta she picked out. Normally I would opt for a whole wheat pasta but bowties are hard to find in whole wheat for some reason.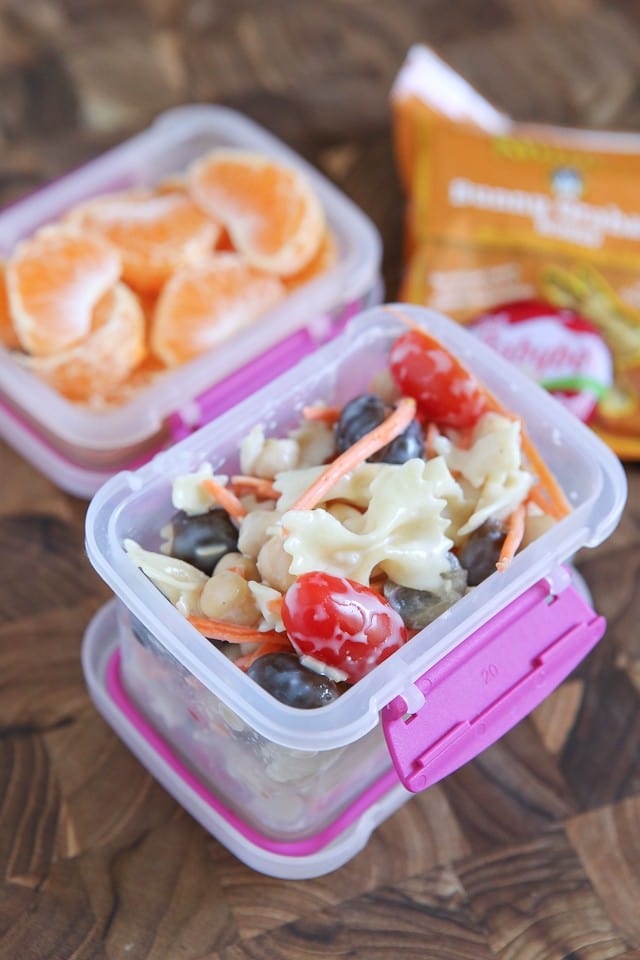 I've shared pics of my kids lunches on Instagram periodically but never really thought to post them here on the blog. Today, I'm posting them in hopes to give you some healthy lunch ideas in partnership with Produce For Kids and their Power Your Lunchbox Pledge. Please consider taking the Pledge to packing healthier lunches – for every pledge made, supporting companies will collectively donate $1 to Feeding America children programs.
In addition to taking the pledge, show off your healthy school lunches on Instagram or Twitter with hashtag #PowerYourLunchbox and you'll be entered to win weekly prizes and have a chance to be featured on Produce For Kids Facebook page.
Find lunchbox ideas, afterschool snacks and easy weeknight dinner ideas and recipes here.
If you are a teacher and are interested in incorporating nutrition-focused lesson plans in your classroom, you can find printables and other helpful resources here.
Learn more about Feeding America here.
Good stuff, right? Take the pledge!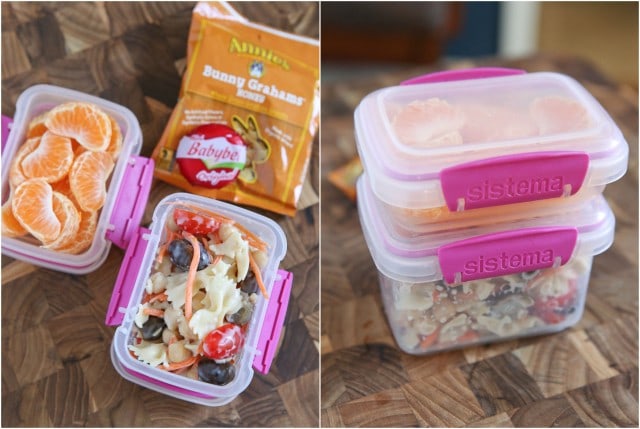 A few of my sanity-saving lunch packing tips:
These Sistema containers – I've been using them a few years now and they have made life so much easier! I usually grab them in all shapes at sizes at HomeGoods, but you can find them on Amazon too (these are the ones used for the pasta salad, sandwiches, fruit and salad dressing or dip) . They are awesome because they can fit in different sized lunch boxes and are extremely versatile. My daughter likes using these adorable food pick forks for her fruit and they do make lunch a little more fun. :).
Prep, prep, prep – get as much fruit & veggies washed and cut (or purchased this way) ahead of time. I like to get a few days worth of fruit packed in containers at one time to make things easier when it's time to put lunchboxes together in the morning.
Make sandwiches the night before – at dinnertime if possible! I try to force myself to make sandwiches while I'm getting dinner ready (if I have the time) because having lunches packed at 5pm is so much better than doing it at 9pm any day. It usually feels easier to pull it together while waiting for dinner to cook or I've already got a cutting board out. (this does not happen everyday but boy am I happy when it does!)
Pick out a "lunch of the week" and keep it simple. I usually buy what is on sale – at the deli (lunch meat and cheese), a loaf of sandwich bread at the bakery, fruit and snack veggies in the produce department – and stick with it for the week. If I make a pasta salad that will easily last a few days. My kids don't mind the same lunch (with a few change ups for snacks) everyday so why complicate things if you don't have to.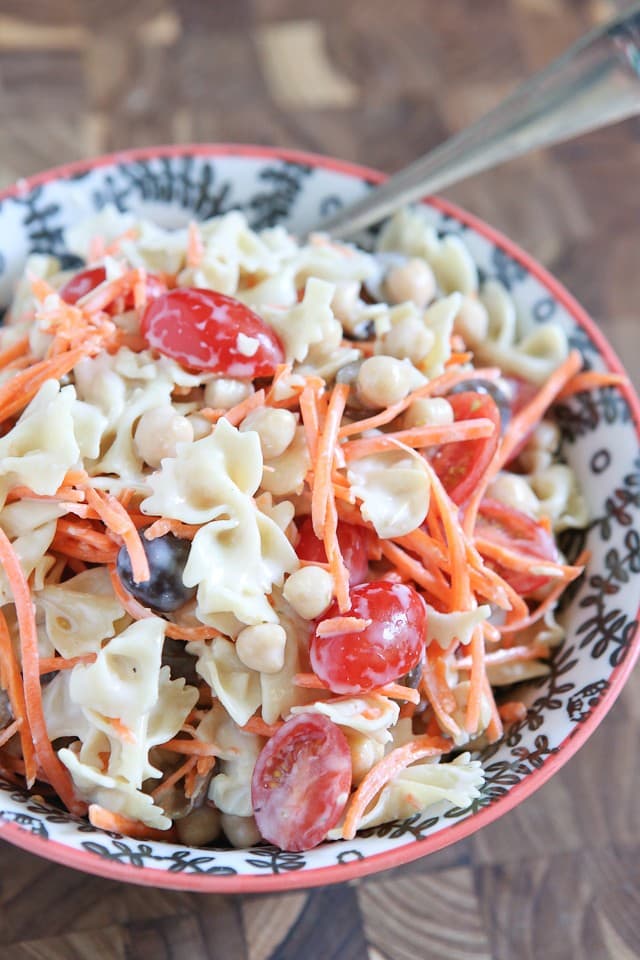 Print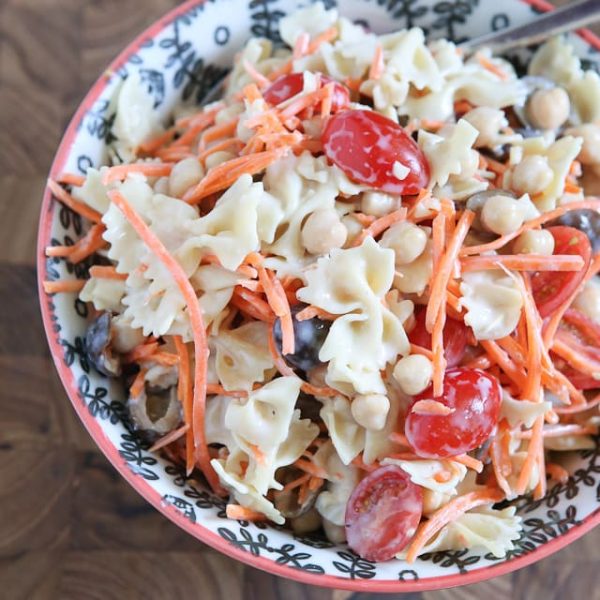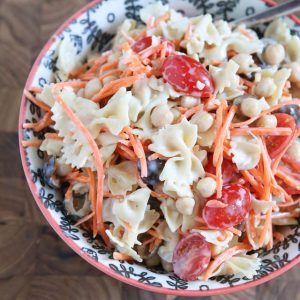 Caesar Pasta Salad with Chickpeas
Author:
Prep Time: 20 minutes
Cook Time: 10 minutes
Total Time: 30 minutes
Yield: 6 servings 1x
Category: Pasta Salad
Method: Stovetop
Cuisine: Vegetarian
---
Ingredients
1/2 12 oz box bowtie pasta (or your favorite shape pasta – use whole wheat if possible)
1 cup grape tomatoes, halved
1 cup matchstick carrots
1 15 oz can chickpeas, rinsed and drained well
1 cup black olives, halved (optional)
1/3 cup your favorite Ceasar dressing
salt and pepper, to taste
Parmesan cheese, to taste
---
Instructions
Cook pasta according to directions. Drain well and let cool completely.
When pasta is completely cooled, add to a large bowl with tomatoes, carrots, chickpeas, olives and dressing. Gently toss to combine ingredients well. Sprinkle with Parmesan cheese, and season with salt and pepper to taste.
Serve chilled.
Keywords: pasta salad, caesar, chickpeas, vegetarian
(Disclosure: This post was written in partnership with Produce For Kids. There are Amzaon affiliate links in this post. I make small earnings from any purchases made through these links. Thank you for supporting Aggie's Kitchen!)
Follow Aggie's Kitchen's board Pasta Salad! on Pinterest.
Are you following me on Instagram, Twitter, Facebook and Pinterest? If you'd like to subscribe to Aggie's Kitchen and have each post delivered straight to your e-mail box, then please add your email here. Happy cooking!
There are affiliate links in this post. I make small earnings through any purchases made through these links. Thank you for supporting Aggie's Kitchen!