Beef and Egg Tortilla Skillet and a day at the Florida Academy for Nutrition & Dietetics Annual Meeting
Hearty enough to serve for dinner, this Beef and Egg Tortilla Skillet is a healthy meal that comes together fast and easy.
Click here to pin this Beef and Egg Tortilla Skillet recipe!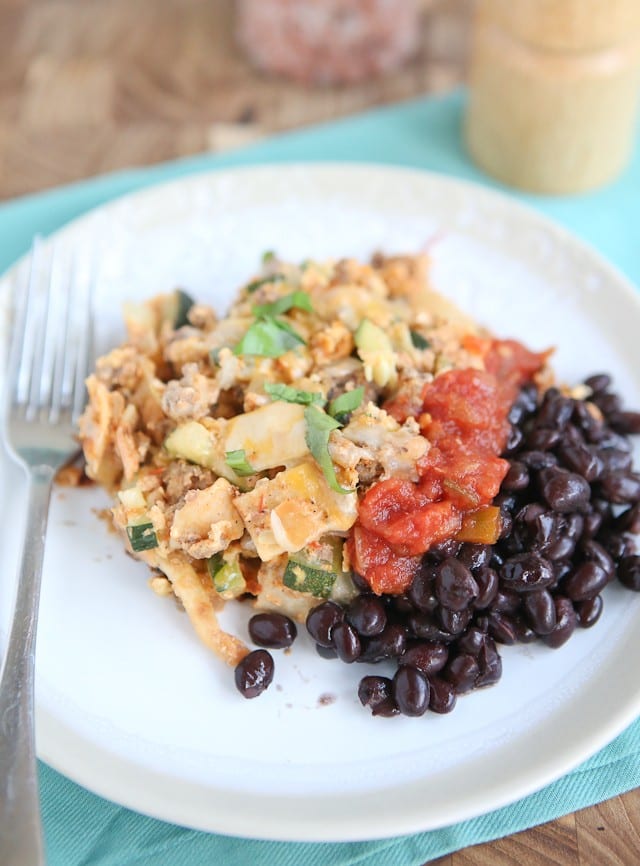 Breakfast for dinner is always a treat, especially for me because it comes together so quick and easy. Needless to say, this Beef and Egg Tortilla Skillet is perfect as we are adjusting to back to school and busy weeknight mode.
One thing I'm learning as far as getting dinner on the table quickly is to prep as much as possible ahead of time. For instance, if you have the opportunity to brown some lean ground meat or chop some veggies while you are cooking another meal it truly saves so many precious minutes on the days you need them the most. When I am on my A-game I like to have a few bagfuls of browned ground beef or turkey measured out and stored in Ziplocs in the freezer for easy tacos, tostadas or meat sauce (I measure them out into 2 cups per bag usually). These bags of pre-cooked meat come in especially handy on nights you don't have a meal planned or are just short on time and are looking to wing it with what you have on hand.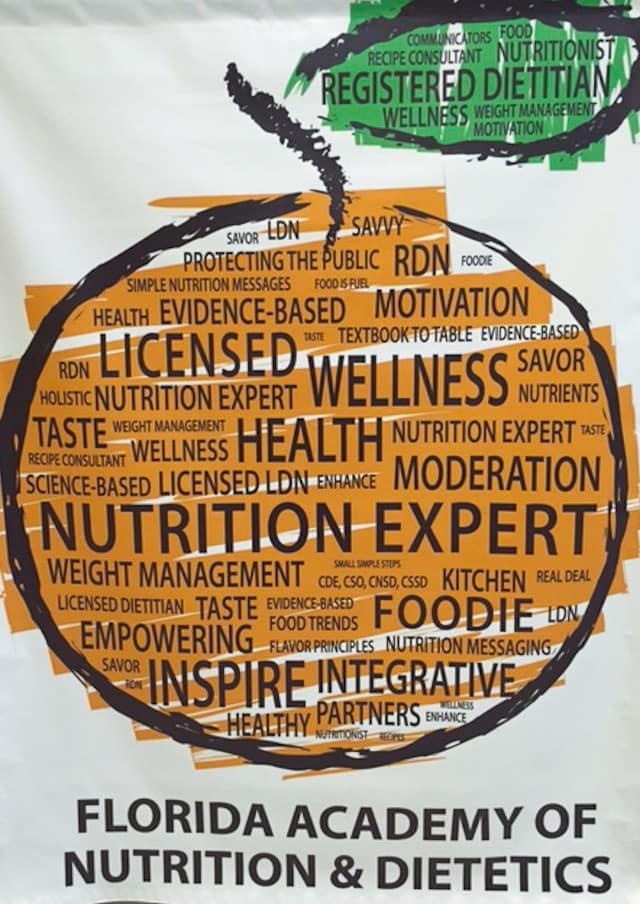 I came across this recipe during a cooking demo at a conference I was fortunate to be invited to be a part of last month – the Florida Academy for Nutrition & Dietetics was hosting their annual meeting here in Orlando and my friend Alyssa (who happens to be this year's president) invited me to sit in on some sessions that interested me. I was so excited to be immersed in all things nutrition and surrounded by RDs and students, among others in the field of nutrition. In my years of blogging, I have come to know and develop relationships with so many RDs, I laugh because I tend to refer to myself as a wanna-be RD at times. When I was in college 20-something years ago I picked a marketing major that I felt suited me at the time (I learned plenty and it's a degree I'm proud of). 20 years later, I have been feeling a tug to explore a possible career in Nutrition and Dietetics and becoming a real life RD myself. Spending time in the the student sessions as well as the other sessions really gave me some clarity on pursuing going back to school. As of right now, I am actively getting transcripts together and researching distance learning programs, as well as mapping out pre-requisite classes that I can take locally at my community college. I have to be honest with you…the process and idea of going back to school to pursue something I am completely passionate about is exhilarating as well as equally terrifying. It's quite a different experience and feeling than the first time around. One I'm a little more sure of (and completely unsure of at the same time) and one that will challenge me, but for the better.
I really can't believe I'm saying all of this out loud!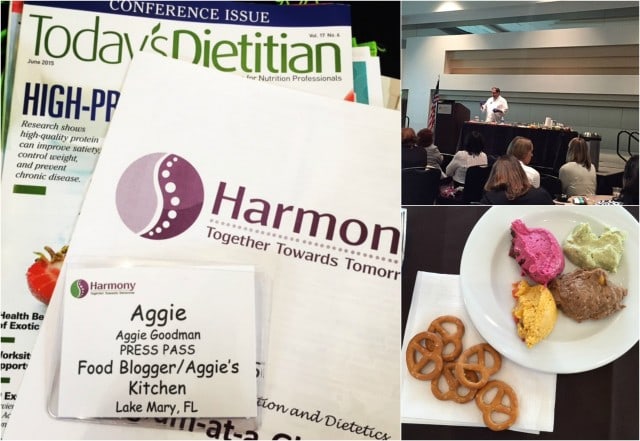 One of the sessions I sat in was RD and Nutrition Opportunities in Schools presided by two women from the organization Fit4AllKids. I was completely inspired by these ladies, and the work they do for their organization – especially the work they do in their local schools. They opened my eyes to all the opportunities to help families and children in particular learn about nutrition but also learn skills to cook (and appreciate!) healthy meals.
One thing I particularly noticed during the conference and in the student sessions is the sense of pride that came with being an RD. I was so impressed with how many different levels of involvement each person I met was a part of, from being a conference volunteer to being a student mentor all the way up to presenting health related bills to the FDA in Washington, DC. So many different opportunities to help people learn to make healthier choices and ultimately live a good long life – I know in my heart I want to be a part of this profession. I don't think I can express enough how grateful I am to have had the opportunity to be at this conference to learn and network and solidify my plan to pursue my degree.
It's going to take me quite a few years to put all of this together, but I'll keep you posted on when I start my first class and my progress!
Now, to the recipe. This recipe was served at the In The Kitchen With Chef Dave – Power Up With Protein session (sponsored by the Florida Beef Council and National Cattlemen's Beef Association). It was delicious and I wanted to cook it at home, particularly as a breakfast for dinner option since it was so hearty yet quick to put together. A little different for my kids but I warned them in advance that they were trying something new. My husband was over the top happy to be sitting down to a nice plate of beef and eggs.

I changed things up a bit from the original recipe, using zucchini instead of green peppers (my kids aren't fans of peppers), using fresh corn tortillas instead of chips and cutting the amount of meat and cheese by a little. I served it with salsa, black beans and chopped cilantro and of course hot sauce for the grown ups. I got a huge thumbs up by everyone in my family for this "breakfast for dinner" and I'll be making it again real soon.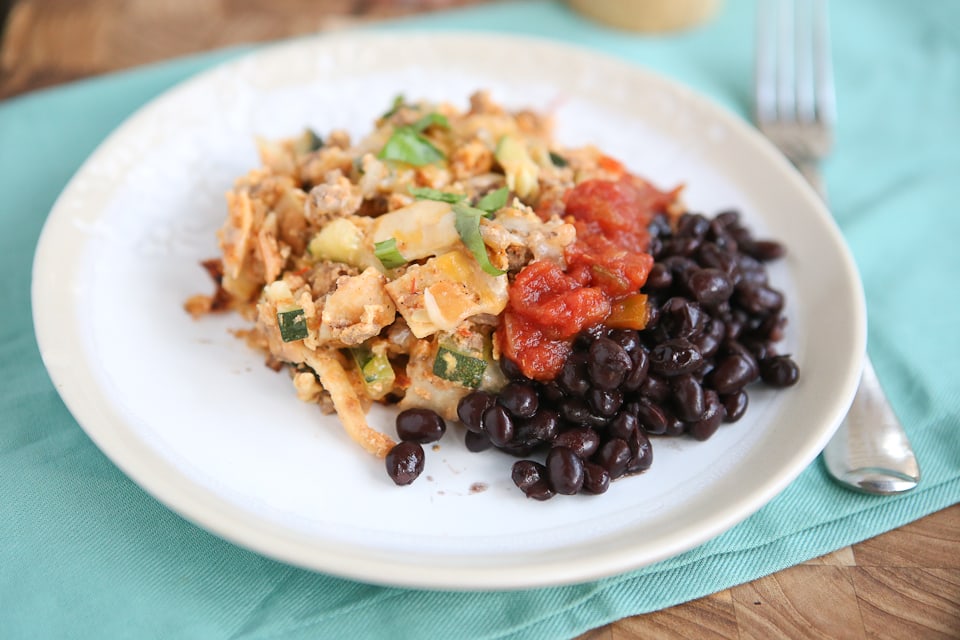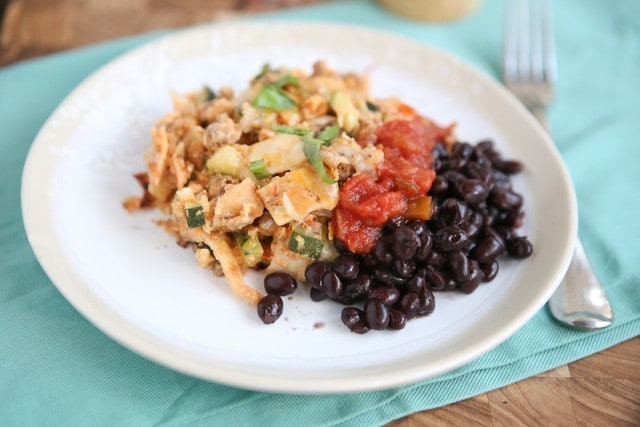 Beef and Egg Tortilla Skillet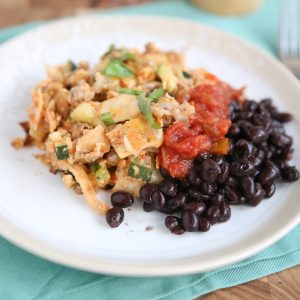 Ingredients:
4 corn tortilla, cut in half then in strips
1 teaspoon oil
1 onion, chopped
1/2 lb lean ground beef
1/2 teaspoon garlic powder
pinch coarse salt and pepper
1 zucchini, chopped
6 large eggs, whisked
1/2 cup chunky salsa
1/2 - 1 cup Mexican blend cheese
handful chopped cilantro for garnish
Directions:
Add tortilla strips into a large (dry) skillet over medium hight heat. Cook 2-3 minutes until tortillas crisp up and brown slightly, turning so that both sides brown. Take out of skillet and set aside.
Turn heat down to medium and heat oil in skillet. Add ground beef and onion and season with garlic powder, salt and pepper. Cook beef and onion until browned, about 5-7 minutes. Add zucchini to beef and onion mixture and cook for 3-5 minutes longer until zucchini is cooked and softened.
Slowly add eggs and tortillas to skillet and gently combine. Let cook for about 1-2 minutes until eggs begin to set, stirring constantly. Add salsa and cheese to egg and beef mixture and continue to stir to combine, until eggs are throroughly cooked.
Serve hot alongside black beans and additional salsa. Garnish with fresh chopped cilantro for even more flavor.
Follow Aggie's Kitchen's board Healthy Breakfasts on Pinterest.
Are you following me on Instagram, Twitter, Facebook and Pinterest? If you'd like to subscribe to Aggie's Kitchen and have each post delivered straight to your e-mail box, then please add your email here. Happy cooking!
There are affiliate links in this post. I make small earnings through any purchases made through these links. Thank you for supporting Aggie's Kitchen!