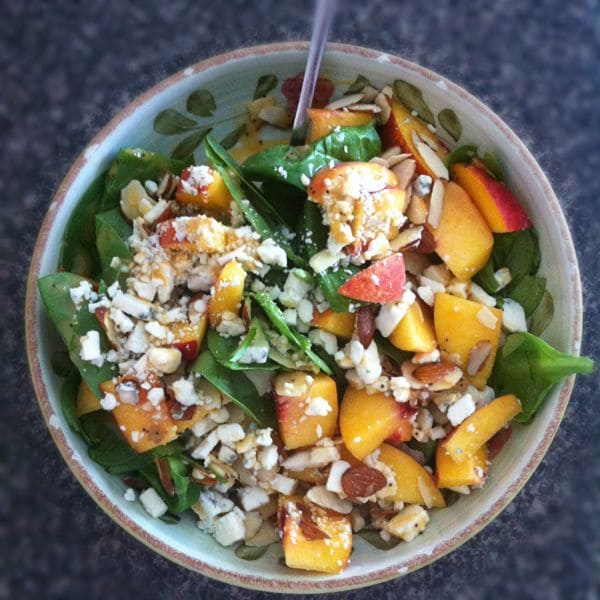 Although I admitted my cravings for chili yesterday, I'm also still (and always) craving a good salad. I just have to share with you the salad that I can't get enough of lately. Believe me when I say that I've been eating it every weekday for the last 2 weeks. Everything about it just works and I insist you make one before the juicy peaches disappear from the markets.
This is a non-recipe, always the best kind of recipes right? I started seeing peaches on salads this summer and wasn't sure I would like it at first. Boy was I wrong. The salad dressing I'm using for it is a recent discovery as well and would be perfect for any salad that is paired with fruit.
Enjoy and have a great week!
Spinach Salad with Fresh Late Summer Peaches, Gorgonzola and Almonds
The perfect way to enjoy late summer peaches on a healthy and flavorful salad.
Ingredients
fresh baby spinach leaves
1 oz crumbled gorgonzola
2 heaping tablespoons sliced almonds
1 peach, sliced or cut in chunks
Annie's Organic Papaya Poppyseed dressing or your favorite poppyseed dressing
Instructions
Combine all ingredients in large bowl or plate to make one salad. Drizzle with dressing and enjoy.
http://aggieskitchen.com/2012/09/17/spinach-salad-with-fresh-late-summer-peaches-gorgonzola-and-almonds/

if (! ( is_single() && in_category('437') )) { ?> } ?>