Cheesy Corn Stuffed Jalapenos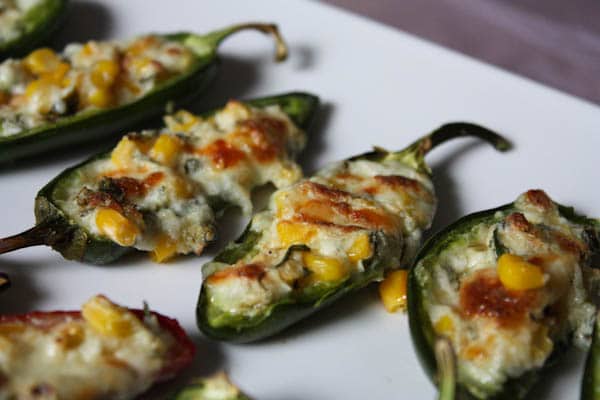 I am swimming in jalapenos right now. I'm only half kidding. Every time I go out in the backyard I come back in with a nice bowl of little hot green peppers from the garden. I've made salsa, I've put them on pizza, in enchiladas and in guacamole. And now I've made these cheesy corn stuffed jalapenos.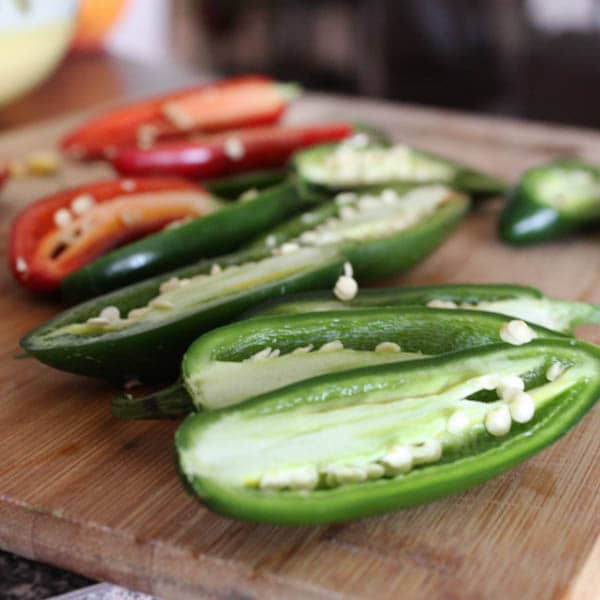 These were pretty straight forward to put together. You clean your jalapenos first by slicing them in half longways and scraping out the seeds and membranes (I used a grapefruit spoon and it was so easy). Put together your cheese mixture and carefully stuff each pepper half with a tablespoon or so of the filling. Bake in the oven for about 20 minutes and you've got yourself a nice appetizer for your next get together.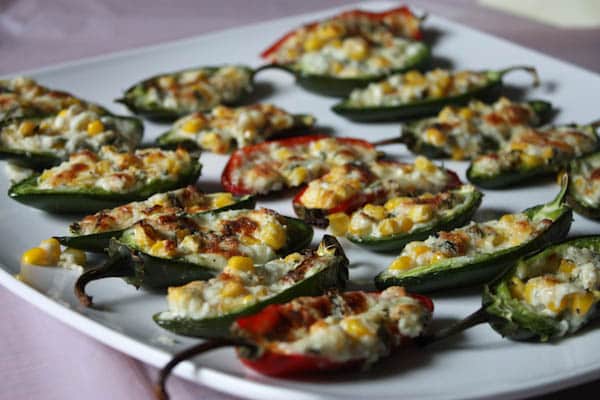 Cheesy Corn Stuffed Jalapenos
These are a fun spicy addition to any get together. Perfect for summertime when jalapenos and corn are everywhere!
Ingredients
Cheesy Corn Stuffed Jalapenos
Recipe from Aggie's Kitchen
8 jalapenos, sliced in half longways
4 ounces cream cheese, softened
4 oz monterey jack or cheddar cheese, shredded
1/4 teaspoon cumin
1 garlic clove, minced or pressed through garlic press
1 ear corn, kernels cut off
2 tablespoons chopped cilantro
good pinch salt and fresh ground pepper
Instructions
Take each jalapeno half and carefully clean out all the seeds and membranes using a spoon or paring knife. The insides of some jalapenos can be very hot so use caution, consider wearing gloves (I typically don't).
Preheat oven to 375 degrees. Line a cookie sheet with tin foil.
In a bowl combine cream cheese, shredded cheese, cumin, garlic, corn, cilantro, salt and pepper. Taste for seasoning.
Sprinkle a little salt over each jalapeno half. Using a tablespoon, stuff each jalapeno half with cheese mixture and place on cookie sheet. Be careful not to overstuff. Bake in 375 degree oven for about 20 minutes until cheese is bubbly. Switch oven to broiler setting and broil for a few minutes till tops are slightly browned.
http://aggieskitchen.com/2011/07/05/cheesy-corn-stuffed-jalapenos/
50 Responses to "Cheesy Corn Stuffed Jalapenos"
Trackbacks/Pingbacks

Leave a Comment