Veggie Potstickers with Soy Dipping Sauce
Last week I posted a recipe for
Mongolian Beef
and asked for you to share your favorite Asian inspired recipes with me. One of the ones sent to me was
Turkey Potstickers
from
Mary Ann at Meet Me in the Kitchen
. I've always been intimidated by the idea of making potstickers, but they were actually a lot easier than I could have imagined! They do take a little time, but are so worth it. I took Mary Ann's advice and froze half of my batch to cook up another time. I used what I had on hand this time, but I can't wait to experiment with the filling and come up with new versions of these yummy guys.

I noticed my wrappers weren't as "white" as Mary Ann's…I only had one option to choose from as far as won ton wrappers at my grocery store. They didn't taste any different than any other won ton wrapper I have had … any ideas why the color is so different?
Veggie Potstickers with Soy Dipping Sauce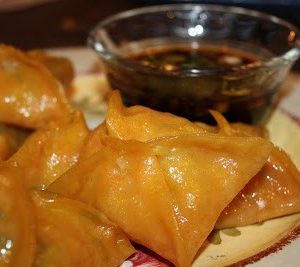 Ingredients:
2 teaspoons canola oil
2 cups angel hair coleslaw with carrots
1/2 cup water
1/3 cup minced green onions
1 tablespoon minced peeled gingerroot
1/2 teaspoon salt
1/2 teaspoon dark sesame oil
1 garlic clove, minced
30 won ton wrappers
2 teaspoons cornstarch
4 teaspoons vegetable oil, divided
1 cup water, divided
Soy Dipping Sauce, recipe below
Soy Dipping Sauce
1/4 cup low sodium soy sauce
1/4 cup rice vinegar
1/2 tsp chopped ginger
1 clove chopped garlic
1 green onion, chopped
Directions:
Heat 2 teaspoons canola oil in a large nonstick skillet over medium-high heat. Add coleslaw; cook 9 minutes or until lightly browned, stirring frequently. While cabbage cooks, add 1/2 cup water, 1 tablespoon at a time, to keep cabbage from sticking to pan. Spoon cabbage into a medium bowl; let cool completely.
Add green onions, ginger, salt, sesame oil and garlic to bowl; stir well.
Working with 1 won ton wrapper at a time (cover remaining won ton wrappers to keep them from drying out), spoon about 1 tablespoon veggie mixture into the center of each wrapper.

Moisten edges of wrapper with water, and bring 2 opposite corners to center, pinching points to seal. Bring the remaining 2 corners to center, pinching points to seal. Pinch 4 edges together to seal. Place pot stickers on a large baking sheet sprinkled with cornstarch; cover loosely with a towel to keep them from drying out.

Heat 2 teaspoons vegetable oil in a large nonstick skillet over medium heat. Place half of pot stickers in bottom of skillet; cook 3 minutes or until bottoms are lightly browned. Add 1/2 cup water to skillet; cover and cook 3 minutes or until liquid is absorbed. Place pot stickers on a serving platter; set aside, and keep warm. Wipe skillet with a paper towel. Repeat procedure with remaining vegetable oil, remaining pot stickers, and remaining water.
You can freeze uncooked potstickers- just place on a baking sheet, place in the freezer until frozen and transfer to a Ziploc freezer bag. When ready to cook, thaw and repeat cooking procedure. You can also cook them from a frozen state, it just takes a few more minutes to get them cooked through.
Soy Dipping Sauce
Mix ingredients together and serve in small bowl.
(for a printable version of this recipe click here)

Are you following me on Instagram, Twitter, Facebook and Pinterest? If you'd like to subscribe to Aggie's Kitchen and have each post delivered straight to your e-mail box, then please add your email here. Happy cooking!
There are affiliate links in this post. I make small earnings through any purchases made through these links. Thank you for supporting Aggie's Kitchen!