Spaghetti Squash and Turkey and Spinach Meatballs
I've been pretty skeptical about spaghetti squash for a while now. I really didn't believe that I would like it. A few weeks ago, my pilates instructor was raving about having spaghetti squash with turkey sausage and tomato sauce for dinner and of course, once I started thinking about it I couldn't get it out of my mind. Once I saw it
here
though…I went straight to Publix.
So I gave in and tried some spaghetti squash. And I loved it. So did my husband, which still shocks me today.
It was not hard at all to cook. The hardest part for me was cutting through the squash to cut it in half. Once its cut in half and the seeds and membranes are cleaned out, you place it open side down in a large microwavable baking dish with about a 1/4 cup of water and covered in plastic wrap. Microwave it for 8-12 minutes depending on its size. Once it's cooked through, just take a fork and scrape out the inside…it will come out stringy and "spaghetti" like.
Serve with your favorite homemade tomato sauce and these
Turkey and Spinach Meatballs.
This Thursday is Barefoot Blogger day!
Unfortunately, as much as I would love to indulge in some of Ina's Real Meatballs and Spaghetti chosen by Ezra Pound Cake, I have started my training for my second time at the Danskin Women's Triathlon at Disney and am really watching what I am eating! I am part of a triathlon training team at my YMCA and am really working hard to get in 6 days a week of running, biking and swimming so that I will be able to actually finish the race in one piece!!
Turkey and Spinach Meatballs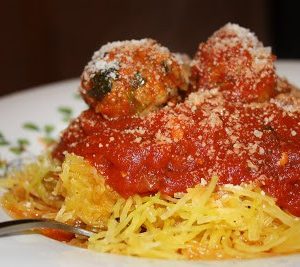 Ingredients:
1 lb of lean ground turkey (I usually use Jenni-O)
2 tsp garlic powder
salt and fresh ground pepper, to taste
1 cup chopped fresh spinach leaves
1 small onion, grated
1 egg
1/4 cup bread crumbs (whole wheat if you've got them!)
1/4 cup Parmesan cheese
splash milk (I use non fat)
non stick spray
Directions:
In large bowl, mix together onion, egg, bread crumbs, Parmesan and milk. Mix until it turns into a loose paste. Add in ground turkey, chopped spinach, garlic powder and salt and pepper. Gently combine all ingredients. Roll meat mixture into small meatballs, about 1-2 inches round. Place on lightly greased cookie sheet. Before placing in oven, spray each meatball with non stick spray.
Cook for about 20-25 minutes, until browned, in 375 degree oven.
To serve with tomato sauce, drop meatballs in sauce pan with tomato sauce and heat through. Freeze your extras for another meal!
(for a printable version of this recipe click here)
Enjoy the rest of your week!

Are you following me on Instagram, Twitter, Facebook and Pinterest? If you'd like to subscribe to Aggie's Kitchen and have each post delivered straight to your e-mail box, then please add your email here. Happy cooking!
There are affiliate links in this post. I make small earnings through any purchases made through these links. Thank you for supporting Aggie's Kitchen!