White Chocolate Peanut Butter and Jelly Bars
Since I'm not one to bake unless I really have a reason to, I've been waiting patiently for the perfect occasion to make these. Well, my mom's birthday is this weekend and we are going to surprise her with a visit tomorrow with the kids (hope she's not reading this tonight!)…my mom loves peanut butter so I'm thinking these are a perfect birthday treat for her.
I just recently discovered a brand of peanut butter that I have totally fallen in love with…Peanut Butter & Co. They have the most amazing flavors…ones I've tried are Dark Chocolate Dreams, Cinnamon Raisin Swirl and White Chocolate Wonderful. I like adding a heaping teaspoon of these delicious flavors into a bowl of plain lowfat yogurt for dessert…mmmm. So good.
When I decided to make these bars today I had all the ingredients in the pantry…as far as peanut butter though, all I had was the White Chocolate Wonderful. This peanut butter isn't the most inexpensive peanut butter so I cringed a little using up the whole jar for the recipe (actually 2 oz. less than the recipe called for), but I figured it would make the bars that much better.
I thought the bars turned out good…crumbly and buttery, but they held their shape well. My only complaint was that I thought there should have been more jam than what the recipe asked for. Next time I will just eye ball it and make sure to spread a nice thick layer of jam on them. Also, I think my pan might have been too small…my bars came out kind of thick, but that's not really a bad thing.
If you are a PB&J lover, bake up a batch of these bars and grab a glass of milk…
(I'm loving my new Martha Stewart Collection plates from Macy's…)
White Chocolate Peanut Butter and Jelly Bars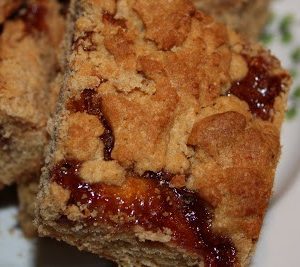 Ingredients:
1/2 pound (2 sticks) unsalted butter, at room temperature
1 1/2 cups sugar
1 teaspoon pure vanilla extract
2 extra-large eggs, at room temperature
2 cups (18 ounces) creamy peanut butter (I used Peanut Butter & Co. White Chocolate Wonderful)
3 cups all-purpose flour
1 teaspoon baking powder
1 1/2 teaspoons kosher salt
1 1/2 cups (18 ounces) raspberry jam or other jam (I used strawberry)
2/3 cups salted peanuts, coarsely chopped (I totally forgot to add these!)
Directions:
Preheat the oven to 350 degrees F.
Grease a 9 by 13 by 2-inch cake pan. Line it with parchment paper, then grease and flour the pan.
In the bowl of an electric mixer fitted with the paddle attachment, cream the butter and sugar on medium speed until light yellow, about 2 minutes. With the mixer on low speed, add the vanilla, eggs, and peanut butter and mix until all ingredients are combined.
In a small bowl, sift together the flour, baking powder, and salt. With the mixer on low speed, slowly add the flour mixture to the peanut butter mixture. Mix just until combined.
Spread 2/3 of the dough into the prepared cake pan and spread over the bottom with a knife or offset spatula. Spread the jam evenly over the dough. Drop small globs of the remaining dough evenly over the jam. Don't worry if all the jam isn't covered; it will spread in the oven. Sprinkle with chopped peanuts and bake for 45 minutes, until golden brown. Cool and cut into squares.
Happy Birthday Mom!!
xoxo

Are you following me on Instagram, Twitter, Facebook and Pinterest? If you'd like to subscribe to Aggie's Kitchen and have each post delivered straight to your e-mail box, then please add your email here. Happy cooking!
There are affiliate links in this post. I make small earnings through any purchases made through these links. Thank you for supporting Aggie's Kitchen!