Turkey Bolognese Burgers on Toasted Garlic Buns

So anyone done with their Christmas shopping? I'm typically one of the people who is still shopping on December 23rd, but I think this year I finally have my act together and will be finished by this weekend. It's a good feeling to finish a little earlier, I did a bit of my shopping online which made things a lot easier when shopping for the kids since they are usually with me at the stores. Now having the presents wrapped and under the tree early…that might be overachieving for me, we'll see…I'm working on it.
On to dinner…tonight I made an alternative to the typical turkey burger. Really, this is nothing like a turkey burger. It actually reminded me of a huge meatball on a bun. It was delicious. To keep it moist and flavorful (since ground turkey is known for being pretty bland), I added sauteed vegetables to the meat mixture before making the patties. You get the added bonus of extra veggies, while keeping the meat seasoned perfectly. My husband loved it, and I think you will too.
Turkey Bolognese Burgers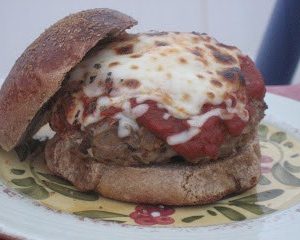 Ingredients:
1.25 lean ground turkey (I used Jennie-O)
8oz (1 package) baby portabella mushrooms, chopped
1 large onion, chopped
about 1 tsp garlic powder
about 1 tsp dried oregano
about 1 tsp dried basil
1/2 tsp of red pepper flakes (or more if you want a kick!)
salt and pepper to taste
3 TB egg whites (or 1 egg, beaten)
1/4 cup Parmesan cheese
tomato sauce, (homemade or jarred - I used Newman's Own Tomato Basil for sake of time)
mozzarella cheese, shredded or sliced
French Hamburger Buns or Prudy's Whole Wheat Hamburger Buns
Directions:
Turn broiler on.
In large hot non-stick skillet, add mushrooms, onions and seasonings to about 2 tsps of olive oil. Add salt and pepper to taste. Cook for about 10 minutes till vegetables are cooked down. Let cool to room temperature.
In a large bowl combine turkey, cooked vegetable mixture, egg whites and Parmesan. Mix gently but thoroughly. Add salt and pepper to taste. Form into 5 patties.
Place on broiler rack about 8 inches from heat. Cook for about 20 minutes until browned. Add tomato sauce liberally on each patty. Add mozzarella cheese over sauce and place back under broiler. Cook for about another 5-7 minutes or until cheese is bubbling.
Serve on Toasted Garlic Buns.
To make Toasted Garlic Buns – Drizzle a small amount of olive oil over both sides of buns. Sprinkle with garlic powder and oregano. Place under broiler for 2-3 minutes until lightly browned. Keep an eye on them!
(Shown here on
Prudy's Whole Wheat Hamburger Buns…)
Enjoy!

Are you following me on Instagram, Twitter, Facebook and Pinterest? If you'd like to subscribe to Aggie's Kitchen and have each post delivered straight to your e-mail box, then please add your email here. Happy cooking!
There are affiliate links in this post. I make small earnings through any purchases made through these links. Thank you for supporting Aggie's Kitchen!