Lentil Soup
So…anyone seeing all the reports on happy people in the news lately? Apparently happiness is contagious…hmmm…I will have to agree with that! Interesting reading…
Speaking of happy…I'm pretty happy that I made this soup today. After a week of splurging here and there, I really need this soup. It's comfort food, full of stuff that is just good for you. Lentils are so healthy for you, they are low in fat and a good source of protein, fiber and iron among other things. If you haven't tried them before, don't be afraid…they are actually a very easy bean to cook, probably one of the quicker ones too. My grandparents and parents make soup like this all the time, it's so economical and really goes a long way. I'm actually staring at my huge pot of soup and thinking I might of made way too much…but I can always freeze some smaller portions for a quick future meal.
Lentil Soup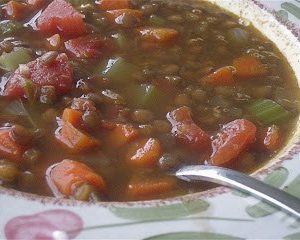 Ingredients:
2 TB olive oil
1 large onion, chopped
3-4 carrots, chopped
3 celery stalks, chopped
2-3 garlic cloves, finely chopped
salt and pepper, to taste
2 32 oz cartons of low sodium chicken stock
1 lb bag of brown lentils
1 large can of Italian diced tomatoes (important that you get the Italian ones, it will add lots of flavor)
broken spaghetti noodles or elbow macaroni, optional
Directions:
In a large pot, heat oil and add vegetables and garlic, salt and pepper . Saute for about 10 minutes, until soft. Add chicken broth, lentils and tomatoes to the pot and bring to a boil. Bring back down to a simmer and let cook for 50-60 minutes.
If you want to add in the pasta, add it in the last 10 minutes of the cooking process. Check for salt and pepper, add more to taste. Serve hot with grated Parmesan and a drizzle of olive oil.
Nicole at Test Kitchen Recipes was so nice to pass on the Butterfly Award to me! I recently discovered Nicole's great blog…go check it out! Thank you Nicole!
Tomorrow the
Gators
are playing in the
SEC Championship
!
Here's our little good luck charm…isn't he cute?
GO GATORS!!

Are you following me on Instagram, Twitter, Facebook and Pinterest? If you'd like to subscribe to Aggie's Kitchen and have each post delivered straight to your e-mail box, then please add your email here. Happy cooking!
There are affiliate links in this post. I make small earnings through any purchases made through these links. Thank you for supporting Aggie's Kitchen!