Summer Eats – Sweet and Sour Garden Peppers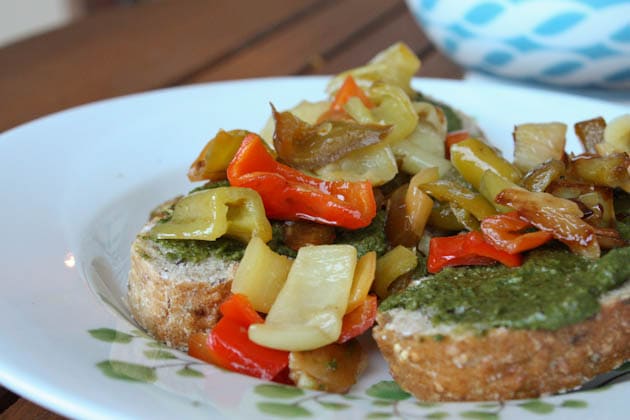 During the summer, I try to visit with my grandparents at least every couple of weeks. They don't live too far from me – just about an hour drive – so it's not uncommon for the kids and I to wake up in the morning and jump in the car for a spontaneous trip over to surprise them and spend the day. Our visit usually includes lunch, some wine, a dance session with my grandma and a little garden tour with my grandpa. Good times.
The older I get, the more and more I cherish this time with them.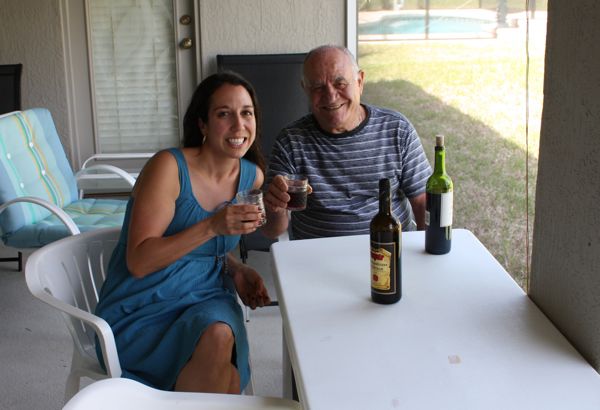 (With Nonno, Easter, 2010)
I always leave from their house with goodies of every kind…bags of breaded chicken cutlets or meatballs for my freezer, loaves of fresh baked bread and of course with this time of year comes lots of garden goodies like tomatoes and peppers.
Peppers (of all kinds) are up there as some of my favorite summer veggies. Just last year I came across this recipe for Sweet and Sour Bell Peppers in a beautiful cookbook that my sweet friend Bridgett sent to me and I absolutely fell in love with it. I have cooked up this recipe time after time, using whatever peppers I have on hand…usually ones like the bunch of beautiful cubanelles my grandpa sent me home with just last week.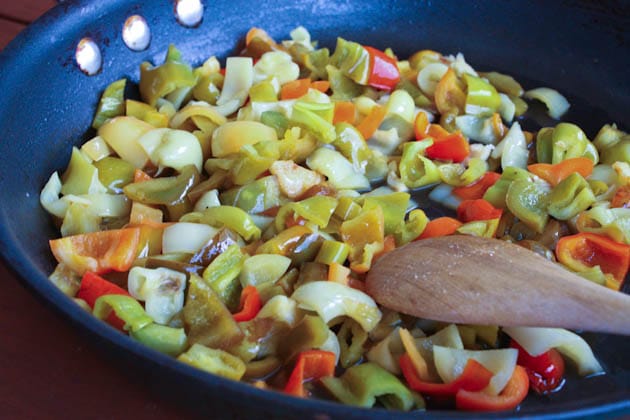 These peppers are always a treat and would make a great side dish or appetizer this summer – or if you're like me, they are perfect for dinner over crusty bread smothered in pesto with a nice chilled glass of red wine.
Now that's my kind of eatin'.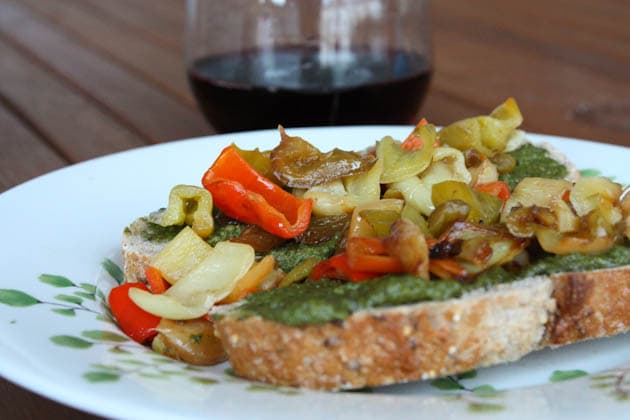 Sweet and Sour Garden Peppers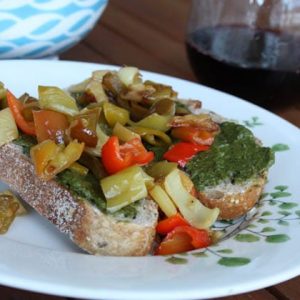 Ingredients:
4 assorted garden peppers (bell or cubanelles work wonderfully)
3 tablespoons olive oil
3/4 cup white wine vinegar
2 tablespoons sugar
pinch of salt
Directions:
Clean peppers by removing stems and seeds. Cut each pepper into chunks or strips. In a large pan, heat oil over low heat and fry the peppers slowly for 15 minutes. Season peppers with salt.
Add white wine vinegar and sugar to pan and bring to a simmer over medium high heat. Let vinegar and sugar mixture dissolve and cook down until reduced a bit. Cook for a few additional minutes. Serve at room temperature with slices of rustic crusty bread.
Slightly adapted from Vegetables From An Italian Garden
Are you following me on Instagram, Twitter, Facebook and Pinterest? If you'd like to subscribe to Aggie's Kitchen and have each post delivered straight to your e-mail box, then please add your email here. Happy cooking!
There are affiliate links in this post. I make small earnings through any purchases made through these links. Thank you for supporting Aggie's Kitchen!