Spaghetti Squash with Turkey Vegetable Ragu
This one is for those of you who have a love for spaghetti squash like I do. I've been making a variation of this a lot these days. Almost weekly. It's so hard to believe how good for you it is! I love how it gives me my pasta with sauce and cheese fix without eating an actual big bowl of pasta! Not that pasta is bad…I'm Italian so I love my pasta…but I try to save it for Sundays or for days it is a really special treat.
My good friend Allison and I had dinner the other night with our "littles" while our husbands took our older boys to their first Orlando Magic game. The kids ate mini bowtie pasta with sauce, while we enjoyed our spaghetti squash and some wine. This was Allison's first time trying spaghetti squash and she loved it! We cleaned our plates and were completely satisfied.
I love to chunk up my tomato sauce with extra veggies. In this particular sauce, I added whatever I had on hand…mushrooms, zucchini, squash and of course onion and garlic. I used seasoned ground turkey for protein, but turkey sausage would also be delicious in this sauce.
I took someone's advice from my last Spaghetti Squash post and microwaved it whole to make it easier to cut through. I poked some holes in the squash then microwaved it for 4-5 minutes. The skin is then soft enough to cut through easily. Cut spaghetti squash in half longways, clean out the seeds and membranes, then place open side down in a baking dish filled with about a 1/4 cup of water. Cover with plastic wrap and microwave for another 4-5 minutes depending on the size of the squash (refer to the sticker on the squash for more exact times). Once cooked, let cool a bit, then take a fork and scrape out the stringy flesh onto your plate to serve.
Print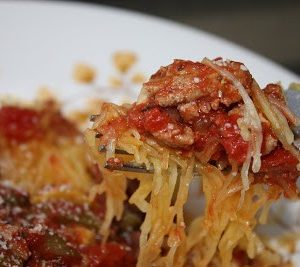 Spaghetti Squash with Turkey Vegetable Ragu
Author:
Category: Ground Turkey
Method: Stove/Oven
---
Ingredients
2 tsp olive oil
1 large (28oz) can of diced or crushed tomatoes
1 large zucchini, large dice
2 yellow squash, large dice
1 med onion, chopped
mushrooms, roughly chopped
2 cloves garlic, minced
1/2 lb ground turkey, cooked and seasoned
1 large spaghetti squash
Parmesan cheese, for serving
red pepper flakes, for serving
---
Instructions
In a large heated saute pan, drizzle a couple of teaspoons of olive oil and add onions and garlic. Cook onions and garlic for 3-4 minutes until softened. Add zucchini, squash, and mushrooms and continue to cook for 5-7 minutes over medium high heat. Season vegetables with salt and pepper to taste. Then add ground turkey and tomatoes, combine and let cook through. Continue to simmer for about 10 minutes.
Scrape out stringy flesh of cooked spaghetti squash into plate and serve with sauce. Add Parmesan and red pepper flakes to taste.

Are you following me on Instagram, Twitter, Facebook and Pinterest? If you'd like to subscribe to Aggie's Kitchen and have each post delivered straight to your e-mail box, then please add your email here. Happy cooking!
There are affiliate links in this post. I make small earnings through any purchases made through these links. Thank you for supporting Aggie's Kitchen!