Peanut Butter and Chocolate Chip Banana Cake
Are you on Twitter? Last week I was introduced to a whole new world of communicating…I've had a Twitter account for a while now, but not doing anything with it. I was a little unsure of what Twitter was all about. And if it was as addicting as Facebook, do I really need it in my life?
Apparently I did…I am now addicted to Twitter.
(don't tell my husband…)
So, on Thursday afternoon, I sent out a tweet to all my Twitter friends asking for ideas on what to do with overripe bananas. Immediately, I got two responses from my ever so reliable foodie friends Maria and Dawn…a recipe for Banana Cinnamon Chip Cake and Mama Dip's Famous Banana Bread. Since I had everything on hand for the cake, I went with that recipe. But my mouth is watering for some of Mama Dip's Banana Bread so that one is officially bookmarked.
I have not been able to find Cinnamon Chips yet…I know I am missing out…so instead I used what I had on hand, Peanut Butter and Chocolate Chips. You can't go wrong with PB, chocolate and banana in my book! I love how easy this cake was to make. One bowl!! This is so my kind of baking. And the banana makes it so moist…you'll never miss the butter or oil.
So come and join the fun…follow me on Twitter…you know you want to!! 😉
(see right sidebar for updates!)
Peanut Butter and Chocolate Chip Banana Cake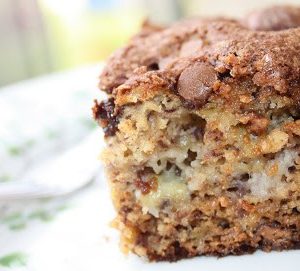 Ingredients:
3 very ripe bananas
2 large eggs
1 ½ cups unbleached all-purpose flour
1 cup granulated sugar
1 tsp. baking soda
2 tsp. ground cinnamon
1 tsp. pure vanilla extract
1 cup peanut butter and chocolate chips

For topping:

3 Tbsp. granulated sugar
1/4 tsp. ground cinnamon
Directions:
Preheat the oven to 375 degrees Fahrenheit. Butter or spray an 8-inch square pan.
In a medium mixing bowl, mash the bananas well with a fork or potato masher. Add the eggs, and stir well to combine. Add the flour, sugar, baking soda, cinnamon, and vanilla, and stir to mix. Add ¾ cup of the cinnamon chips, and stir briefly. Pour the batter into the prepared pan, and set aside.
In a small bowl, stir together the topping ingredients. Sprinkle the mixture evenly over the batter in the pan, and top with the remaining ¼ cup chips.

Bake for 35-40 minutes, or until a toothpick inserted into the center comes out clean. Let cool in the pan on a wire rack for at least 15 minutes before serving.

Have a great week!

Are you following me on Instagram, Twitter, Facebook and Pinterest? If you'd like to subscribe to Aggie's Kitchen and have each post delivered straight to your e-mail box, then please add your email here. Happy cooking!
There are affiliate links in this post. I make small earnings through any purchases made through these links. Thank you for supporting Aggie's Kitchen!