Barefoot Contessa Chicken Piccata
Barefoot Contessa Chicken Piccata is a classic chicken dish – perfect for entertaining or a family dinner night. Everyone loves this dish!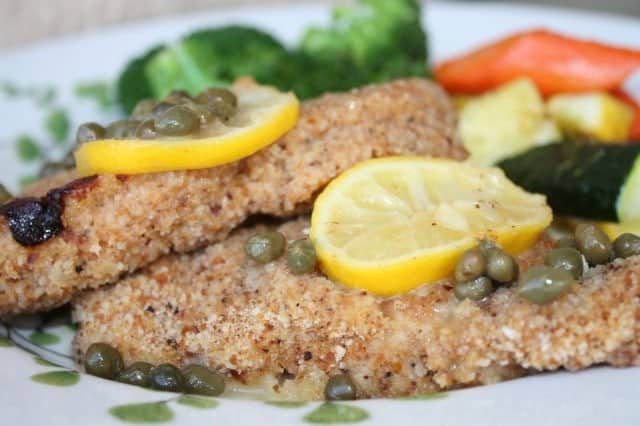 We have eaten very well this week. I made this Barefoot Contessa Chicken Piccata dish the night before I cooked up
Ellie's Fish Tacos with Chipotle Cream
…and I have been happily eating leftovers for lunch all week.
This chicken piccata with capers recipe from Ina Garten is a classic. Its one everyone should learn to make and once you do you'll be happy you did. It's a dish that feels fancy and from a restaurant.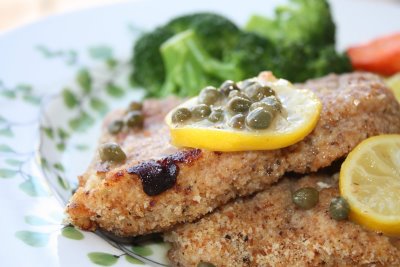 How to make chicken piccata
To make classic chicken piccata, you start with coating thin chicken breast cutlets with a breadcrumb mixture. The coating has 3 steps – flour, eggs, breadcrumbs. Once your chicken is coated in the breadcrumbs, you will add them to a heated skillet for 2 minutes on each side so they are browned and then finish cooking by baking in the oven.
I decided to bake my breaded chicken cutlets in the oven from the beginning, I just sprayed each breaded cutlet with nonstick spray (or you can drizzle with olive oil) to give help with the browning of the chicken. Bake time will depend on thickness of the chicken cutlets, but about 10 -15 minutes.
The sauce is simple and is made in a skillet while the chicken is baking. Chicken piccata sauce is a combination of butter, lemon and wine. You can add capers at the end and serve with additional lemon slices and chopped fresh parsley.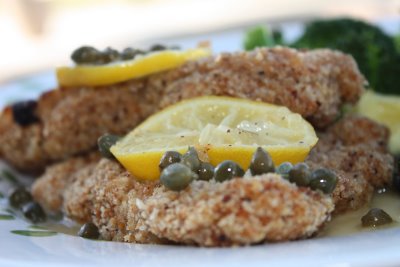 What to serve with chicken piccata
I love serving chicken piccata with steamed or roasted broccoli or a saute of seasonal vegetables. If you want to serve with pasta, cook your pasta as directed and simply toss the pasta with olive oil, lemon, salt, pepper and Parmesan cheese.
This Barefoot Blogger recipe was chosen by Lindsey of Noodle Nights and Muffin Mornings. What a great pick! Check out the rest of the Barefoot Bloggers and see what they cooked up!
Print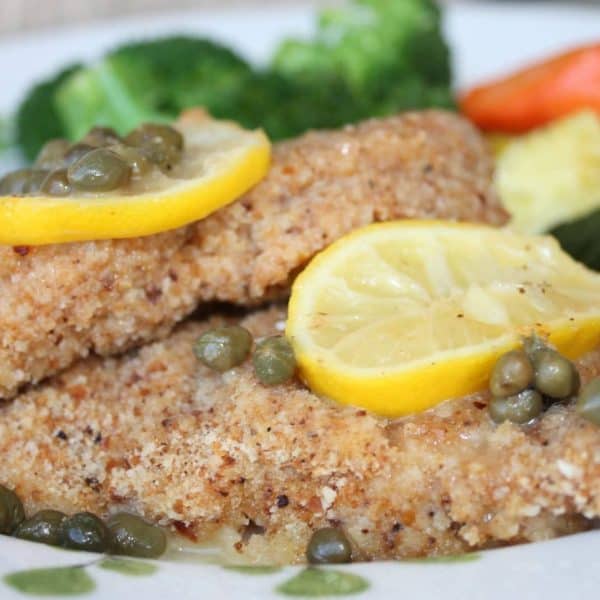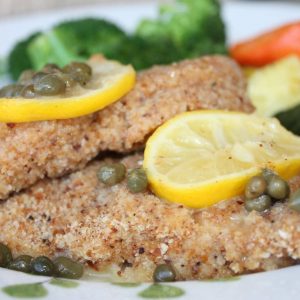 Barefoot Contessa Chicken Piccata
Author:
Prep Time: 15 minutes
Cook Time: 20 minutes
Total Time: 35 minutes
Yield: 4 servings 1x
Category: Dinner
Method: Skillet/Oven
Cuisine: Italian
---
Ingredients
2 split (1 whole) boneless, skinless chicken breasts (about 1 lb)
Kosher salt and freshly ground black pepper
1/2 cup all-purpose flour
1 extra-large egg
1/2 tablespoon water
3/4 cup seasoned dry bread crumbs
Good olive oil
3 tablespoons unsalted butter, room temperature, divided
1/3 cup freshly squeezed lemon juice (2 lemons), lemon halves reserved
1/2 cup dry white wine
2 tablespoons capers
Sliced lemon, for serving
chopped fresh parsley, for serving
---
Instructions
Preheat the oven to 400 degrees F. Line a sheet pan with parchment paper.
Place each chicken breast between 2 sheets of parchment paper or plastic wrap and pound out to 1/4-inch thick. Sprinkle both sides with salt and pepper.
Mix the flour, 1/2 teaspoon salt, and 1/4 teaspoon of pepper in a shallow plate. In a second plate, beat the egg and 1/2 tablespoon of water together. Place the bread crumbs on a third plate. Dip each chicken breast first in the flour, shake off the excess, and then dip in the egg and bread crumb mixtures.
Heat 1 tablespoon of olive oil in a large saute pan over medium to medium-low heat. Add the chicken breasts and cook for 2 minutes on each side, until browned. Place them on the sheet pan and allow them to bake for 5 to 10 minutes while you make the sauce.
For the sauce, wipe out the saute pan with a dry paper towel. Over medium heat, melt 1 tablespoon of the butter and then add the lemon juice, wine, the reserved lemon halves, 1/2 teaspoon salt, and 1/4 teaspoon pepper. Boil over high heat until reduced in half, about 2 minutes. Off the heat, add the remaining 2 tablespoons of butter and capers and swirl to combine. Discard the lemon halves and serve 1 chicken breast on each plate. Spoon on the sauce and serve with a slice of lemon and a sprinkling of fresh parsley.
---
Notes
Original recipe did not include capers, I added them in.
To bake cutlets without any frying: After breading each cutlet, place directly on baking sheet. Drizzle each cutlet with olive oil, or spray with cooking spray. Bake in 400 degree oven for 10-15 minutes depending on thickness of cutlet. Check at 10 minute to see if cooked through, then adjust time for more if needed.
Recipe from Ina Garten, Barefoot Contessa at Home or Food Network
Keywords: chicken, barefoot contessa, ina garten, capers, lemon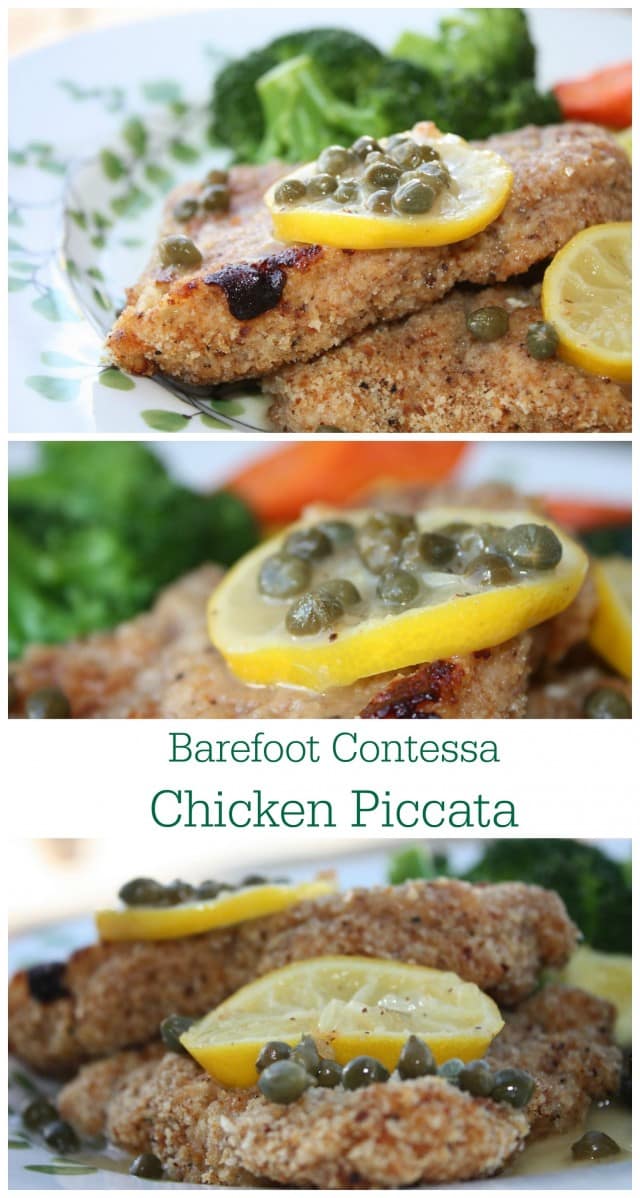 Are you following me on Instagram, Twitter, Facebook and Pinterest? If you'd like to subscribe to Aggie's Kitchen and have each post delivered straight to your e-mail box, then please add your email here. Happy cooking!
There are affiliate links in this post. I make small earnings through any purchases made through these links. Thank you for supporting Aggie's Kitchen!