Spaghetti with Kale and Turkey Bolognese
Easy enough to make on a weeknight, this hearty and healthy Spaghetti with Kale and Turkey Bolognese is comfort in a bowl.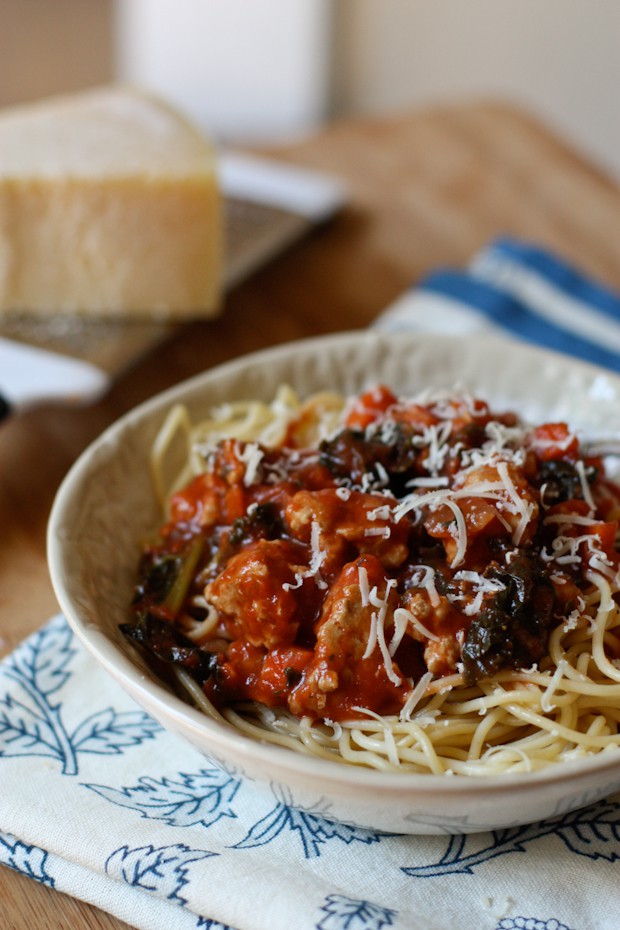 Growing up, in New York, my family would always have a big Sunday lunch. Antipasto, pasta, bread, meats, salads, espresso, Italian pastries and cookies…this was all the norm on Sunday afternoons. Sometimes it would be just my immediate family that consisted of my grandparents, parents and siblings (we all lived together) but sometimes my aunt, uncles and some cousins would be with us. The lunch prep started early with sauce on the stove. We went to church, the kids played out in the backyard, my mom and grandma cooked, my dad went to the pastry shop (I would accompany him most of the time), my grandpa was out in the garden or in garage working on something. By 1pm, the table was set and it was time to eat.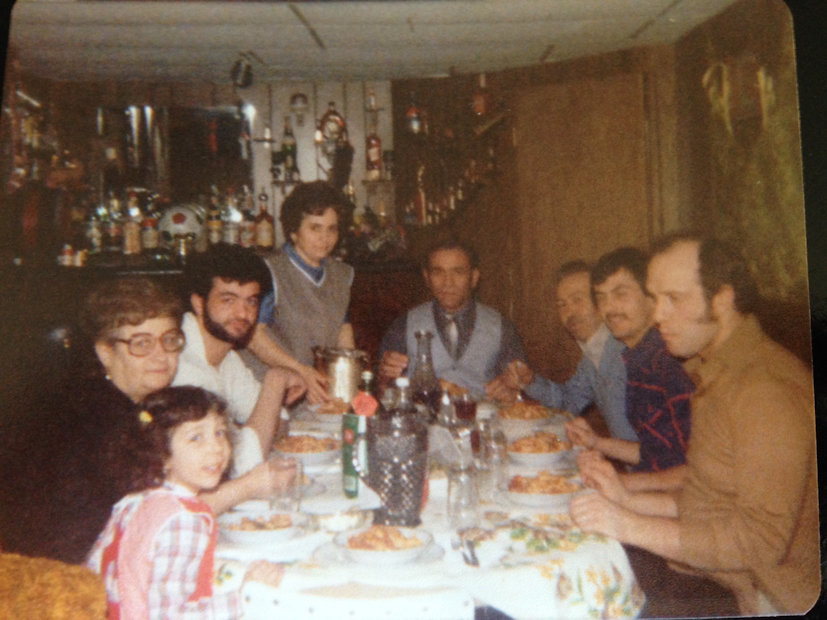 (love these memories…my mom and sister are missing at the table – little me, Zia (my aunt who lives in Sicily now), my cousin, my grandparents, Zio (my uncle who is no longer with us), my cousin (in Sicily as well) and my father)
Oh what I would give to sit at that big table with my entire family all over again.
We moved from New York to Florida when I was 10 years old (a bit of culture shock, honestly) and continued the Sunday lunch tradition (just the immediate family), but once my parents opened up their restaurant it seemed like someone was always missing at the table, usually my father – sometimes my mother, because of work. That's just the way it was. They were open on Sundays, closed on Mondays, a little different than how it was in New York where the pizza shop was always closed on Sundays.
As time passed and things changed, our family have grown, spread out and gotten busy. We get together as often as we can. When we do, our lunches may not be as big, but always a treat – and they almost always consist of a nice big plate of pasta and sauce with some meatballs, sausage and sometimes some vegetables from the garden or farmer's market. I'll never forget my husband's first Sunday lunch with my family…his expression was truly priceless. He was a happy man.
A bowl of pasta and sauce will always remind me of home no matter where I am.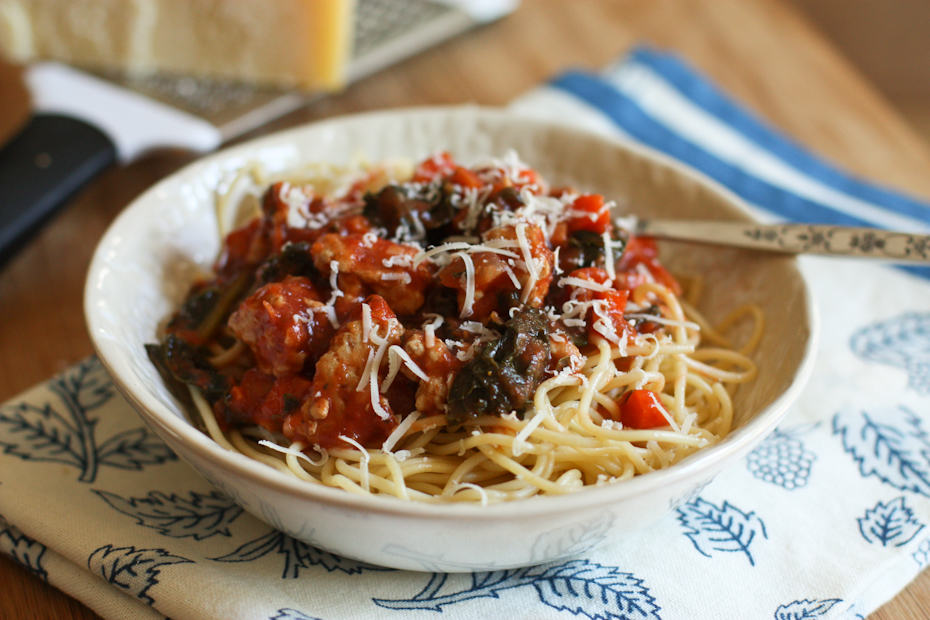 I tend to make my sauce a little different than how I remember my family's Sunday sauce, especially on a weeknight. For the sake of time, feeding my family and getting as much nutrition in each bite as possible, I like to make pasta dishes like this Spaghetti with Turkey Bolognese. It's simple, but hearty and hits all the food groups in one bowl.
My husband and kids always love pasta night and so do I. Total comfort – and feel good – food!
Spaghetti with Turkey and Kale Bolognese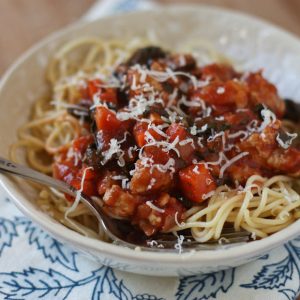 Ingredients:
1 13 oz package of whole wheat or regular spaghetti (I usually prefer whole wheat but used Dreamfields for this recipe)
1 lb lean ground turkey
1 tablespoon olive oil
2 carrots, minced
1 onion, minced
3 garlic cloves, minced
3 handfuls chopped kale
1 28 oz can crushed tomatoes
1 15 oz can tomato sauce
1 tablespoon oregano
salt and pepper, to taste
Directions:
Cook pasta according to directions. While pasta water is on stove, start to prepare the sauce.
In a large skillet or medium saucepan, heat oil over medium heat. Add onions, garlic and carrots and cook for about 5-7 minutes until soft.
Increase to medium-high heat and add turkey to vegetables, crumbling with a wooden spoon or spatula. Cook turkey meat until no longer pink.
Add kale to turkey mixture, one handful at a time. Each time you add the kale, carefully stir into meat mixture until it starts to wilt down.
Once kale is wilted, add crushed tomatoes and tomato sauce. Add oregano, a big pinch salt and fresh ground pepper and bring to a slow boil. Reduce to low heat and let simmer for about 15- 20 minutes, stirring occasionally. Taste for salt and pepper and adjust to your liking.
Serve sauce over spaghetti with freshly grated Parmesan and red pepper flakes (optional).
For more pasta recipes like this Pasta with Turkey Bolognese follow along on Pinterest.
Follow Aggie's Kitchen's board Pasta on Pinterest.
Are you following me on Instagram, Twitter, Facebook and Pinterest? If you'd like to subscribe to Aggie's Kitchen and have each post delivered straight to your e-mail box, then please add your email here. Happy cooking!
There are affiliate links in this post. I make small earnings through any purchases made through these links. Thank you for supporting Aggie's Kitchen!