Smoky BBQ Turkey Burger Sliders
Earlier this summer I was contacted by the editor of CBSNews.com asking me to contribute a healthy recipe to their Health section.  Of course I was totally flattered and thrilled by this request considering how much I love to talk about food and share healthy recipes with just about anyone and everyone who crosses my path…and let's be real, it's CBS!!  My first assignment was "sliders" and I decided to recreate a tried and true turkey burger I've been making for some time now.
To me, a slider is basically a mini burger.  I think sliders are genius because if you are really trying to watch your portions, it really forces you to eat less.  That is, if you stick to the one slider…which I really try to do.  That's the whole point in my opinion…you get a "taste" of the good stuff and then fill up on the actual "good for you" stuff on the side.  But that's just me…
What makes these BBQ Turkey Burger Sliders awesome is the sauteed green onion and celery along with the smoky Chipotle Tabasco and paprika that is added into the ground turkey mixture before being shaped into patties.  The combination of all those ingredients really adds flavor to the normally pretty bland turkey.  Also, adding shredded cheese directly to the mixture adds a little fat to the lean meat and keeps them juicy.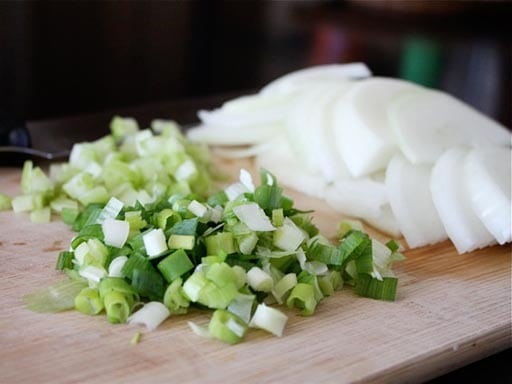 Visit the Health Section of CBS.com to read the article for this recipe along with a newer one featuring Summer Vegetable Gratin and Baked Zucchini Fries.
Smoky BBQ Turkey Burger Sliders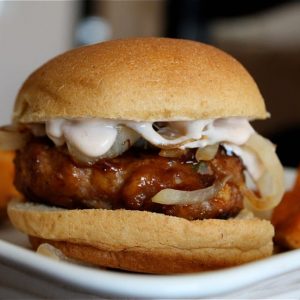 Ingredients:
CARAMELIZED ONIONS
2 tsp olive oil
1 large Vidalia (or sweet) onion, thinly sliced
Pinch salt and pepper
BASTING SAUCE
1/3 cup of your favorite BBQ sauce
2 TB mango chutney
CHIPOTLE SAUCE
1-2 TB Chipotle Tabasco sauce
1/4 cup plain non-fat Greek yogurt or reduced-fat mayonnaise
PATTIES
1.25 lb extra-lean ground turkey
2 tsp olive oil
1 celery stalk, finely chopped
2 green onions, finely chopped
1 TB Chipotle Tabasco sauce
1 tsp smoked paprika
1/2 cup shredded sharp cheddar cheese
good pinch salt and pepper
8 whole wheat potato rolls
Directions:
Prepare a medium-hot fire in a charcoal grill with a cover, or pre-heat a gas grill to medium-high. For best results, use a non-stick grill which helps to avoid adding oil.
On the stove, heat 2 tsp olive oil in a non stick skillet. When oil is hot, place celery and green onion in pan. Season with salt and pepper. Cook until soft, about 8-10 minutes. Set aside to cool. We are going to add these to our burger mixture later.
In the same nonstick skillet, heat 2 tsp olive oil in . When oil is hot, place sliced onion in pan. Season with good pinch of salt and pepper and cook. Saute onions until browned and caramelized, about 15-20 minutes, stirring occasionally.
While onions are caramelizing, prepare basting sauce and Chipotle Sauce.
Combine Greek yogurt (or mayo) and Chipotle Tabasco in a small bowl and mix well. Cover and refrigerate until ready to use.
Combine barbecue sauce and mango chutney in small bowl and mix well. Cover and refrigerate until ready to use.
To make patties:
Combine ground turkey, Chipotle Tabasco, smoked paprika, low-fat cheese and cooked and cooled green onions and celery in a large bowl. Season with salt and pepper. Gently combine and mix using hands or large spoon. Form into 8 even sized patties, do this by scoring meat mixture in half, then quarters, then eighths.
Use a non-stick canola oil spray, to prevent patties from sticking to grill.  Spray patties directly with spray before placing on grill.
Place patties on grill rack, cover and cook until bottoms are browned, about 4-5 minutes. Using spatula, flip patties and cook additional 4-5 minutes. After flipping, use brush to baste turkey burgers with mango BBQ sauce. After cooking for 4-5 minutes, flip and baste other side.
To assemble burgers:
Spread chipotle sauce on both sides of open potato rolls. Place patty in bun and top with caramelized onions. Take a big bite and enjoy!
For those sauce lovers (like my hubby!), can be served with additional Mango BBQ sauce on side!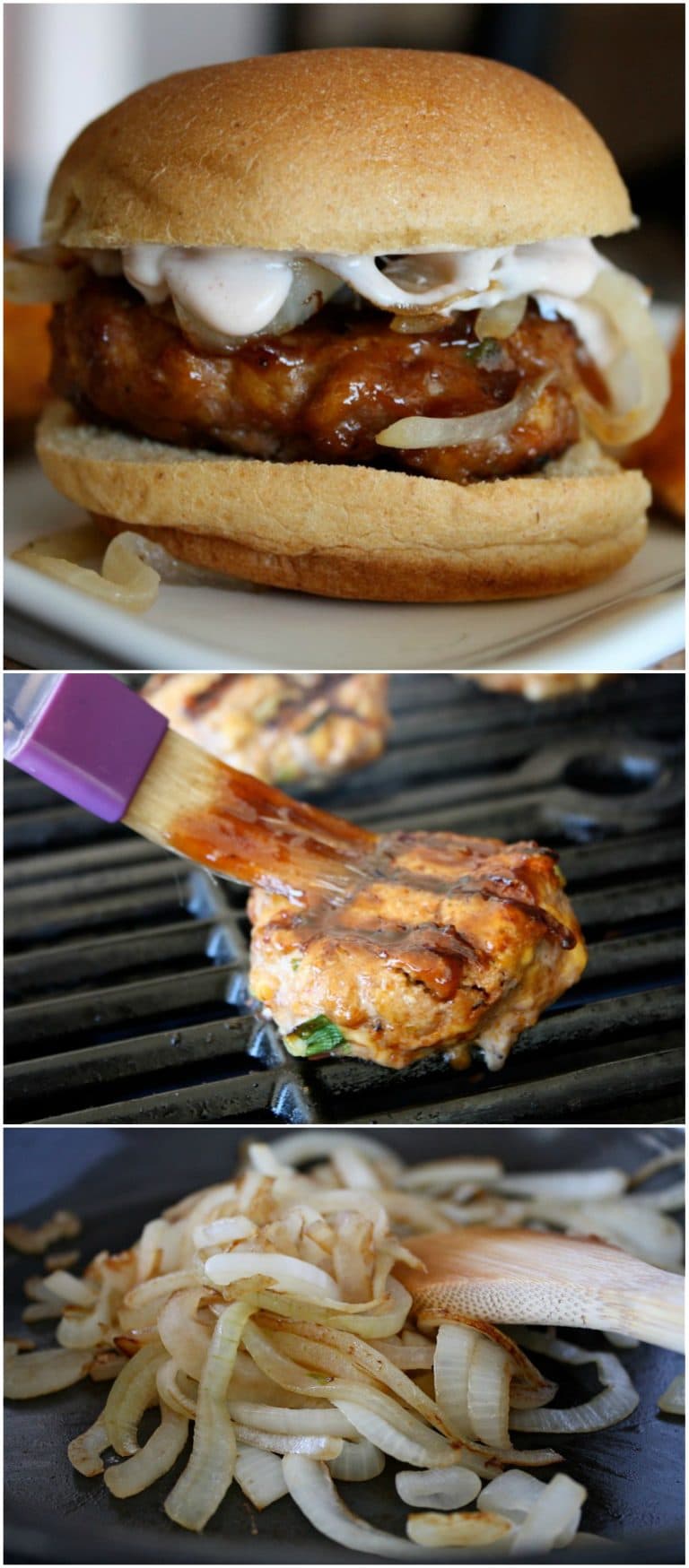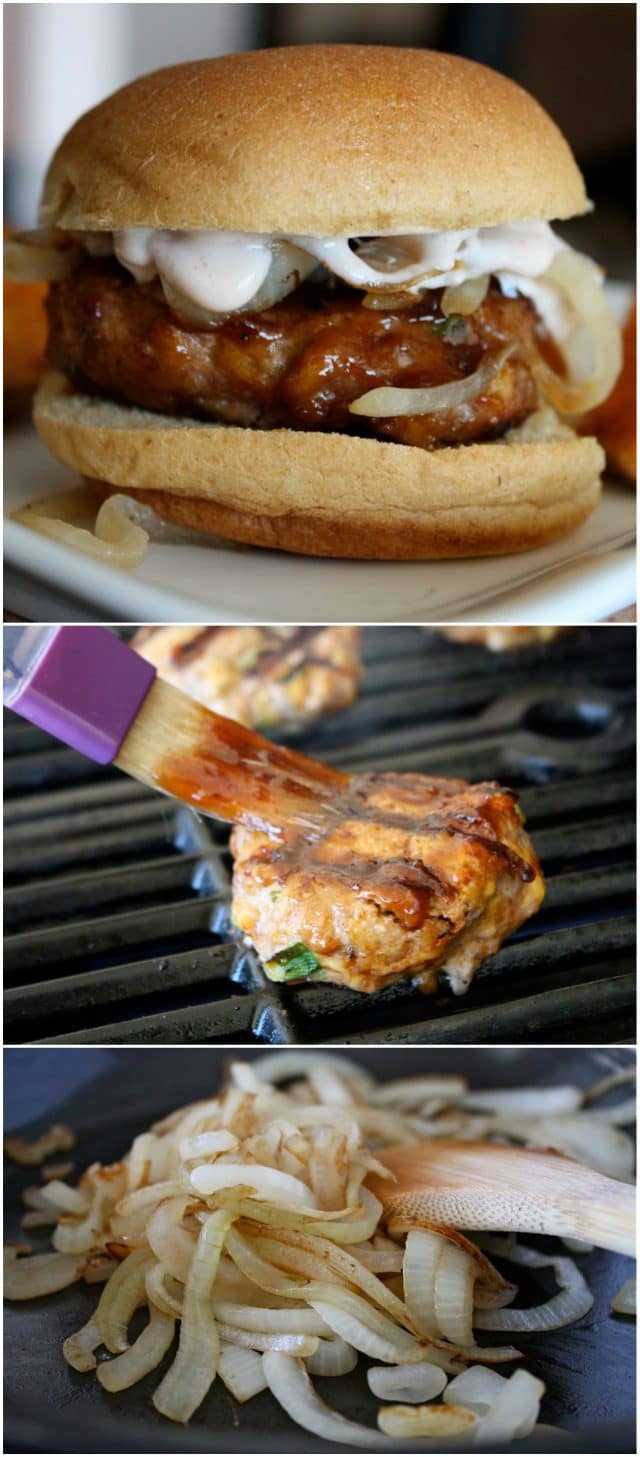 Are you following me on Instagram, Twitter, Facebook and Pinterest? If you'd like to subscribe to Aggie's Kitchen and have each post delivered straight to your e-mail box, then please add your email here. Happy cooking!
There are affiliate links in this post. I make small earnings through any purchases made through these links. Thank you for supporting Aggie's Kitchen!