Blackened Fish Taco Salad with Cilantro Lime Vinaigrette
Not only was this salad totally amazing, but let's just say I was able to clean out most of my produce drawer with it too. I love it when that happens!
I mentioned on Facebook the other day that I had a piece of frozen mahi defrosting in my fridge..and didn't know what to do with it. The suggestions came pouring in. A few people mentioned fish tacos and that sounded great to me…however to be honest, I was really trying to keep it on the lighter side, and avoiding any unnecessary carbs (good or not…I had had my share already that day). So why not turn fish tacos into an actual taco-less salad instead, right?
This is my favorite kind of evening meal…how can you not feel great after eating this. So many flavors, textures and levels of heat from the fish and veggies…it was perfect. The homemade dressing totally sealed the deal too. Can't wait to make this again.
Print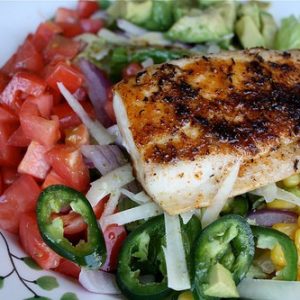 Blackened Fish Taco Salad with Cilantro Lime Vinaigrette
Author:
Category: Fish
Method: Stovetop
---
Ingredients
any firm white fish (mahi, tilapia, grouper)
romaine, torn
tomatoes, chopped
red onion, sliced or chopped
jalapeno, sliced
avocado, chopped
corn
Cilantro Lime Dressing
1/4 cup of lime juice and white vinegar combined (1–2 limes, juiced plus white vinegar)
1/2 –3/4 cup light oil (I use grapeseed oil, but light olive oil, vegetable oil or canola oil would be great)
1 garlic clove
1 tablespoon of honey
1 bunch of cilantro
salt and pepper to taste
---
Instructions
Heat nonstick skillet over medium high heat. Pat fish fillet with dry paper towel, then season liberally with seasoning. Add a teaspoon or two of light oil to skillet (or nonstick spray), then gently add fish to pan. Cook for approximately 3-4 minutes, until bottom layer of fish is cooked and looks "white". Gently turn fish and cook for another 3-4 minutes or until fish is completely cooked through and flaky. Assemble salad, top with fish and Cilantro Lime Dressing and enjoy.
Cilantro Lime Dressing
Combine all ingredients in blender or food processor. Store in airtight container or jar in refrigerator for up to 1 week.
Join Dine & Dish and Cookin' Canuck for the California Avocado 4th of July Blast, sponsored by the California Avocado Commission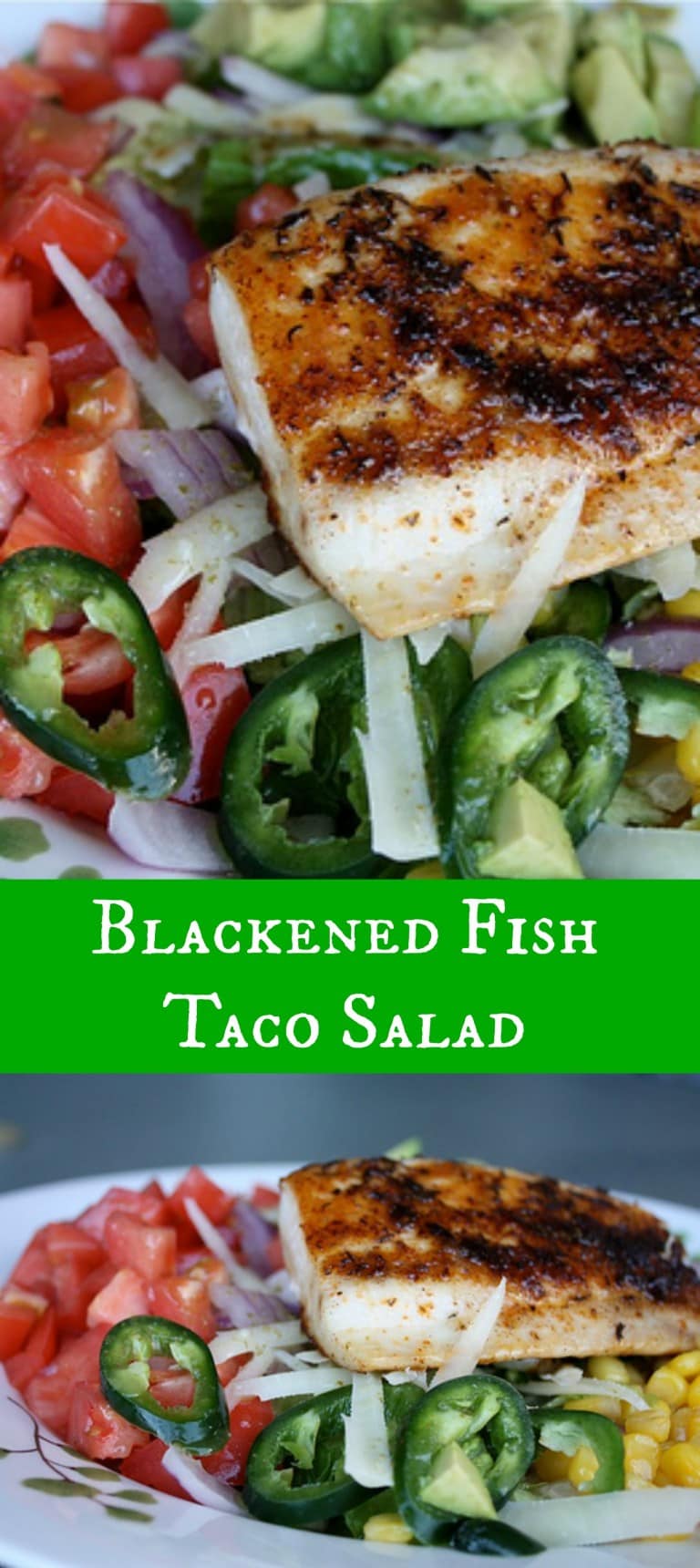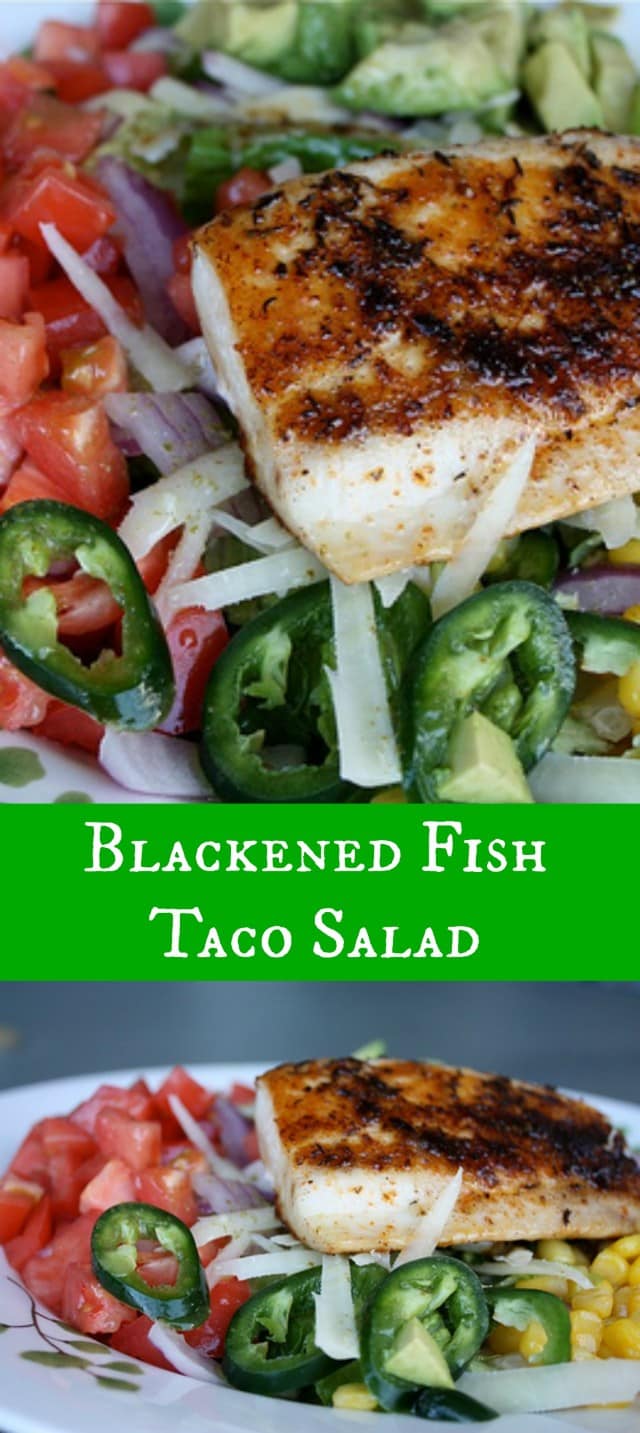 Now, I almost forgot to mention the winner of my last giveaway from Scarlet Threads…it was Miss Candace from Candace's Calling…congrats girl!
Like I promised I have another great Scarlet Threads apron to give away to a lucky reader…it's the Anna…it's funky and retro and I just love it.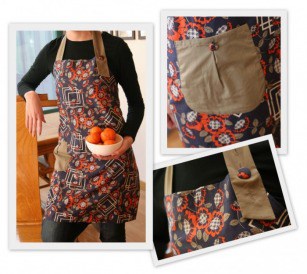 Leave a comment on this post to enter. Each comment on this post will count as an entry. And like last time you can earn additional entries by:
1. Share this giveaway on Facebook or Twitter or on your own blog (earn an entry for each!)
2. Become a fan of Aggie's Kitchen and/or Scarlet Threads on Facebook
3. Express interest in hosting your own apron party (I will email you info).
(Giveaway is open to US residents only…sorry!)
Giveaway ends Friday, September 10 at 10pm EST. Winner will be chosen randomly by Random.org. Good luck! 🙂
Are you following me on Instagram, Twitter, Facebook and Pinterest? If you'd like to subscribe to Aggie's Kitchen and have each post delivered straight to your e-mail box, then please add your email here. Happy cooking!
There are affiliate links in this post. I make small earnings through any purchases made through these links. Thank you for supporting Aggie's Kitchen!