Slow Cooker Island BBQ Chicken and Spicy Slaw Salad
My slow cooker has been a huge help lately. I'm really trying to use it on days where I know I'll be in and out of the house and won't be able to really spend a lot of time preparing any kind of dinner. I've been asking around Facebook for your favorite crock-pot recipes and one of my friends mentioned shredded barbecue chicken. Sounded good to me.
On Saturday as I was getting ready to throw everything in the crock-pot I realized that I didn't have any "regular" barbecue sauce in the pantry. That is seriously unlike me, since I tend to stock up on sauces in a ridiculous kind of way. I did however have a "gourmet" Guava Barbecue sauce that I always pictured over chicken on the grill in some nice warm weather…I guess I thought it might be in a way "too good" for the crock-pot. Well…I got over that real quick and opened the bottle. With a little spontaneous creativity I added an almost empty box of raisins and sliced onion to the chicken and sauce and plugged it all in…and hoped for the best.
Well let me tell you, the best it was. It turned out so good! We ate it on sandwiches that night, but I've been eating the leftovers cold on a salad for the last two days for lunch. That night I paired it up with another "on the fly" creation…shredded romaine, shredded carrots, thin sliced jalapenos and leftover poppy seed dressing from my recent Spinach and Orzo salad. The sweetness from the chicken paired up very nicely with the spicy/sweet from the salad…will definitely be making this one again!
Print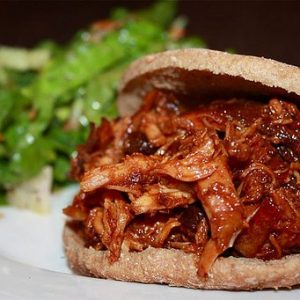 Slow Cooker Island BBQ Chicken and Spicy Slaw Salad
Author:
Category: Chicken
Method: Slow cooker
---
Ingredients
2lbs skinless chicken breasts
1 bottle of barbecue sauce (preferably a fruity one i.e. guava, mango or papaya.  I used Tom's Guava BBQ Sauce found at Fresh Market, check your specialty markets or grocery stores for similar products) —- (see edit note below)
2 splashes balsamic vinegar
medium onion, sliced thin
1/4 cup raisins
salt and pepper, to taste
your favorite sandwich buns (I used Arnold's Whole Wheat Sandwich Thins)
---
Instructions
Place chicken breasts into slow cooker and sprinkle salt and pepper to both sides. Add sliced onion and raisins. Pour 3/4 bottle of barbecue sauce and 2 splashes balsamic vinegar over chicken and combine. Cover and cook on low for 6-8 hours.
When cooking is complete, take 2 forks and gently pull apart chicken breasts. Take remainder of barbecue sauce and pour over chicken and combine. I like to add a little water to the bottle and swirl to pick up any leftover sauce and add that as well. Let shredded chicken sit in crock-pot uncovered for about 15 minutes to warm up in additional sauce.
Add shredded chicken to your favorite sandwich bun and enjoy!
---
Notes
 If you are unable to find "fruity" barbecue sauce (like I was unable to today), try adding a couple of teaspoons of mango chutney and/or fruit preserves.  I added mango chutney to sweeten up the sauce and give it a little something something from the tropics.  🙂
Spicy Slaw Salad
Recipe from Aggie's Kitchen
1 heart of romaine, shredded thin
1-2 carrots, shredded
1 jalapeno, quartered lengthwise and sliced very thin
Jamie's Poppy Seed dressing
Combine salad ingredients and gently toss with dressing.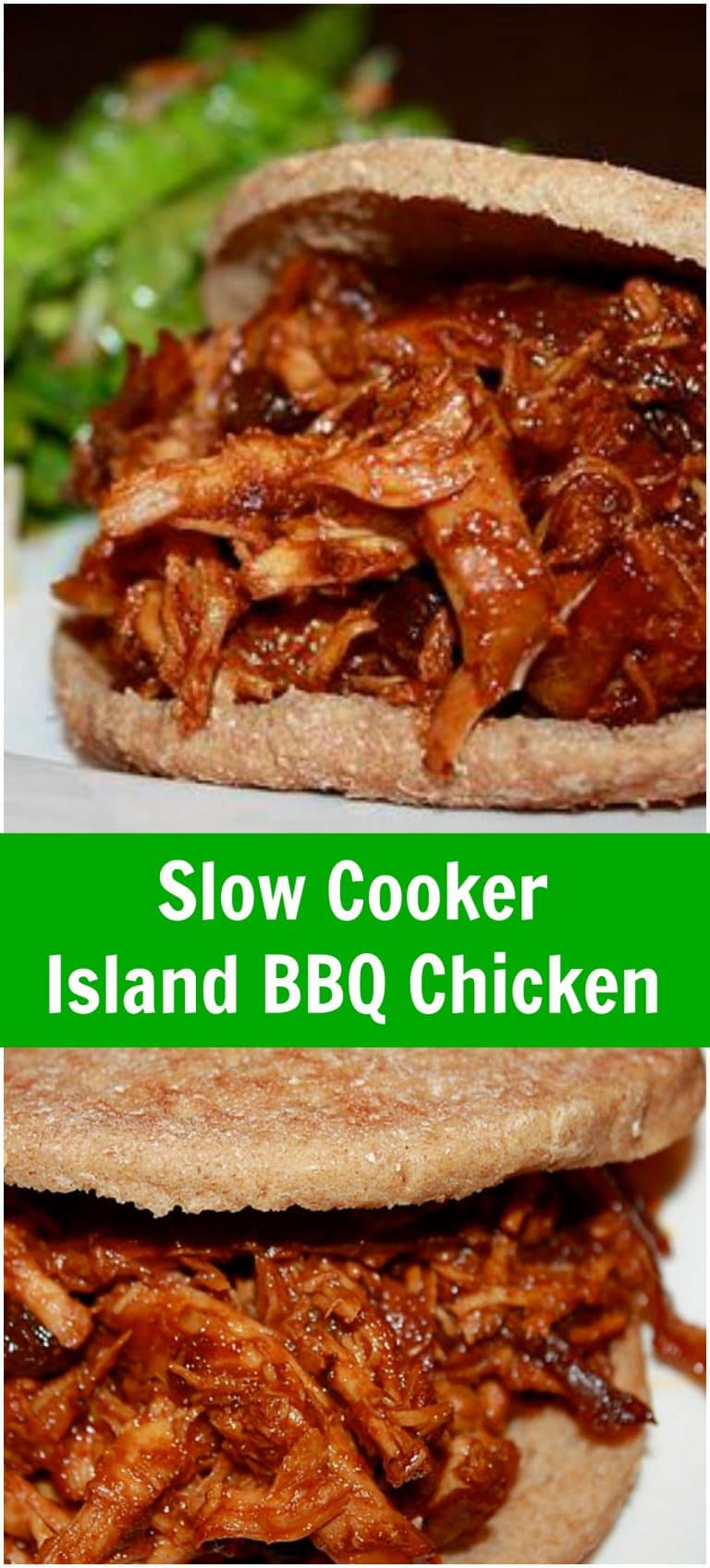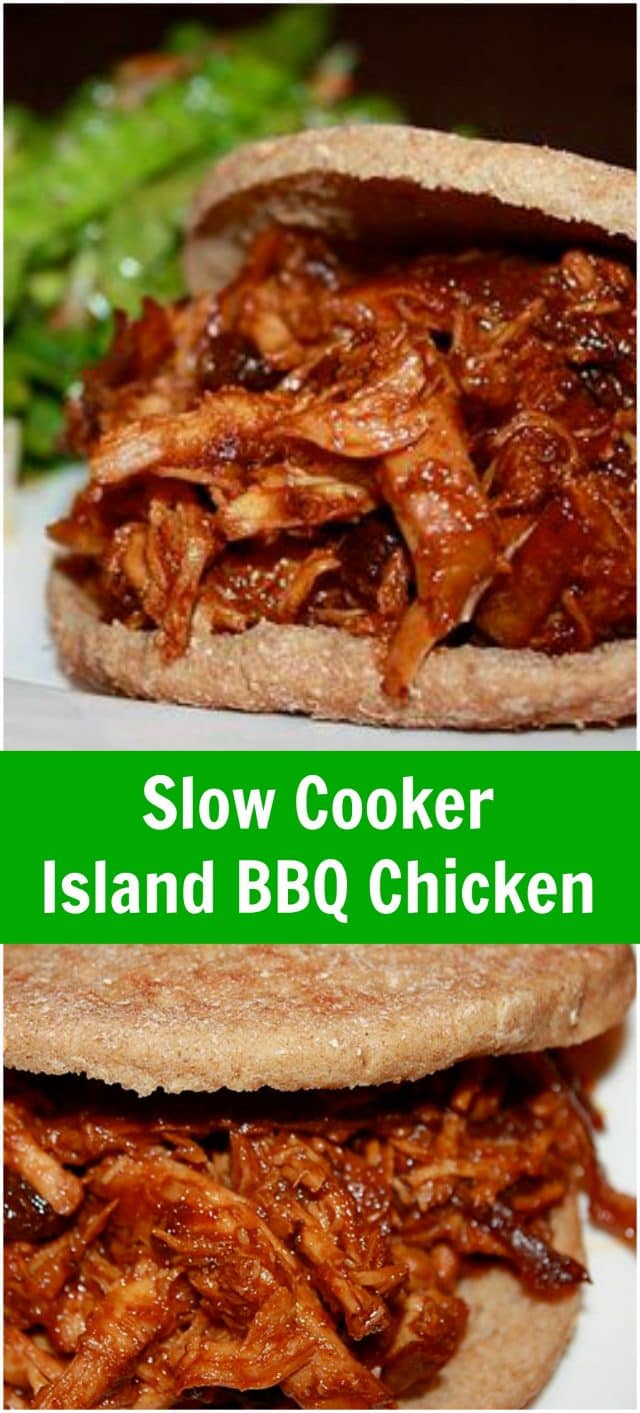 Are you following me on Instagram, Twitter, Facebook and Pinterest? If you'd like to subscribe to Aggie's Kitchen and have each post delivered straight to your e-mail box, then please add your email here. Happy cooking!
There are affiliate links in this post. I make small earnings through any purchases made through these links. Thank you for supporting Aggie's Kitchen!