Asian Couscous Salad
Apparently I've been on a salad kick lately…at least from looking at my last few posts.
This one was another spontaneous creation.  I was trying to throw together something quick to take to the park for lunch…a few moms and our kids were meeting up for an afternoon at the playground, and while the kids were eating their PB&Js, we ate this salad.
If you haven't tried couscous yet, you must try it soon.  It is so unbelievably quick to cook up, so that in itself is a huge reason why.  Plus, if you are into whole grains, the whole wheat couscous is packed with protein and fiber…all good for you.  I combined the cooked couscous with a bag of pre-shredded coleslaw, some additional shredded carrots, sliced green onion and sliced toasted almonds…then tossed with a homemade tangy vinaigrette made easily with pantry ingredients.  The pictures shown are missing the almonds though…I forgot to add them until after the "photo shoot"!  I probably could have gone back and retaken the pics but then in all reality who knows when this recipe would have actually been posted…
Enjoy!
Asian Couscous Salad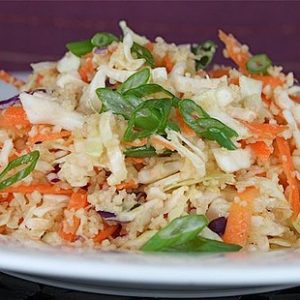 Ingredients:
1 cup uncooked whole wheat couscous
1 1/4 cup water
3/4 of 16 oz bag of pre-shredded coleslaw mix
2 carrots, shredded
3-4 green onions, thinly sliced
1/2 cup sliced and toasted almonds
1/3 cup crunchy chow mein noodles (optional)
1/2 cup rice wine vinegar
1/2 cup olive oil (or oil of your preference)
1 TB hoisin sauce
1 TB honey
1-2 cloves minced or pressed garlic
salt and pepper to taste
Directions:
In small bowl, whisk together rice wine vinegar, oil, hoisin, honey, garlic, salt and pepper. Set aside.
Bring 1 1/4 cups water to boil. Add 1 cup uncooked whole wheat couscous. Take off heat and set aside for 5 minutes. Once couscous has absorbed water, fluff with a fork and let cool.
In large bowl combine shredded coleslaw mix, carrots, green onion and almonds (and crunchy noodles if adding). Add cooled couscous to mixture and gently combine. Add dressing to salad and toss. Taste for additional salt and pepper. Can be served immediately at room temperature or refrigerate for 1 hour before serving.
Follow Aggie's Kitchen's board Aggie's Kitchen Recipes on Pinterest.
Are you following me on Instagram, Twitter, Facebook and Pinterest? If you'd like to subscribe to Aggie's Kitchen and have each post delivered straight to your e-mail box, then please add your email here. Happy cooking!
There are affiliate links in this post. I make small earnings through any purchases made through these links. Thank you for supporting Aggie's Kitchen!