Spinach and Orzo Salad with Cranberries and Almonds
I'm in love with this salad.  Actually, I started out being in love with Jamie's Spinach Salad recipe that I found on allrecipes.com, but after making it 3 or 4 times I wanted to turn into something a little more.  The kids and I were heading over to a friend's house for a playdate with their classmates and their mommies and I wanted to bring over something healthy and yummy for the mommies to munch on for lunch.  I love using orzo in pasta salads, especially whole wheat orzo.  It has a nice punch of protein (7g) and fiber (9g) already in the pasta and turns the salad into more of a meal in itself.
The recipe for the dressing makes a good amount, so I've been actually keeping it in the fridge to dress pretty much anything and everything from leftover black beans and quinoa to a Spicy Slaw Salad that I'll be posting later this week.  Enjoy!
Spinach and Orzo Salad with Cranberries and Almonds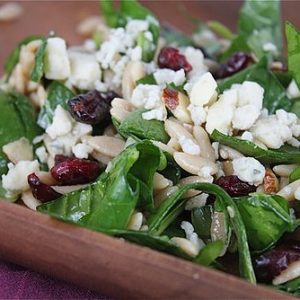 Ingredients:
1 cup whole wheat orzo, uncooked
3/4 cup toasted sliced almonds
about 3/4 of a 6 oz bag of baby spinach, thinly sliced
3/4 cup dried cranberries
4 oz gorgonzola, crumbled
2 tablespoons toasted sesame seeds (I toast in a nonstick skillet over med heat for about 5 minutes)
1 tablespoon poppy seeds
1-2 tablespoons sugar
2 teaspoons minced onion
1/4 teaspoon paprika
1/2 cup cider vinegar
1/3 - 1/2 cup oil (I used grapeseed oil, but canola or light olive oil will work)
salt and pepper to taste
Directions:
Cook orzo according to instructions on package, set aside to cool.
In bowl, whisk together sesame seeds, poppy seeds, sugar, onion, paprika, vinegar, oil and pinches of salt and pepper.
In a large salad bowl combine orzo, almonds, spinach and cranberries. Gently toss ingredients with 1/3-1/2 amount of dressing, add more or less to your liking. I don't like my salad overdressed. Add gorgonzola and gently toss again. Serve immediately at room temperature or slightly chilled.
Recipe adapted from allrecipes.com
Are you following me on Instagram, Twitter, Facebook and Pinterest? If you'd like to subscribe to Aggie's Kitchen and have each post delivered straight to your e-mail box, then please add your email here. Happy cooking!
There are affiliate links in this post. I make small earnings through any purchases made through these links. Thank you for supporting Aggie's Kitchen!