Hummus Chicken Salad
Swap out mayo for something a little healthier – hummus! You'll love this low-carb, low-calorie Hummus Chicken Salad. Great for lunch or meal prep!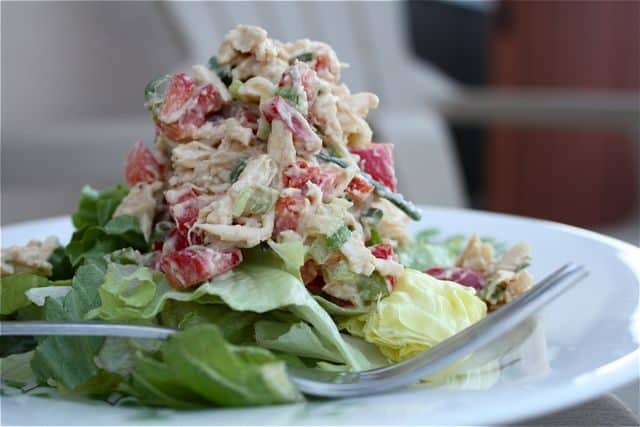 I'm a big lunch person…and what I mean by that is that a few slices of turkey between two slices of bread usually doesn't cut it for me. I enjoy having a good lunch…I usually work out in the mornings so let's just say I have a nice appetite right around lunch time. I play with different salad ideas a lot because it's so easy to prepare for them if you take the time to think ahead (precut veggies, bagged lettuces, leftover roasted veggies, crumbled cheese and deli meats…ideas are endless). And once I find a salad I like, it usually makes an appearance more than once a week. Check out this post on my weekly salad prep if you are interested – doing this always helps me eat more salad during the week!
This recipe for hummus chicken salad caught my eye over the holiday break. I found it in the Home Cooking The Costco Way cookbook that Costco gives out at their stores usually once a year. My sister in law Paula is nice enough to pick one up for me each time, and I'm so thankful for that because the three Costco cookbooks I have are full of great recipes! Most of the recipes include products they carry but can easily be substituted with similar products if unavailable.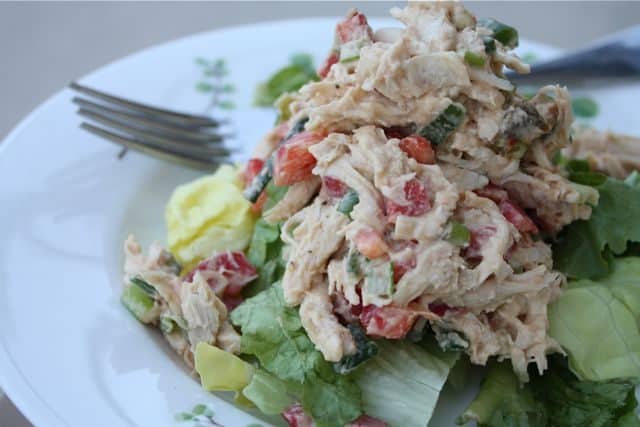 I liked this chicken salad a lot…I'm a big fan of hummus and not so much a big fan of mayo so this recipe really worked for me. I used leftover rotisserie chicken from the deli and Sabra Lemon Hummus. I also squeezed additional lemon for dressing over my plate since I was eating it more as an entree salad. The photo in the book suggests serving the Hummus Chicken Salad in lettuce cups or wraps, which looked delicious. This recipe makes 4 servings so store it in some tupperware in your fridge for an easy lunch or light dinner!
Print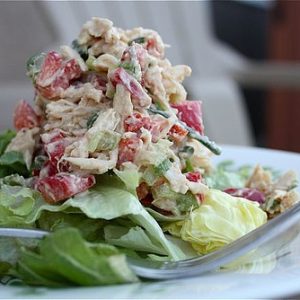 Hummus Chicken Salad
Author:
Category: Chicken
Swap out mayo for something a little healthier – hummus! You'll love this low-carb, low-calorie Hummus Chicken Salad. Great for lunch or meal prep!
---
Ingredients
1/2 cup Sabra Hummus (or your favorite hummus, though I love Sabra!!)
2 tablespoons finely diced celery
1 tablespoon finely chopped green onion
1 tablespoon finely chopped red bell pepper
1/4 teaspoon salt
freshly ground pepper
1 cup cubed grilled chicken breast (or any leftover chicken)
1 lemon juice
Bread or salad greens, for serving
---
Instructions
In a large bowl, stir hummus, celery, green onions, bell pepper, salt and a sprinkling of pepper.
Add chicken and water (or lemon) and stir until mixed thoroughly.
Serve with bread or over your favorite salad greens.
---
Notes
Recipe slightly adapted from Home Cooking The Costco Way
More ideas for healthy lunches using hummus:
Sriracha Shrimp and Hummus Lettuce Wraps
Greek Salad and Hummus Pita Pizza
Also last week the Cooking Light Virtual Supper Club met up sharing delicious Soups and Stews. I unfortunately was unable to participate due to too much traveling and not having it together but I didn't want you to miss out on what the ladies cooked up! Here's what was on the menu:
Are you following me on Instagram, Twitter, Facebook and Pinterest? If you'd like to subscribe to Aggie's Kitchen and have each post delivered straight to your e-mail box, then please add your email here. Happy cooking!
There are affiliate links in this post. I make small earnings through any purchases made through these links. Thank you for supporting Aggie's Kitchen!