Slow Cooker Chicken and White Bean Soup with Quinoa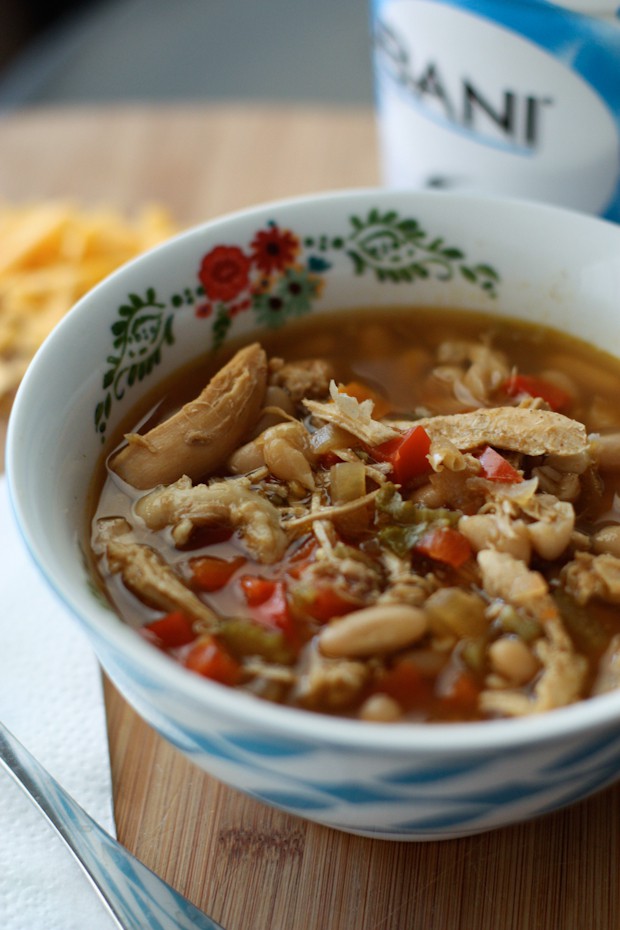 This post is sponsored by Bush's Beans.
I think I've said this before, I find myself using my slow cooker more often in the summer than any other time of year. With the kids home, we are keeping busy most days finding something to entertain ourselves – usually a trip to the Y to swim in the big pool, the beach, the library, the movies, friends houses…you know, all the typical summertime activities. Coming home to the crock pot already cooking up dinner is such a welcome sight, and I never regret pulling it out and throwing something together in it.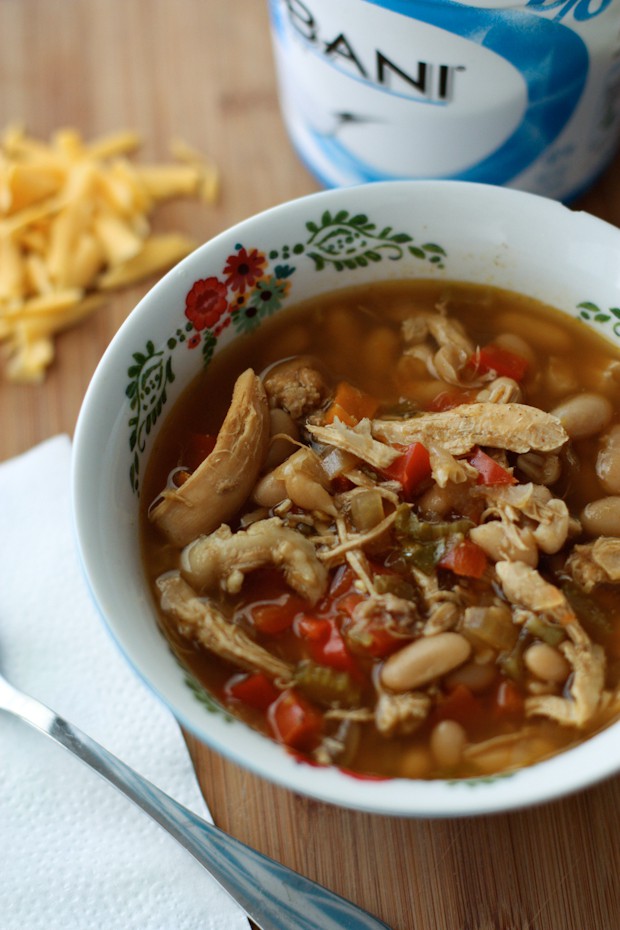 Last week after our week away I hadn't gone to the grocery store yet on Monday morning. After a laundry marathon all morning, I really didn't feel like packing up the kids and going food shopping that's for sure. I decided that dinner that night was going to have to come from what I already had in the pantry, fridge and freezer and this is pretty much what I came up with. I try to always keep chicken in the freezer and with the help of my stash of Bush's Beans in the pantry and a few veggies in the fridge, I was inspired to make a version of a taco soup or chicken chili. I guess you can say this chicken and white bean soup falls somewhere in between.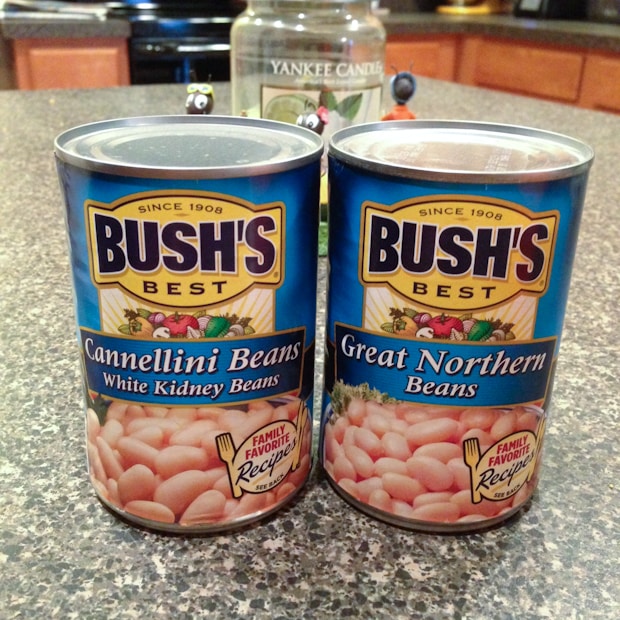 My non-soup eating kids loved this soup. They surprise me every single day with what they will try and enjoy. This slow cook soup is chock full of good stuff and made great leftovers for quick lunches for a few days, something I enjoy having that's for sure. It was truly delicious – especially fixed up with Greek yogurt and shredded cheddar – and I will definitely be making this Slow Cooker Chicken and White Bean Soup with Quinoa recipe in the crock pot again this summer.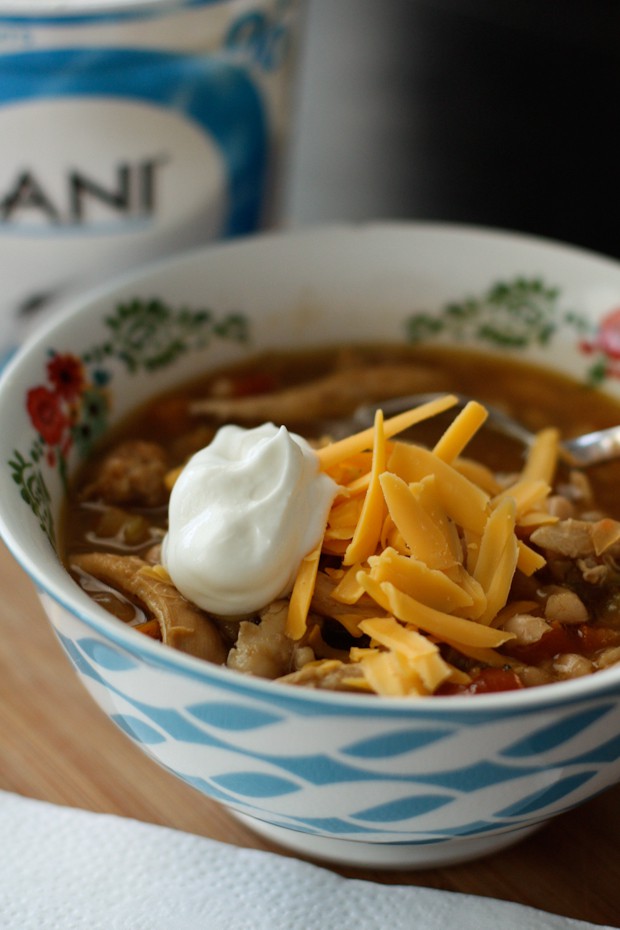 I think I am going to have to make a point to collect a few go-to recipes to have on stand by to get me through planning summer time dinners, if you've got a family favorite to share, please do in the comments!
Print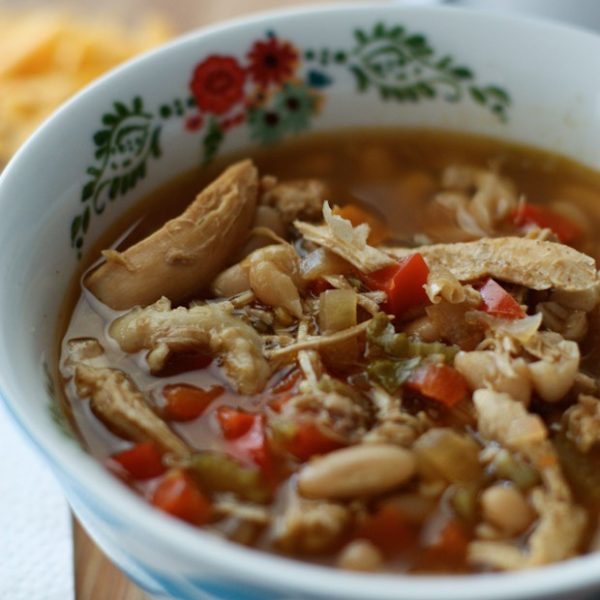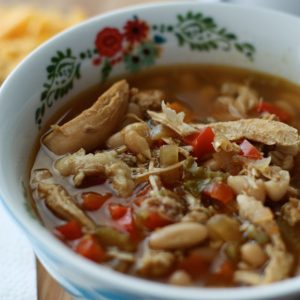 Slow Cooker Chicken and White Bean Soup with Quinoa
Author:
Category: Chicken
Method: Slow cooker
---
Ingredients
2 celery stalks, chopped
1 large onion, chopped
1 garlic clove, minced
2 red bell peppers, diced small (use whatever color you have)
1 teaspoon chili powder
1 teaspoon jalapeno flakes (optional)
2 tablespoons cumin
4 cups chicken broth
1 1/4 lb chicken breast
salt and pepper
2 cans of Bush's Cannelini or Northern White Beans, drained
For Serving:
shredded cheddar cheese
plain Greek yogurt (or sour cream)
cooked quinoa
---
Instructions
In your your slow cooker, add celery, onion, garlic, bell pepper, chili powder, jalapeno flakes (if using), cumin and chicken broth. Season your chicken breasts with salt and pepper on both sides and layer them on top of rest of ingredients. Cover and cook on low for 6 hours.
After 6 hours, lift lid and using 2 forks, shred your chicken breasts into pieces and spread throughout soup. Add 2 cans of beans to soup and stir. Cover and let cook for another 30 minutes or so. Taste for salt and pepper and adjust accordingly.
To serve, add a scoop of cooked quinoa to your soup bowl and cover with your chicken and white bean soup. Top with a dollop of Greek yogurt and shredded cheddar cheese.
This post is sponsored by Bush's Beans. All opinions are 100% my own.

Follow Aggie's Kitchen's board Aggie's Kitchen Recipes on Pinterest.
Are you following me on Instagram, Twitter, Facebook and Pinterest? If you'd like to subscribe to Aggie's Kitchen and have each post delivered straight to your e-mail box, then please add your email here. Happy cooking!
There are affiliate links in this post. I make small earnings through any purchases made through these links. Thank you for supporting Aggie's Kitchen!