Mexican Wild Rice Recipe
Add this simple Mexican Wild Rice recipe as a tasty side dish to your next taco night. Can be made in rice cooker or on stovetop.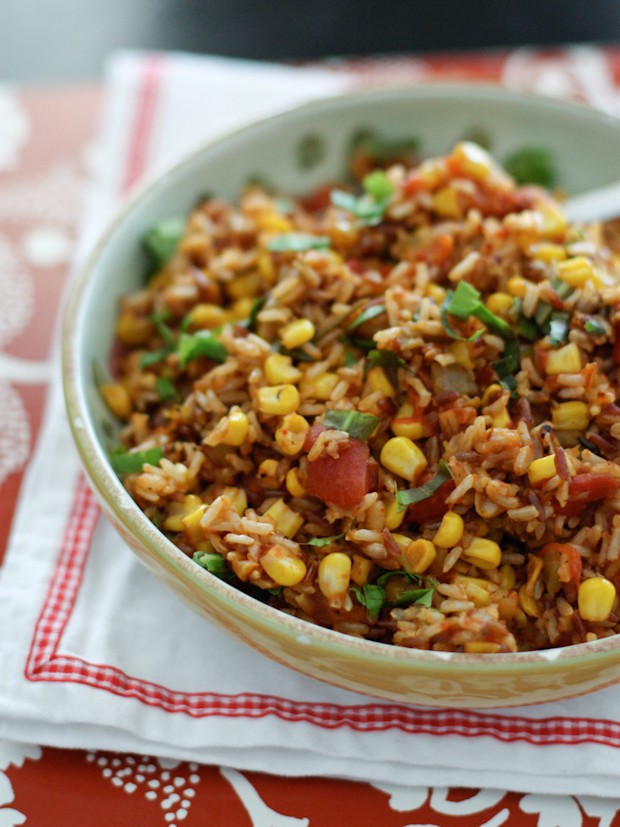 Taco night returned last night. Yay! My son mentioned over the weekend that we should make chicken tacos at home this week, just like Chipotles. Sounds great to me son! I love that my kids are starting to embrace Mexican food more than a simple cheese quesadilla – it makes me happy to see them grabbing for fixings to add to their tacos on their plates.
For this week's taco night I wanted to add a simple side that I've made a couple times before using my beloved rice cooker. There are a few small appliances I have picked up over the years that have become lifesavers in the kitchen for me – this rice cooker being one of them (which is why I'm giving one away today!). I have to admit, when I first got my rice cooker, I was a little intimidated by it. I haven't always cooked a ton of rice, and the water to rice ratio always threw me off for some reason, it just never turned out right. I am happy to report I've finally gotten over the intimidation and use my rice cooker almost weekly.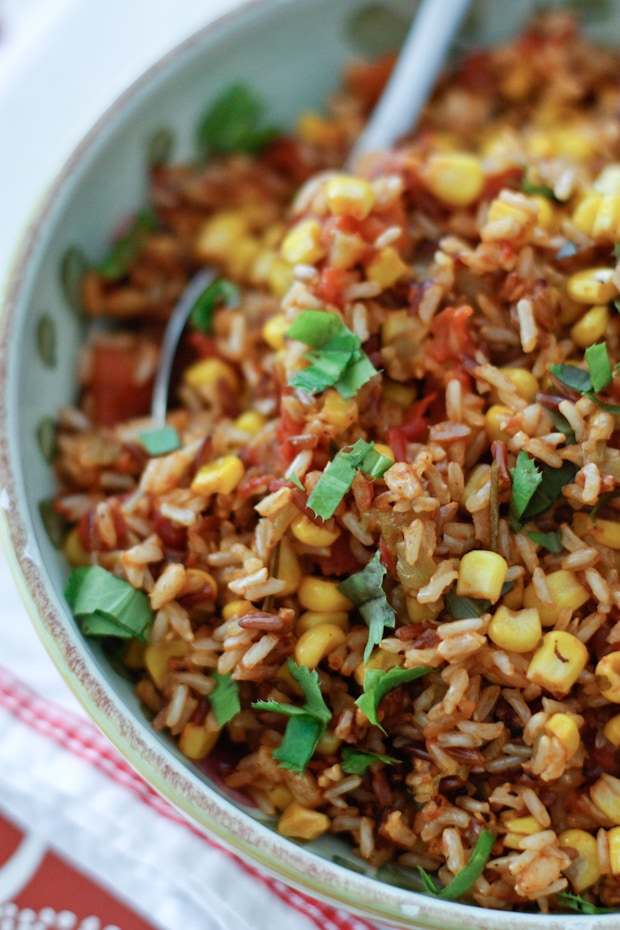 The best thing about this recipe for Mexican Rice that I'm sharing with you today is that I made it all in the rice cooker – at the same time. It is the easiest dish to put together ever! Pair it up with the chicken I cooked in the slow cooker for the tacos and I almost feel guilty about all the compliments I got at dinner last night – it was seriously one of the easiest dinners I've made in a while. All I had to really do when it came to dinner time is shred up the chicken and warm up the tortillas. Good stuff.
You can play with this rice a bit. I've added pinto beans to the mix before, but this time I tried corn. I always start with the rice and water at the bottom, then put the extras right up on top – without stirring. Once the cooker does it's magic I fluff it up real good with a fork, drizzle some olive oil over it and season it well with salt and pepper. It's a perfect side dish for taco night! Enjoy!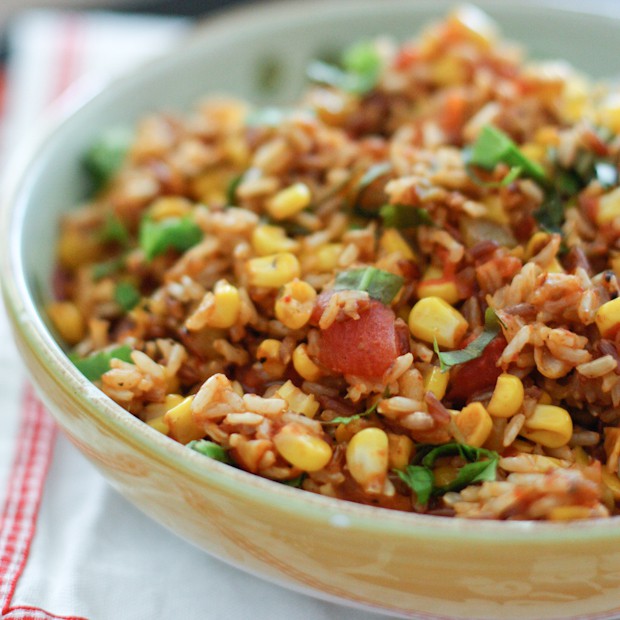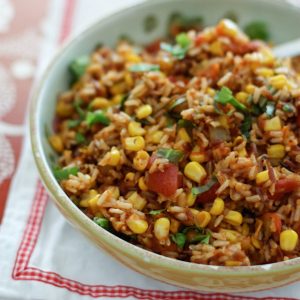 Ingredients:
1 cup uncooked wild rice
2 1/4 cup water
1 15 oz can diced onion and garlic tomatoes, drained
1 small can diced chilies, drained
1/2 cup frozen corn
1 tablespoon olive oil
salt and pepper to taste
handful chopped cilantro
Directions:
Place rice, water, tomatoes, chilies and corn into rice cooker, in that order in layers. Do not stir (make sure rice is at bottom with water). Set to cook.
Once rice cooker is done cooking, open lid and using a fork, carefully fluff up rice. Drizzle olive oil over rice and season well with salt and pepper. Taste and adjust for seasoning. Add in handful of chopped cilantro, stir and serve.
If you don't have a rice cooker, prepare your rice in a pot on your stove top as directed, adding in the additional ingredients just like in these directions. They will all cook up together the same way.
Add this Mexican Wild Rice recipe to your next quesadilla or taco night:
Black Chili Bean and Avocado Quesadillas
Oven Baked Black Bean and Cheese Quesadillas
Madison's Favorite Slow Cooker Beef Tacos | Skinnytaste
Skinny Baja Chicken Tacos | The Live Fit Girls
Follow Aggie's Kitchen's board Healthy Recipes on Pinterest.
Are you following me on Instagram, Twitter, Facebook and Pinterest? If you'd like to subscribe to Aggie's Kitchen and have each post delivered straight to your e-mail box, then please add your email here. Happy cooking!
There are affiliate links in this post. I make small earnings through any purchases made through these links. Thank you for supporting Aggie's Kitchen!