Sesame Noodles with Edamame and Kale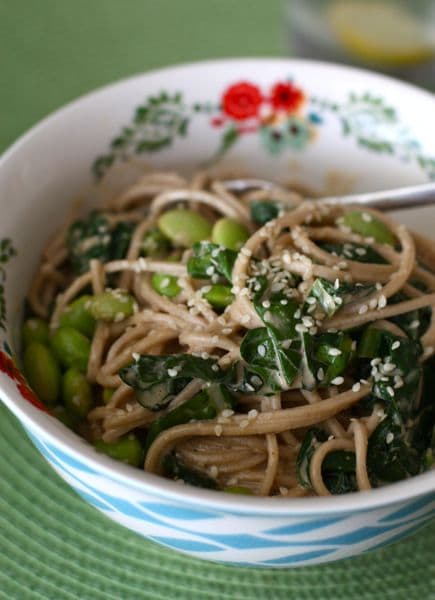 Last week I picked up a new cookbook at my local Scholastic Warehouse Book Sale. Have any of you been to one of these? It's a book lovers paradise, a warehouse filled with rows and rows of books of all kinds – all 50% off. Yes, this book nerd finds this extremely exciting.
Not only was I excited about the overwhelming amount of books in general, but I got pretty happy when I stumbled into the cookbook section. I had been eying this cookbook from The Mom 100 ever since it was featured on #SundaySupper a few months back. After having it in my hands for a few days already, I have to tell you – I'm glad I picked it up.
I made this for the kids and myself while my husband was away on business last week. I don't usually cook up anything outside of our few 'regular' meals when it's just the three of us, but I had been craving these sesame noodles since I laid eyes on them – and I was keeping my fingers crossed that the kids would eat them too.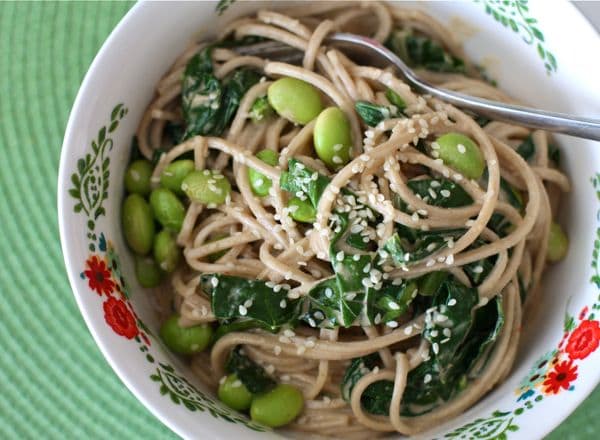 Happy to report: we slurped them right up. Kale, edamame and all. My daughter even requested I pack them for her lunch the next day. Total winner!
Sesame Noodles with Edamame and Kale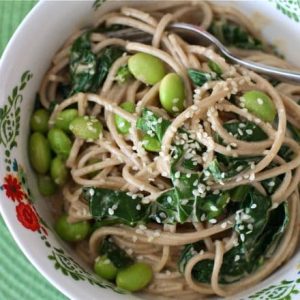 Ingredients:
For the sauce:
1 2 inch piece of fresh ginger, peeled
4 cloves garlic
2 tablespoons agave (or brown sugar)
1/3 cup peanut butter
2 tablespoons rice vinegar
2 tablespoons low sodium soy sauce
1 teaspoon Sriracha (or any chili pepper sauce, adjust heat to your liking)
2 tablespoons oil (peanut or canola oil)
2 tablespoons dark sesame oil
1 cup reserved cooked pasta water
For the meal:
1 12 oz package soba noodles (I used Annie Chun's - if you don't have or want soba, substitute any spaghetti or thin noodle)
2 cups thinly sliced lacinato kale
1 1/2 cups shelled edamame
sesame seeds, lightly toasted if desired
Directions:
To make the sauce, combine all ingredients (except water) in a blender or food processor. Process until smooth. Set aside.
Prepare your noodles. When ready, reserve 1 cup of pasta water and set aside to cool slightly. Place thinly sliced kale and edamame in a large colander in your sink. Pour pasta and water into colander. Doing this will wilt and "cook" the kale and edamame just enough for your noodles.
Add the slightly cooled reserved pasta water to the sesame sauce and process until smooth. Place noodles, kale and edamame back into pot or into a large bowl and pour sesame sauce over noodles. Gently toss to combine. Taste for salt and pepper and adjust if necessary.
Serve at room temperature or chilled the next day.
Notes: The original recipe makes enough sauce for a 16oz package of pasta. I found myself with a little extra sauce for this recipe.
A light and flavorful sesame noodle dish you and your family will enjoy. Recipe adapted from Katie Workman's The MOM 100 Cookbook
I think it goes without saying that all of our hearts are hurting for the Newtown community right now. There's not much I can write or say that you aren't feeling or thinking.
Do something nice for your family today. Cook them a good meal or put away their laundry with a happy heart. Smile at a stranger. Make eye contact and nod at the runner passing you on the trail. Say good morning to the cashier who's probably over dealing with the general public this time of year. Make sure your children's teachers know that you appreciate them. Acknowledge and thank everyone in your "village".
Do something – anything – for another person that leaves them feeling just a tiny bit better. I truly truly believe that kindness is contagious. And that makes me feel better.
That's all I've got. Have a great week friends, I appreciate you stopping by.
(Disclosure: You may find affiliate links to my Amazon store in this post. I earn an small amount of money for any purchase made through these links. Thank you for supporting my blog when you shop in my store!)
Are you following me on Instagram, Twitter, Facebook and Pinterest? If you'd like to subscribe to Aggie's Kitchen and have each post delivered straight to your e-mail box, then please add your email here. Happy cooking!
There are affiliate links in this post. I make small earnings through any purchases made through these links. Thank you for supporting Aggie's Kitchen!